Cauliflower crust pizza is a popular, healthy alternative to traditional pizza made with a cauliflower-based crust instead of a doughy crust. This unique pizza features a crispy and slightly chewy cauliflower-based crust loaded with your favorite toppings, such as tomato sauce, cheese, veggies, and/or meat. Whether you're looking for a low-carb alternative to pizza, or simply want to try something new and delicious, cauliflower crust pizza is a great option that is sure to become your new favorite!
One good reason to make cauliflower crust is that it's a great way to use up the cauliflower you're growing in your garden. You can only make so much cauliflower fried rice and roasted cauliflower! A quick grind in the food processor, and a whole lot of squeezing, and you can make a bunch of crusts that you can freeze for later. Fresh is best, but yes they can be frozen between parchment paper! (Note: if you're freezing, freeze the crusts by themselves between parchment, cook at 425 degrees F until crispy to reduce any moisture from the freezer, and then add your toppings.)
Cauliflower is also incredibly nutritious and healthy. By using it in place of flour and gluten, it can support a low-carb and ketogenic diet. It's not an inflammatory food, so it can reduce the risk of heart disease and cancer, which are often caused by inflammation. In one cup of cauliflower, you're consuming 25 calories, 3 grams of fiber, and 77% of your daily vitamin C. It's also a good source of vitamin K, vitamin B6, and folate. Cauliflower helps you feel full so that you don't overeat.
Watch my video to learn how to make cauliflower crust pizza, which includes lots of tips and tricks I've learned over a decade of making it!
Print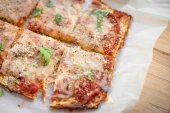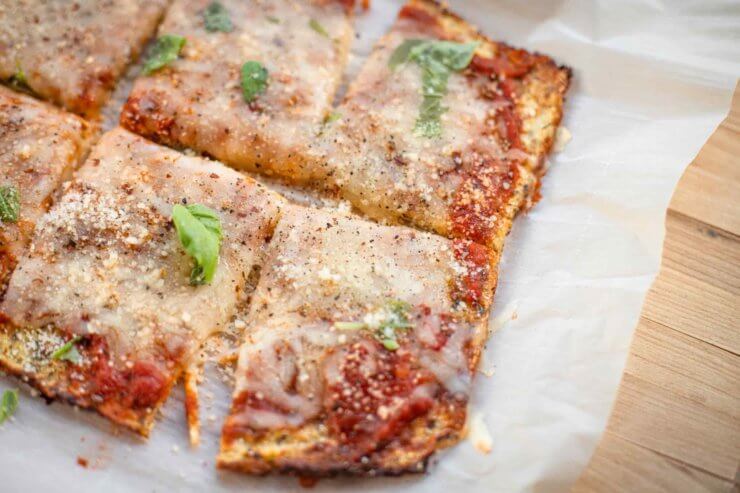 How to Make Cauliflower Crust Pizza
This easy-to-make cauliflower crust pizza holds together with parmesan cheese and is topped with fresh sauce, mozzarella, and fresh basil. 
Author:
Prep Time:

15 minutes

Cook Time:

30 minutes

Total Time:

45 minutes

Yield: Serves

2

-4

1

x
Category:

Entrées
Ingredients
1

head cauliflower

1 cup

shredded cheddar

1 cup

shredded low-moisture mozzarella (or

2 cups

cheddar if you don't have it)

1/4 cup

grated parmesan

1 tablespoon

Italian seasoning

1

heaping tablespoon

garlic confit

or

4

fresh cloves, peeled and grated

1

egg

1/4

to

1/2

cup tomato sauce

5

fresh basil leaves, shredded

Salt, pepper and red pepper flakes to taste

Cheesecloth or tea towel

2

pieces of parchment paper
Instructions
Note:

For this recipe you'll need cheesecloth or a tea towel. You'll also need two pan-sized pieces of parchment paper. 

Preheat oven to 425 degrees F. Line a baking sheet with parchment paper. 

Wash, core, and roughly chop cauliflower, then add to your food processor. Pulse until cauliflower looks about the size of grains of rice.

Add to a bowl and microwave for five minutes, covered with a paper towel, then let cauliflower cool in the refrigerator for 5 to 10 minutes.

Bundle cauliflower up into four layers of cheesecloth, then twist the top, so it looks like a ball, and squeeze until you've removed all the moisture (a cup or more!).

Add back to your cauliflower dish, and add half your cheddar cheese and half your mozzarella, Italian seasoning, garlic confit or grated garlic, egg, a pinch of salt and a pinch of pepper. Mix thoroughly.

Press your mixture down onto the parchment paper in your baking sheet to create a crust that is about 1/8 to 1/4-inch thick, and use a knife to shape your pizza. You can also use cookie cutters to make small round pizzas for kids.

Bake for 15 to 20 minutes (the top should be golden brown), then remove, and carefully flip onto your second piece of parchment paper, and cook an additional 5 to 10 minutes or until the other side is golden also.

Remove from the oven. Spread out your desired amount of sauce, and top with remaining cheese, a sprinkle of red pepper flakes, and Italian seasoning, if desired. Put back in the oven just long enough for the cheese to melt (about 5 minutes).

Slice, garnish with fresh basil, and enjoy!
Cauliflower love is on the rise in restaurants and homes everywhere, from cauliflower rice to pizza crust, and it's easy to see why—it's a health power food and it tastes delicious as well. While cauliflower is known to be tricky to grow, our Marvelous Cauliflower Gardening Guide will get you fully prepared to take on the challenge.
Once you try this recipe, let me know what you think!