Raise your hand if the biggest thing holding you back from cooking regularly is washing the dishes afterward. Don't worry, I'm not about to judge. In truth, I regularly dread the mountain of dishes in the sink after I spend the day in the kitchen. However, I don't let it hold me back; I've found plenty of ways to lighten my load of dishes.
One way is making easy one-pot dishes, such as this One-Pot Chicken with Fennel and Tomatoes. All you need is a single pot or skillet, and you can even serve it family-style right from the pot, directly on your table (just remember to put down a trivet before you accidentally burn your tablecloth). Cleaning up is incredibly easy when you don't have any other cookware or containers floating around, which is wonderful when you find yourself wanting to make this dish on the regular!
Every component of this One-Pot Chicken with Fennel and Tomatoes is luxurious — from the chicken fried on the stovetop with a crispy, golden-brown skin to the mixture of shallots, fennel, and potatoes cooked to be perfectly, melt-in-your-mouth tender with a hint of lemony flavor.
Imagine both of those components layered in a skillet, separated only by a layer of juicy tomato rounds. The time spent baking in the oven turns the chicken absolutely divine, locking in all the moisture and flavor from the fennel mixture and the tomatoes. To top it all off, the dressing made from fennel fronds and lemon juice undercuts the richness and adds a refreshingly bright spot amidst all the other flavors. Try it out during your next fennel harvest!
Print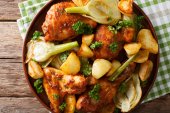 One-Pot Chicken with Fennel and Tomatoes
Cooking and cleaning are easy when everything goes into one pot — just like this One-Pot Chicken With Fennel and Tomatoes!
Author:
Prep Time:

16 minutes

Cook Time:

44 minutes

Total Time:

1 hour

Yield:

Serves 4

Category:

Entrées
Ingredients
6

skin-on, bone-in chicken thighs (about

2

pounds)
Kosher salt

2 tablespoons

, plus 1/4 cup, extra-virgin olive oil

1

fennel bulb cut into uniform 1-inch bite-size pieces. Reserve fronds (the leafy top that is grassy-looking and dill-like) for the dressing. Discard the stalks (or save and freeze to make stock later).

2

medium red potatoes with skin on, washed and cut into bite-size one-inch cubes

2

shallots, peeled and sliced lengthwise

1

large beefsteak tomato, cut crosswise into

1/2

-inch round slices

1

lemon, 1/2 of lemon cut into rounds
Freshly ground black pepper
Instructions
Preheat oven to 425 degrees F.
Pat dry both sides of chicken thighs to remove excessive moisture, and season all over (both sides) with salt.
Use oven-proof skillet on the stovetop, and heat 2 tablespoons olive oil over medium heat.
Place chicken thighs in hot oil, skin-side down, and cook for 10 minutes uncovered, until skin is crispy brown. Turn chicken pieces over with tongs and cook 8 more minutes uncovered on the skinless side. Transfer cooked chicken thighs to a platter, skin-side up.
Increase skillet heat to medium-high and add sliced fennel, sliced shallots, cubed potatoes, and lemon rounds. Cook for about 6 minutes, stirring occasionally until fennel and potatoes begin to soften.
Season skillet contents with salt and pepper and remove from heat.
Arrange tomato rounds and chicken thighs in skillet on top of fennel mixture.
Place skillet in oven, uncovered, to roast for about 20 minutes. When done, remove skillet from oven, and let it rest for 5 minutes.
While skillet is roasting, prepare dressing by chopping fennel fronds (the leafy, grassy, dill-like tops) and squeezing juice out of remaining 1/2 lemon.
Whisk together lemon juice and fennel fronds in a small bowl, stirring in remaining 1/4 cup olive oil. Season with salt and pepper.
Spoon dressing over chicken and serve.
Fennel deserves a lot more love and attention from food gardeners! The Fabulous Fennel Gardening Guide will give you everything you need to know about fennel, including planting tips, harvesting methods, and quick-and-easy recipes that will please even the most discriminating diner! Check it out and start growing fennel today.
Have you tried this recipe? How did this dish turn out for you? Please tell us in the comments below.