For a fresh entree or side dish, consider this Garlic Scape Stir-Fry!
Garlic scapes are the stalks that grow from hardneck garlic. They have a mellow taste that's somewhere between green onions and garlic. Available in the spring and early summer, you can chop garlic scapes like you would a green onion and add them to salads or frittatas; you can also grill them whole or cut them in 2-inch pieces and add them to a stir-fry.
Although you'll find that many people crack or snip garlic scapes, the proper way to remove them is to pull them. It's a bit harder, which is why most people just snip, but here's how you do it. In order for this to work, you need to pull them in the morning when it's dewy, and pull them before they curl. (Before?! Yes!) It sounds like the antithesis of what we've been taught—to pull garlic scapes before they curl—but the flavor is much better and more delicate if you do. Plus, they'll pop out easier!
Simply take a nail and pierce the stalk at least four leaf junctures up from the soil. Once you do this, the scape should basically pull right out. You might still snap some, but you'll get more of the scapes doing it this way, and the tender, sweet white section of the scape that's usually cut off will be preserved.
If you do, it will make this Garlic Scape Stir-Fry even better! Though, it's perfectly fine to use your hand-snipped scapes too, pre- or post-curl. Just not once it's curled and then gone straight again—that means they'll be more bitter and the texture will be more like overcooked asparagus.
This Garlic Scape Stir-Fry is a no-brainer though—it's fresh, crunchy, and savory!
Print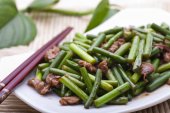 Garlic Scape Stir-Fry
When garlic scapes are freely growing in the spring and early summer, use them for this savory and deliciously fresh Garlic Scape Stir-Fry.
Author:
Prep Time:

20 minutes

Cook Time:

15 minutes

Total Time:

35 minutes

Yield:

Serves 6

Category:

Entrées
Ingredients
1/2

pound garlic scapes

4

green onions

1

red pepper

1

yellow pepper

1

carrot

2

bunches of baby bok choy

2 tablespoons

vegetable oil

1

pound shrimp (or chicken)
Salt and pepper

Sauce:

1/2 cup

soy sauce

1/2 cup

water (or stock)

1 tablespoon

honey

1 teaspoon

sesame oil

2 teaspoons

rice vinegar

1 tablespoon

corn starch

1 tablespoon

grated fresh ginger (or

1 tablespoon

ground ginger)

1

garlic clove, grated

1 teaspoon

sriracha (optional)

1

8-ounce can bamboo shoots

Main dish and Garnish:

3 cups

cooked rice
Sesame seeds
Instructions
Cut the garlic scapes, green onions, and peppers into 2-inch long pieces. Cut the carrot into 1/4-inch slices on the diagonal. Cut the bok choy into 2-inch chunks.
If using chicken, cut into 1/4-inch slices.
Heat a tablespoon of oil in a 12-inch frying pan. Season the shrimp or chicken with salt and pepper and sauté until cooked through. Remove meat from pan.
Add second tablespoon of oil, and sauté the garlic scapes, peppers, carrots, and bok choy.
While vegetables are sautéing, whisk together soy sauce, water, honey, sesame oil, rice vinegar, corn starch, ginger, garlic, and sriracha to make stir-fry sauce.
Add meat, bamboo shoots, and green onions to the pan with the vegetables. Add stir-fry sauce. Let sauce come to a simmer so it will thicken.
Serve over rice and garnish with sesame seeds.
Garlic is an essential ingredient in just about every kitchen. With the Glorious Garlic Gardening Guide, you'll have everything you need to know about growing and enjoying this staple—from the history and health benefits of this ancient herb, to detailed and specific garlic gardening advice, and easy-to-make and delicious recipes that will allow you to spice up any dish!
Have you tried this Garlic Scape Stir-Fry recipe? It's so easy and very unique. Please tell us how it turned out for you.