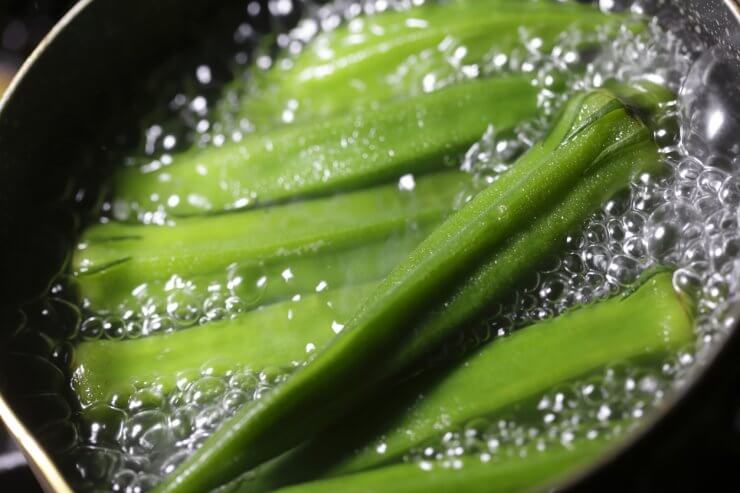 We all know that quinoa gives us a healthy dose of grain protein without any meat. But fresh, tender, young okra is what can give your quinoa bowl a uniquely earthy flavor that's both healthy and refreshing. Coupled with chopped tomatoes, this light salad is as filling as it is flavorful! For that extra toasty texture and a bit of nutty goodness, you can choose to add either some walnut halves or slivered almonds.
Precisely because this is a salad, let's not forget the dressing! Lemon juice, vinegar, and a host of spices combined with olive oil makes for a smooth and invigorating flourish to your Okra Quinoa Bowl.
We'll be trimming the stems of your okra, but avoid cutting off the cap. Yes, that's the secret to keep this veggie from turning all gooey!
While this is a meatless dish, you can still have your protein boost when you top off this Okra Quinoa Bowl with hardboiled egg, grilled chicken, salmon, or steak strips. Now you can beat the heat with this flavorful bowl!
Print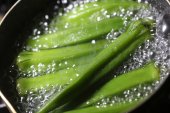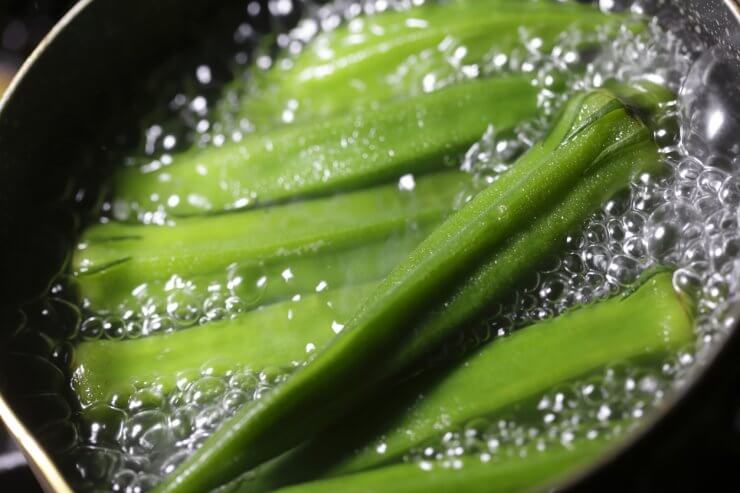 Okra Quinoa Bowl
This Okra Quinoa Bowl is a perfect meatless dish that still provides a healthy dose of grain protein, and it's great even if you make it a day ahead.
Author:
Prep Time:

30 minutes

Additional Time:

2 hours

Cook Time:

30 minutes

Total Time:

3 hours

Yield:

Serves 2

Category:

Entrées
Ingredients
Dressing

3 tablespoons

lemon juice

1 teaspoon

red wine vinegar

1/2 teaspoon

coriander

1/2 teaspoon

cumin

1/4 teaspoon

turmeric
Salt and pepper to taste

1/4 cup

olive oil

1/4 cup

chopped parsley (fresh)

1/4

chopped fresh basil (or cilantro)

1/4 cup

minced scallions

2

large cloves of garlic, minced

Salad

1 cup

uncooked quinoa

1/2

pound fresh, tender, young okra

1

ripe tomato, chopped
Optional: 1/4 cup walnut halves or slivered almonds
Instructions
To make the dressing, combine the lemon juice, vinegar, and spices in a large bowl. (You'll be adding the quinoa to this later.)
Whisk in the olive oil until the mixture is smooth.
Stir in the herbs, scallions, and garlic. Separate 1/2 cup of the dressing and set aside.
To make the salad, first rinse the quinoa thoroughly in a fine mesh sieve until the water runs clear.
Put the rinsed quinoa into a saucepan with 2 cups of water (or broth).
Bring to a boil, then lower heat and simmer, uncovered, until the quinoa is tender (about 15 minutes).
Remove the pot from the heat and cover for 5 minutes. Then uncover it and fluff it with a fork.
Add the cooked quinoa to the large bowl of dressing. Toss to mix and let stand for at least an hour so the flavors can mingle. (You can make this a day ahead to store it in the fridge overnight.)
Put a medium saucepan of lightly salted water on to boil.
Trim the stems off the okra pods, taking care not to cut off the cap (this is one of the secrets to keep okra from turning slimy).
When the water is boiling, lower the okra pods into the water and cook them for about a minute.
Rinse the pods under cold water, drain, and pat dry with a paper towel.
Put the okra into a bowl and pour over the reserved dressing.
Toss to cover the okra. Cover the bowl with foil and let it sit for an hour at room temperature to blend the flavors.
When it's time to serve, check the quinoa for flavor and adjust seasoning to your taste.
Put a mound of quinoa in the center of a plate and place the okra around it.
Sprinkle the top of the quinoa with the chopped tomato and nuts.
Notes
Serves 4 if served as a side dish
Top with hard-boiled egg or grilled chicken, salmon, or steak strips to provide an additional protein boost.
Do you want to grow quinoa in your own backyard? With The Easy Quinoa Growing Guide, you'll have everything you need to know about growing and enjoying this versatile food. From the history and background of the 'mother of all grains' to specific advice about soil requirement, fertilizer, watering techniques, preventing pests and diseases, and easy-to-make and delicious recipes that will allow you to enjoy the fruits of your gardening labor! Check it out.
Have you tried this Okra Quinoa Bowl recipe? It makes a great warm weather meal—please tell us how it turned out for you.