Some dishes never go out of style, and classic stuffed bell peppers are on my top 10 list. It's such an easy way to showcase my hefty harvest of bell peppers—even the purple peppers! A bell pepper makes the perfect container for whatever hearty and delicious filling you want to add.
You'll see a lot of stuffed bell pepper recipes that call for parboiling the peppers in advance of baking them. I don't recommend that; boiling water pulls some of the flavor out of the pepper, making it more of a tasteless shell than a full-flavored package.
Baking and microwaving are common approaches to partially cooking your peppers. You could also roast them or grill them—as long as you don't overcook them. The idea is to give the peppers a bit of a head start so they aren't too crunchy once you've put the filled peppers into the oven.
Now, I remember my mom making stuffed peppers, and she never boiled, baked, or roasted them ahead of time; they just went into the oven nice and firm, and came out tender-crisp. A lot of it will come down to your preference. If you think you'd rather have your pepper cups on the crunchy side, bake or microwave them for less time, or even skip that step. Experiment and see what works best for you.
Looking for a leaner version, or something without meat? Try ground turkey in place of ground meat. Quinoa and lentils work well as an alternative filling. Just about anything you like will come out tasting fine served in a fresh pepper cup!
I've heard that in some families, stuffed peppers are the "fancy" way to finish off leftovers; just mix everything together and bake it in a pepper, and voilà—fancy dinner is served.
Print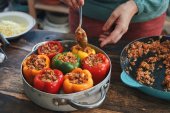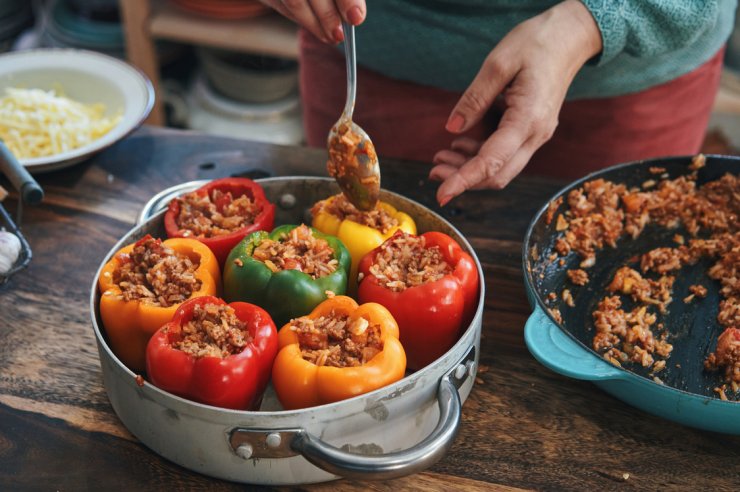 Classic Stuffed Bell Peppers
Nothing says home like Classic Stuffed Bell Peppers. Use different colored bell peppers for a vibrant dinner spread, and tailor the filling to suit your taste.
Author:
Prep Time:

30 minutes

Cook Time:

30 minutes

Total Time:

1 hour

Yield:

Serves 6

Category:

Entrées
Ingredients
6

bell peppers

4

to

6

mushrooms, finely chopped

2

ribs of celery, finely sliced

1

medium yellow onion, diced

3

cloves garlic, minced

5

or 6 fresh tomatoes, diced (or

one

14.5-ounce can)

1

pound lean ground beef, sausage, or a mix

1 cup

cooked basmati rice

1/4 cup

water

1 tablespoon

Worcestershire sauce

1 teaspoon

basil

1 teaspoon

oregano
Salt and pepper to taste

1 cup

shredded mozzarella cheese (optional)
Instructions
Preheat oven to 350 degrees F.
Brown ground meat in a large pan until it's almost cooked through, about 5 minutes.
Add mushrooms, celery, onions, and garlic. Cook until vegetables are softened.
Add diced tomatoes (with liquid) and spices. Cook for 15 to 20 minutes.
Add rice and cook until rice is warmed through.
While filling mixture is cooking, clean peppers, cut off the tops, and remove seeds and ribs. Rinse.
Put peppers upright in a microwave-safe dish. Add 1/4 cup of water, cover, and microwave for 5 minutes. (Alternate method: bake in oven for 20 minutes at 350 degrees F.).
Place partially cooked peppers in a baking dish lined with parchment paper. Make sure the peppers are touching so they support each other as they bake.
Spoon the filling into the peppers, packing it down so it's not too loose.
Tent foil over the pan and bake for 20 minutes.
If you want to add cheese, remove foil after 15 minutes, sprinkle peppers with shredded cheese, and bake uncovered for 10 more minutes.
Would you like to grow bell peppers? Bell peppers are one of the most popular home gardening crops. And no wonder: with so many varieties to choose, you can grow a whole rainbow in your garden! With the Beautiful Bell Peppers Gardening Guide, you'll have everything you need to know about growing and enjoying this delicious fruit.
Have you made Classic Stuffed Bell Peppers? What's your favorite way to fill them? Let us know!