Calling all parents—did your children also go through a phase where they absolutely refused to eat any veggies? I'm here to both commiserate and provide a tasty solution.
Nowadays, my daughters are always willing to try out new recipes with me, but years ago they were little rascals about eating veggies. However, I'm not one to back down from a challenge.
Our menu became a collection of dishes that I could sneak veggies in, much to their unknowing delight. One of the best ones was this Zucchini Pizza Bake. I was searching for ways to make pizza healthier other than just topping it with pineapple. (Yes, I'm firmly on the "pineapple belongs on pizza" side of the debate. Why not? It's sweet!) I stumbled on a recipe where someone substituted the crust with a fried chicken filet, which got me thinking. What vegetables could I use as a pizza crust?
As it happened, I had a fresh batch of zucchini from the garden. Zucchini does have a rather mild taste and is very versatile as an ingredient, so I said, why not! It was an instant hit. The zucchini crust is already enjoyable on its own—crispy on the outside and soft and cheesy on the inside—but adding conventional pizza toppings like a well-seasoned tomato sauce and oodles of gooey mozzarella makes it impossible to resist.
It's now one of my daughters' favorite dishes. I always have to make a few extra servings just so everyone at the table can eat their fill! For anyone that's been searching for a tastier, healthier pizza, this Zucchini Pizza Bake is dedicated to you. Go forth and make your own!
Print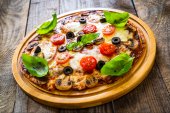 Zucchini Pizza Bake
If you enjoy the beefy, tomatoey, cheesy goodness of pizza and the health benefits of zucchini, this Zucchini Pizza Bake is for you.
Author:
Prep Time:

30 minutes

Cook Time:

40 minutes

Total Time:

1 hour 10 minutes

Yield: Serves

4

to 6

1

x
Category:

Entrées
Ingredients
4 cups

shredded unpeeled zucchini

1/2 teaspoon

salt

2

large eggs, lightly beaten

1/2 cup

grated Parmesan cheese

2 cups

shredded mozzarella cheese

1 cup

shredded Monterey Jack cheese

1

pound ground beef

1/2 cup

chopped onion

1 3/4 cups

tomato sauce

1 teaspoon

Italian seasoning

1

green bell pepper, chopped

1/2 cup

sliced fresh mushrooms

1/2 cup

sliced black olives
Instructions
Preheat oven to 400 degrees F (200 degrees C). Place the zucchini in a colander and sprinkle with salt; let drain for 15 minutes then squeeze out the moisture.
Combine the zucchini, eggs, Parmesan, 1 cup mozzarella, and 1/2 cup Monterey Jack in a large bowl. Press the mixture into a greased 9×13-inch baking dish. Bake, uncovered, in the preheated oven for 20 minutes.
While the zucchini crust is baking, heat a large skillet over medium-high heat and stir in the ground beef and onion. Cook and stir until the beef is crumbly, evenly browned, and no longer pink. Drain and discard any excess grease. Stir in the tomato sauce and Italian seasoning.
Spoon the sauce mixture over the baked zucchini crust. Top with the bell pepper, mushrooms, black olives, and the remaining mozzarella and Monterey Jack cheeses. Return to the preheated oven and bake for 20 minutes or until heated through. Let sit for 5 minutes before serving.
Whether you've grown summer squash before, or you've only thought about trying it, you're bound to learn something from our Summer Squash Gardening Guide. Summer squash is fairly easy to grow, requiring little more than the usual water maintenance and pest and disease vigilance, but we can help you navigate everything from starting seeds, planting, transplanting, and dealing with pesky issues like powdery mildew, should it come up. Check out our Summer Squash Gardening Guide.
Have you tried this recipe? Please tell us how your family and friends liked it as opposed to traditional pizza.