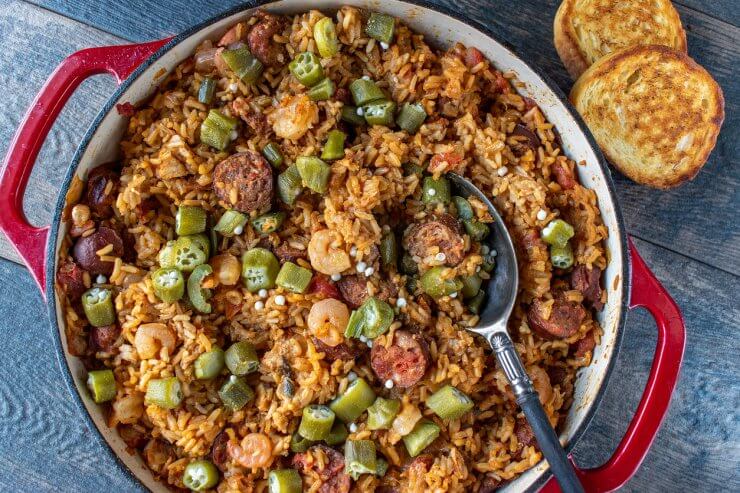 As a resident of Maine (also known as a Mainer), traveling all the way to New Orleans would mean enduring a 27-hour drive through more than a thousand miles of road. Don't get me wrong — the trip's definitely worth it if only for some authentic jambalaya, but why skip the trip and whip up your own batch at home?
If you haven't tried out jambalaya yet, then this recipe for Jambalaya with Okra will take you on a tasty adventure! Technically, you can make jambalaya without okra, but this veggie adds a certain je ne sais quoi to the dish, as well as that natural thickening that makes this one-pot wonder from New Orleans so savory.
Jambalaya usually consists of meat and seafood, and for this dish, chicken and shrimp take center stage. Of course, you can't have jambalaya without andouille sausages either, but it doesn't stop there — veggie-lovers are going to adore the assortment of vegetables that can be added, along with a long list of spices and seasonings for that signature cajun goodness.
Speaking of cajun, although we use cajun spice, this recipe for Jambalaya with Okra is actually a creole version, meaning it uses tomatoes. Traditionally, cajun jambalaya doesn't use any tomatoes. Once you've mixed all the ingredients together, you're going to get this bright, bold, and dazzling pot of meat, veggies, and rice that's bursting with a mishmash of flavors that's not only African, Spanish, French, but also distinctly Louisiana!
Precisely because it's called Jambalaya with Okra, I would recommend using the Jambalaya Okra variety when making this dish. This type has meaty yet tender pods with a firm texture. It's a little closer to the taste of either asparagus or eggplant. Regardless of the okra variety you use, though, this jambalaya with okra brings the taste of New Orleans straight into your bowl!
Print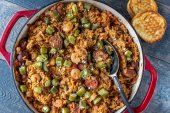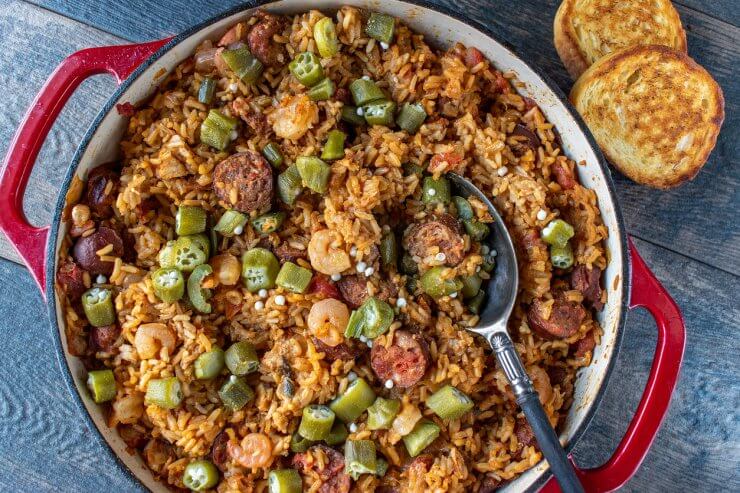 Jambalaya with Okra
Savor the flavor of New Orleans straight from your bowl when you cook up this flavorful Jambalaya with Okra!
Author:
Prep Time:

20 minutes

Cook Time:

45 minutes

Total Time:

1 hour 5 minutes

Yield:

Serves 6

Category:

Entrées
Ingredients
3 tablespoons

canola oil

2 tablespoons

Cajun seasoning (or your favorite combination of paprika, celery, garlic, pepper, oregano, caraway, dill, turmeric, cumin, bay leaf, mace, cardamom, basil, marjoram, rosemary, and thyme)

1/2

pound andouille sausage, cut in rounds

1

pound boneless chicken (thighs or breasts), cut in 1-inch pieces

1

onion, diced

1

green bell pepper, diced

1

red bell pepper, diced

2

stalks of celery, sliced

4

(or more) cloves of garlic, minced

1

pound tomatoes, peeled, seeded, and diced

1/2 teaspoon

hot pepper sauce

2 teaspoons

Worcestershire sauce

1 cup

thinly sliced okra (use the Jambalaya variety if you have it)

1 1/2 cups

uncooked white rice

3 cups

chicken broth

1

pound raw shrimp, peeled and deveined
Salt, pepper, and red pepper flakes to taste
Chopped scallions and parsley for garnish
Instructions
Season the sausage and chicken with half of the Cajun seasoning.
Heat 1 tablespoon of oil in a Dutch oven or large pot.
Brown the sausage first, then remove it from the heat and set it aside.
Brown the chicken next, adding more oil as needed. When the chicken is browned, remove it from the pot and set it aside with the sausage.
Sauté the onion, peppers, and celery until the onion begins to turn translucent. Add the garlic and cook for another minute.
Add the tomatoes.
Season the pot with salt, pepper, red pepper flakes, hot pepper sauce, Worcestershire sauce, and the remaining Cajun seasoning.
Stir in the okra, chicken, and sausage.
Cook for five minutes, stirring occasionally.
Add the rice and chicken broth, and bring the liquid to a boil.
Turn the heat down to medium-low.
Cover and let the pot simmer for 20 to 25 minutes, until most of the liquid is absorbed and the rice is cooked. Stir every 5 minutes or so.
Add the shrimp to the mixture and stir it in.
Cover the pot with a lid and simmer for about 5 minutes, until the shrimp is cooked through.
Check shrimp for doneness.
Adjust seasoning as needed.
Garnish with scallions and parsley and serve immediately.
Okra is highly versatile and can grow almost anywhere that has lots of sun. From containers on balconies to open fields of freestanding plants, there's an okra that you can grow. It's delicious raw or cooked—and if you're not big on that slime factor, no worries—there are plenty of ways to prepare okra that are totally slime-free! Check out The Guide to Growing Okra. You get everything from the history of okra to planting to picking and storing and, of course, eating. Get it all in The Guide to Growing Okra Collection right now!
Have you tried this recipe? What kind of okra did you use? Please tell us how it turned out for you.