Dill and fish were made for each other. Peruse the cuisine of almost any region in the world that enjoys fish, and you will find dill in many of the recipes. Dill enhances the flavor of most any type of fish, but salmon is the classic. Whether it's Scandinavian gravlax (cured salmon will dill, lemon, and vodka), grilled salmon topped with Greek yogurt sauce, or baked salmon with dill butter—salmon and dill, along with lemon, is popular all around the world.
Maybe it's the grassy, slightly sweet/somewhat tangy dill flavor or the look of feathery green dill leaves on top of the pink salmon, but this combo is a winner any way you cook it.
Though many diners enjoy salmon at restaurants, some hesitate to cook salmon at home. They worry about overcooking or undercooking the fish. True, few people enjoy dry or partially raw fish (when it's supposed to be cooked), but we have some tips to help you get over any hesitations, as Salmon with Lemon and Dill is worth it.
Salmon cooking tips:
Even it out: Remember that thin pieces will cook more quickly than thick pieces. Make sure your fillets are the same thickness. Put the thicker pieces in the oven first then add the thin pieces halfway through, or cook thin and thick pieces separately.
Check the temperature: Salmon's ideal internal temperature range is 125 to 140 degrees F, depending on the desired doneness.
Look inside: Salmon should be light pink and slightly translucent in the center.
Flake it: Another doneness test for salmon is to check it with a fork to see if it flakes. Yes? Remove from the oven.
Got white blobs? If your salmon produces opaque white blobs on top, you've probably overcooked it. The blobs are harmless and tasteless—it's just coagulated protein. But it's not pretty and usually means the fish is overdone.
Did you overcook your salmon? Don't worry! Add a little more dill butter sauce or a side of yogurt dill sauce for moisture and enjoy!
Print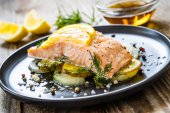 Salmon with Lemon and Dill
Fancy enough for guests, easy enough for a weeknight dinner, this classic recipe never fails to please. Dill, lemon, and butter blend beautifully with salmon in this simple dish. Add a tomato-cucumber salad or side of steamed asparagus for a colorful and satisfying dinner.
Author:
Prep Time:

10 minutes

Cook Time:

25 minutes

Total Time:

35 minutes

Yield:

Serves 4

Category:

Entrées
Ingredients
1

pound salmon fillets

1/4 cup

butter, melted

5 tablespoons

fresh lemon juice

1

to

2

tablespoons fresh dill weed, snipped, plus more for garnish

1

garlic clove, minced
Sea salt to taste
Freshly ground black pepper to taste
Lemon slices for garnish, if desired
Instructions
Preheat oven to 350 degrees F. Lightly grease a medium baking dish.
Place salmon in the baking dish. Mix the butter, lemon juice, garlic, and dill in a small bowl and drizzle over the salmon. Season with salt and pepper.
Bake 25 minutes in the preheated oven, or until salmon is easily flaked with a fork.
Garnish servings with lemon slices and dill leaves, if desired.
Have you made this recipe? It's so easy to make—please tell us how it worked out for you.