When the pumpkins are ripe, and the harvest is abundant, my favorite dish to make over and over again is Pumpkin Grilled Cheese. That's right! You thought I was going to say pumpkin pie or something, didn't you?
Pumpkins are for more than just carving and pies, you can make a number of dishes with them. And if you're growing and tending to the little wildlings that are sugar pumpkins, then you deserve a bigger menu to choose from! That's where this pumpkin grilled cheese comes in. When the weather is hot and sunny, grilled cheeses are lovely in their simplest form or with tomato, but once the cooler weather hits, this is the recipe you'll want to try.
If you don't have sugar pumpkins, you can also use butternut squash (aka butternut pumpkin) and dumpling squash (aka dumpling pumpkin), which are both sweet. Another favorite of mine that's a new variety, is the adorably small, sweet, and nutty honeynut squash, which grows on average, about 6 to 8 inches.
That said, today you're about to make a Pumpkin Grilled Cheese that is multifaceted. We're going to quick-fry it in bacon fat, to get it tender enough to envelop it in cheese and caramelized onions. This isn't the quickest grilled cheese you've ever made, but it will be the tastiest, I promise!
Print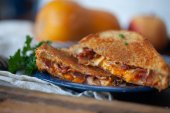 Pumpkin Grilled Cheese with Caramelized Onions and Bacon
This pumpkin grilled cheese is the taste of autumn bundled into a toasted, buttered sandwich. The sweet soft pumpkin and caramelized onions brush up gently against salty bacon for the perfect harvest lunch!
Author:
Prep Time:

10 minutes

Cook Time:

30 minutes

Total Time:

40 minutes

Yield:

Serves 4

Category:

Entrées
Ingredients
8

slices of bread

4 tbsp

butter, room temp

7 oz

shredded gruyere cheese

8 oz

bacon, cut into thirds

1 cup

sliced squash like pumpkin, butternut, or honeynut — peeled, de-seeded and sliced very thin

1

small onion, peeled and chopped

1 tsp

honey

1/4

apple, thinly sliced
Instructions
Prepare by setting out four plates, and two slices of bread on each. Use a tablespoon of room temperature butter on one side of each slide, and place them butter side down (this is the side that will get grilled.). We'll call Slice A the top slice, and Slice B the bottom slice, where you will begin stacking your ingredients as they cook. 

Divide the cheese in half, and sprinkle it evenly across the unbuttered side of Slice B on each plate. 

Heat a medium-sized skillet over medium heat, and cook cut bacon in the skillet until crisp, about 10 minutes. Remove the bacon to a paper towel-lined plate, but keep the bacon grease in the skillet. Then, add bacon on top of cheese on Slice B of each plate.

Add your finely sliced squash to the skillet, and cook 1 minute on each side, or until soft. Then, remove to a paper towel-lined plate, pat dry, and distribute evenly across all of your Slice Bs. 

Drain all but 2 tbsp bacon fat from the pan and add chopped onions, then sprinkle with salt and pepper. Cook for about 10-15 minutes over medium heat, adding 2 tbsp water every couple minutes to keep them from burning, and giving them a little toss to scrape the pan each time. Onions will become very soft and deep brown (but not burned!) when done.

Add honey to onions and cook 1 more minute while stirring. Distribute the onions across the Slice Bs, and add apple slices on top.

Sprinkle the Slice Bs with remaining cheese, close the sandwiches so both buttered sides are facing out. Cook sandwiches on a new clean skillet over low heat, covered, for about 3 minutes. Flip, cover again, and cook for another 3 minutes. Since stoves vary, keep an eye that they don't burn. 

Slice diagonally, and enjoy!
If you loved this Pumpkin Grilled Cheese and are looking for more ways to enjoy your pumpkins after harvest, our Pumpkins Gardening Guide includes a number of recipes that will help you use up your bounty!
Have you made this Pumpkin Grilled Cheese with Caramelized Onions and Bacon recipe? I'd love to know what you think!