Grilled chicken is truly amazing: it's smoky, juicy, and has the right amount of tenderness that makes it such an all-time favorite. Now, imagine that chicken marinated in the awesome duo that is ranch dressing and barbecue sauce before being grilled! It's a hearty combination of lip-smacking flavors bursting from every bite! Best of all, chicken as a protein is great at absorbing the taste of marinades so you'll get to fully enjoy the sumptuousness it has to offer.
For the perfect Barbecue Ranch Grilled Chicken, boneless, skinless chicken breasts are a good choice. Large, horizontally cut pieces are easy to consume and can give your plating arrangement a nice touch. Of course, the mixture of ranch dressing and barbecue sauce for the marinade features thick, smooth, and creamy textures that fuse together the rich, buttermilk tang of ranch dressing and the sweet-salty taste of barbecue sauce.
For the slaw, it's best to use your hands when tossing to make sure that all the ingredients are nicely coated with the dressing. Doing this for about a minute or so would be good, but don't hesitate to spend a little more time tossing if necessary. For your slaw to fully absorb and marry all the flavors, let it stand for at least half an hour.
After letting the chicken rest, it's time to heat up the grill! Cook the chicken through and through then serve your Barbecue Ranch Grilled Chicken with a savory slaw on the side!
Print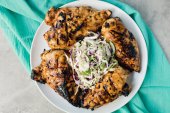 Barbecue Ranch Grilled Chicken
Tender, juicy, and smoky, this Barbecue Ranch Grilled Chicken is a hearty combination of rich flavors that will make you come back for seconds!
Author:
Prep Time:

20 minutes

Marinade Time:

30 minutes

Cook Time:

10 minutes

Total Time:

1 hour

Yield:

4

1

x
Category:

Entrées
Ingredients
Chicken

4

boneless, skinless chicken breasts

3/4 cup

ranch salad dressing

3/4 cup

barbecue sauce

Slaw

4 cups

shredded green cabbage

1 cup

shredded red cabbage

1 cup

very thinly sliced celery

1/2 cup

thinly sliced green bell pepper

1/2 cup

finely diced onion

1/3 cup

ranch salad dressing

1 tablespoon

red wine vinegar or apple cider vinegar

1 teaspoon

celery seed

1/2 teaspoon

kosher salt
Instructions
For the chicken: If the chicken breasts are large, cut each in half horizontally to a 1/2-inch thickness. Place the ranch dressing and barbecue sauce in a large zip-top bag and add the chicken. Close the top and use your hands to thoroughly coat the chicken with the marinade. Let stand at room temperature for 30 minutes or chill until ready to cook.
For the slaw: While the chicken rests, combine all the slaw ingredients in a large bowl and toss well—using your hands works best—for 1 minute, until every bit is coated with the dressing. Let it stand for 30 minutes to marry the flavors.
Prepare an outdoor grill or heat a stovetop grill pan over medium-high heat. Lay the chicken on the grill and cook for 4–5 minutes per side, until chicken is cooked through.
Serve the chicken with the slaw on the side.
What did you think about this recipe? Let us know in the comments. Would you like to use your own bell peppers for this recipe? Learn all about growing your own bell peppers in the special Beautiful Bell Peppers collection. It's packed with planting tips, specific plant profiles, recipes, nutrition and health information, and resources to help you be the best food gardener you can be.