Who doesn't love burgers? They're great to indulge in once in a while. I know I get some really strong burger cravings from time to time! Of course, you don't have to settle for a basic, greasy burger when you can make one that's healthy and hearty at the same time.
If you're hankering for a burger but don't want any of the heart-stopping grease, try out this Savory Sweet Potato Burger for a change. Instead of using regular beef, this recipe lets you substitute the meat for a delightful sweet potato patty. With this, you'll get a burger that's just as filling but won't feel heavy.
When cooked, sweet potatoes have relatively high fiber content, so you don't have to worry about making your patties on the thick side—half an inch should do. Sprinkled with seasoning like cumin, as well as mixed with onions, garlic, and whole oats, your potato patty will be bursting with flavor every time you bite into it!
Of course, no burger is complete without lettuce leaves and tomatoes, which would taste infinitely better if picked from your home garden.
Since you're making a healthy, Savory Sweet Potato Burger, go all out and choose whole-grain buns since they're a healthier alternative to white bread.
For anyone who loves burgers but doesn't want to be bogged down by meat, this Savory Sweet Potato Burger can be a lifesaver. Prepare it for lunch or as a heavy snack when you're feeling low on energy, especially during summer afternoons. Don't forget to add in your choice of condiments, so you can fully enjoy this delicious, nutritious burger.
Print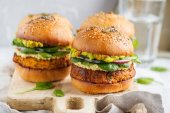 Savory Sweet Potato Burger
Indulge your burger cravings with this healthy and hearty savory sweet potato burger!
Author:
Prep Time:

20 minutes

Cook Time:

30 minutes

Total Time:

50 minutes

Yield:

Serves 6

Category:

Entrées
Ingredients
2 1/2 cups

sweet potato, peeled and cubed

2 1/2 cups

chopped onion

3

garlic cloves, chopped

1 cup

whole oats

1 teaspoon

ground cumin

1/2 teaspoon

salt
Vegetable oil for frying
Lettuce leaves

2

tomatoes, sliced

6

whole grain buns
Cooking spray
Instructions
Put sweet potatoes in a large saucepan and cover with water.
Bring water to a boil; reduce heat and simmer for about 15 minutes, until sweet potatoes are tender. Drain and set aside.
Heat a large skillet over medium heat; coat with cooking spray.
Add chopped onions and garlic and sauté for about 5 minutes, until tender.
Put the sweet potato, onions and garlic, oats, and seasonings into a food processor. Process until smooth.
Divide the mixture into six equal parts, shaping each one into a 1/2-inch thick patty.
Heat oil in a pan over medium heat. Add patties to the pan, as many as will fit, and cook for about 4 to 5 minutes, or until brown. Turn the patties over and cook for another 3 minutes. Set cooked patties aside while you cook the rest.
Serve on whole grain buns. Garnish with lettuce, tomato, and condiments of your choice.
Potatoes and sweet potatoes have been around for thousands of years, and they're a main staple in many cultures. Both of these root vegetables are easy to grow at home. With our How to Grow Potatoes Gardening Guide, you'll learn all you need to know about growing and enjoying these fabulous root vegetables.
Have you tried this recipe? This is a great vegetarian option to a classic burger. Please tell us how it turned out for you.