Everyone else can have their regular white fried rice; my favorite "rice" is riced cauliflower! Cauliflower is a versatile vegetable that can be used in many dishes as a rice substitute. Cauliflower rice is much healthier than regular rice and has numerous health benefits. Cauliflower rice contains significantly fewer calories, carbohydrates, and sugar than regular white rice, and also retains some of its phytonutrient content when it's riced. Cauliflower is naturally low in fat, sodium, and cholesterol, and has more fiber, vitamins, and minerals than white rice making it a much more nutritious alternative.
Cauliflower rice (like regular rice) is gluten-free and can be used as a great grain-free alternative for those with sensitivities or allergies to grains.
Cauliflower is also much easier to cook than regular white rice, making it a great go-to option for anyone looking for a healthier alternative to regular fried rice. Cauliflower rice is an easy, delicious, and nutritious way to switch up your typical side dish!
In this Cauliflower Rice recipe, we are preparing it almost entirely like regular rice, but while using grated (or "riced") cauliflower. If you want to make this recipe gluten-free, just use gluten-free soy sauce, tamari, or coconut aminos. I actually love using coconut aminos because they have a similar flavor to soy sauce but are less salty and sweeter!
Give Cauliflower Rice a try, and you'll be amazed at how delicious and healthy it is. Enjoy!
Print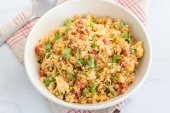 Cauliflower Fried Rice
This Cauliflower Fried Rice is a low-carb option for those who want all the flavor of Chinese fried rice, but none of the guilt.
Author:
Prep Time:

16 minutes

Cook Time:

35 minutes

Total Time:

51 minutes

Yield:

Serves 8

Category:

Entrées
Ingredients
2 cups

fresh or frozen­ peas

1/2 cup

water

4 tablespoons

sesame oil, divided

4 cups

cubed pork loin

6

green onions, sliced

1

large carrot, diced

2

cloves garlic, minced

5 cups

grated/riced cauliflower

6 tablespoons

soy sauce

2

eggs, beaten
Instructions
Stir peas and water together in a saucepan; bring to a boil, reduce heat to medium-low, and cook and stir until peas are tender and heated through, about 5 minutes. Drain and discard water.
Heat 2 tablespoons sesame oil in a wok over medium-high heat. Cook and stir pork in hot oil until lightly browned on all sides and cooked through, 7 to 10 minutes. Transfer meat to a plate.
Heat remaining 2 tablespoons sesame oil the wok. Sauté green onions, carrot, and garlic in hot oil until just softened, about 5 minutes. Add cauliflower; cook and stir until cauliflower is tender but firm to the bite, 4 to 5 minutes.
Stir pork, peas, and soy sauce into cauliflower mixture and stir-fry until mixture is hot and slightly browned, 3 to 5 minutes.
Move pork-cauliflower mixture to one side of the wok; pour beaten eggs onto empty side. Scramble eggs until cooked through, 3 to 5 minutes; stir cooked eggs into the pork-cauliflower mixture, breaking up any large chunks.
Cauliflower love is on the rise in restaurants and homes everywhere, from cauliflower rice to pizza crust, and it's easy to see why—it's a health power food, and it tastes delicious as well. While cauliflower is known to be tricky to grow, our Marvelous Cauliflower Gardening Guide will get you fully prepared to take on the challenge.
Have you tried this recipe? It's a great alternative to fried rice. Please tell us how it turned out for you.