Caprese sandwiches don't just sound fancy — they're also quite refreshing and delightfully tasty! With their roots in Italy, Caprese sandwiches are actually a spinoff of the popular Caprese salad. The original Italian recipe for a Caprese-style dish is typically made from mozzarella, tomatoes, and basil seasoned with the quintessential olive oil and salt. And, that's exactly what you need when making this Grilled Chicken Caprese Sandwich — plus a little bit extra to give it a twist!
Let's start with our protein, the ever-reliable and all-time favorite chicken. For this dish, boneless, skinless chicken breasts are the perfect choice as you need to slice them thinly after grilling. The trick to grilling chicken is using an internal temperature checker so you can be sure that the chicken comes out juicy.
I've mentioned tomatoes and, for this lovely Caprese-style sandwich, Campari tomatoes are a great pick. This particular variety is popular for its juicy texture, light acidity, and delightful sweetness. Campari tomatoes are often served fresh with mozzarella and pair perfectly with basil — two other wonderful ingredients that make a sandwich Caprese style!
Of course, you can't have a Grilled Chicken Caprese Sandwich without some balsamic vinegar. With its slight smokiness and complex sweetness, balsamic vinegar doesn't just complement your fresh basil, tomatoes, and mozzarella, but it also shines a spotlight on that smoky, grilled chicken flavor.
To top off your Caprese-style sandwich: sourdough bread slices, which have a slightly tangy flavor tempered by a bit of natural sweetness. It's a great way to complement the combined flavors of grilled chicken, the refreshing taste of fresh basil and tomatoes, the delicate milkiness of mozzarella, and, of course, the piquant tartness of balsamic vinegar.
Easy, vibrant, and beautifully put-together, your Grilled Chicken Caprese Sandwich might even become the superstar of your picnics!
Print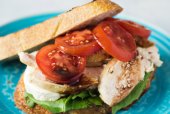 Grilled Chicken Caprese Sandwich
Savor the refreshing taste of a classic Italian recipe with a twist when you take a bite out of this Grilled Chicken Caprese Sandwich!
Author:
Prep Time:

10 minutes

Cook Time:

10 minutes

Total Time:

20 minutes

Yield:

Serves 4

Category:

Entrées
Ingredients
2

boneless skinless chicken breasts

4 tablespoons

extra-virgin olive oil, plus more for drizzling
Kosher salt and freshly ground black pepper

1

loaf sourdough bread, sliced

8

Campari tomatoes

1/4 cup

fresh basil leaves

8 ounces

fresh mozzarella cheese, sliced into rounds
Balsamic vinegar
Instructions
Coat the chicken breasts with 2 tablespoons of the olive oil, salt, and pepper. Allow to sit at room temperature while preparing the grill.
Preheat the grill to high. Alternatively, heat a grill pan on the stove over medium-high heat.
Add the chicken to the grill or pan. Cook for 3 to 4 minutes, and then turn the chicken breasts. Cook for another 4 minutes or until nice grill marks form. Reduce the heat to medium, cover, and cook until the chicken has an internal temperature of 185 degrees F. Remove from the heat and allow to rest.
While the chicken is resting, brush the remaining 2 tablespoons olive oil on the bread and grill until lightly browned.
Thinly slice the cooked chicken. Slice the tomatoes.
Layer half of the bread slices with basil leaves. Add a few slices of mozzarella cheese, 3 to 4 slices of chicken each, and top with tomato slices. Drizzle with olive oil and balsamic vinegar. Top with another slice of bread.
Season with salt and pepper and serve.
Have you tried this recipe? Do you prefer this as an outdoor picnic sandwich or is it better in front of the AC on a hot day?