Picture this: you're hosting a dinner party. Everyone's coming over in an hour. You just spent the entire day preparing appetizers and desserts galore — but you've forgotten the main dish! Oh no!
Okay, that might be highly unlikely, but bear with me here. I love dinner parties. They're a great way to get some friends and family together to just enjoy each other's company and have a good time all around. They're also a great way to practice new dishes! That being said, I do agree it can be a bit of a hassle making sure that you've got everything ready by the time the doorbell rings. That's why I'm absolutely in love with this Easy Asparagus Stuffed Chicken recipe. All you need is 10 minutes of prep time, 30 minutes of cook time, and a good handful of freshly-grown asparagus from your garden, and presto —  you've got yourself a stellar entrée. Every time I've served this Easy Asparagus Stuffed Chicken, I've gotten rave reviews.
"Wow! This must have taken you hours, it's delicious!"
"How long does it take to cook something like this? You have to share the recipe!"
"You got the seasoning just right! I wish I could cook as well as you."
Imagine their surprise when I tell them it doesn't even take an hour to finish cooking. It's one of my favorite party tricks. The combination of the Italian seasoning, sun-dried tomatoes, and mozzarella give it that Italian zest. The fresh asparagus does a wonderful job of absorbing the flavors and the crisp-tender texture is divine. Try out this recipe for your next dinner party or even when you just want to have a particularly fancy meal for yourself!
Print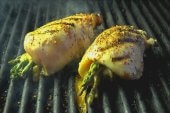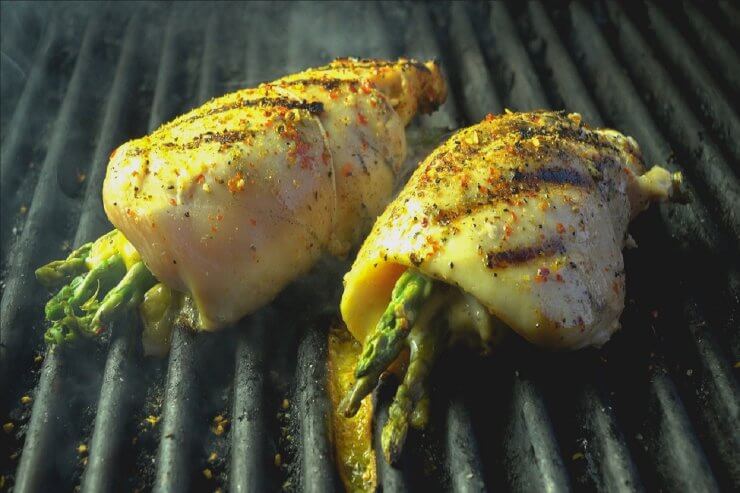 Easy Asparagus Stuffed Chicken
This Easy Asparagus Stuffed Chicken features layered flavors of Italian seasoning, garlic powder, smoked paprika, sun-dried tomatoes, and mozzarella — and takes just under an hour to prepare.
Author:
Prep Time:

10 minutes

Cook Time:

30 minutes

Total Time:

40 minutes

Yield:

Serves 4

Category:

Entrées
Ingredients
4

skinless, boneless chicken breasts, about 1 1/2 pounds

1 teaspoon

Italian seasoning mix

1 teaspoon

garlic powder

1 teaspoon

smoked paprika
Sea salt and pepper

12

asparagus spears, woody ends trimmed

1 ounce

sun-dried tomatoes, chopped

4

slices mozzarella cheese

1 tablespoon

olive oil
Instructions
Preheat oven to 400 degrees F.
Place the chicken breast on a cutting board and use a sharp knife to slice a pocket into each breast. Be sure not to cut all the way through to the other side.
Place three asparagus spears and a couple of pieces of tomato on top of a cheese slice and roll up. Stuff into one of the sliced breasts and secure the pocket closed with a toothpick. Repeat with the remaining breasts.
Mix the seasonings together and sprinkle over the tops of the chicken breasts. Heat oil in a large ovenproof skillet (preferably cast iron) and brown the chicken breasts on each side, about 3 to 5 minutes per side.
Place the pan in the oven and cook 15 to 20 minutes, or until chicken is cooked through. Serve immediately with a side of your favorite grain.
Want a home garden crop that will produce delicious, nutritious, stately vegetables for decades? Then plant asparagus. You'll need a little patience at first, but once established, asparagus will reward you for years to come. With our Asparagus—King of the Garden Gardening Guide, you'll have everything you need to know about growing and enjoying this versatile food. Check it out!
Have you tried this recipe? It's so easy and makes such a beautiful presentation. Please tell us how it turned out for you.