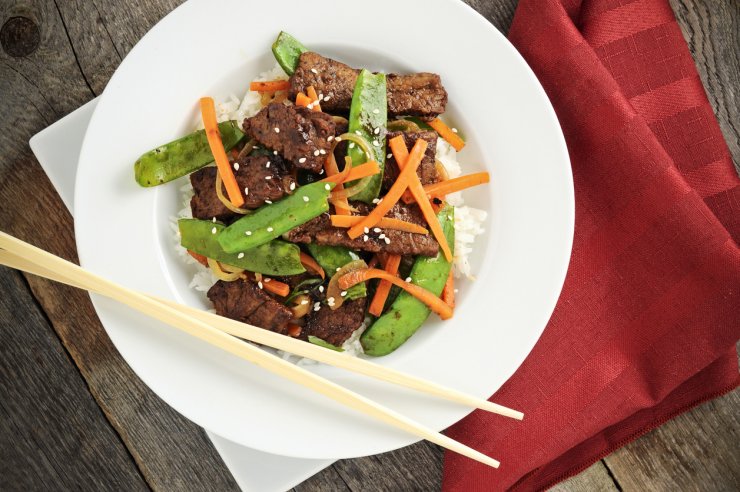 From time to time, I tend to crave some Asian delights, but I'm a little bit hesitant since I need to watch my salt intake. Asian food is big on soy sauce and seasoning, but it's also characterized by a lot of veggies that tend to balance out these salty flavors.
Luckily, this recipe for beef with snow peas is a healthier take on a classic Asian favorite: the stir-fry. With low-sodium soy sauce and high-quality beef, I get to indulge in the intense flavors of stir-fry without having to worry about eating too much salt and fat!
What really harmonizes this recipe is the snow peas. Snow peas combine their delicate sweetness with the saltiness of the tender beef, perfectly complementing each other. Instead of overshadowing one or the other, the combination of marinated beef with snow peas just enhances both of their flavor profiles.
To make sure that your snow peas are cooked to perfection, keep an eye out for when they're crisp-tender and bright green. It's one way to get into the spirit of Asian cooking since traditional Asian cooks rely on the fragrance and the appearance of the ingredients to know if they're good to go!
Like most Asian stir-fry meals, this hearty helping of beef with snow peas is best served with steaming hot white rice or brown rice. Noodles are also a great option to pair with this recipe. If you're mindful about your gluten intake, there are lots of gluten-free noodles available in health stores.
Easy, healthy, and delicious, this low-salt, low-fat version of Asian beef with snow peas is a great way to enjoy a relaxing evening meal!
Print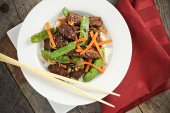 Beef with Snow Peas
A healthier take on an Asian classic! Tender beef and crisp snow peas go perfectly over rice or noodles for an evening meal any time in this Beef with Snow Peas recipe.
Author:
Prep Time:

15 minutes

Additional Time:

1 hour

Cook Time:

15 minutes

Total Time:

1 hour 30 minutes

Yield:

Serves 4

Category:

Entrées
Ingredients
1/3

 cup reduced sodium soy sauce

1/3

 cup chicken broth

2

cloves garlic, minced

1

 pound boneless beef sirloin steak cut into

1/8

-inch strips

1 teaspoon

cornstarch

2 cups

fresh snow peas

4 teaspoons

canola oil
Instructions
In a small bowl, combine the soy sauce, broth, and garlic. Reserve 1/4 cup. Place beef in a resealable plastic bag.
Add remaining soy sauce mixture to the bag; seal and mix. Refrigerate at least 1 hour.
Place cornstarch in a small bowl. Stir in reserved soy sauce mixture until smooth; set aside.
In a nonstick skillet, stir-fry snow peas in 2 teaspoons hot oil for 3 to 4 minutes or until snow peas are crisp-tender and bright green. Remove and keep warm.
Drain and discard marinade from beef. In same skillet, stir-fry beef in remaining oil for 2 minutes.
Stir cornstarch mixture; add to skillet. Bring to a boil; cook and stir for 1 to 2 minutes or until slightly thickened.
Combine with snow peas. Serve with white or brown rice, or noodles.
Have you tried this recipe? It's so easy and delicious—please tell us how it turned out for you.