On a trip of a lifetime to Florence, we signed up for a pasta-making "course" at the home of a Florentine cook. We spent the first hour making pasta and drinking wine; we occupied the rest of the evening eating the pasta we had made, plus several more courses that Patrizia prepared—and drinking more wine. (Fortunately, we took public transportation back to the hotel.)
By the end of the evening, we vowed to finally use the pasta machine we'd received as a wedding gift many years before. Making fresh pasta, we now knew, was worth it. And it wasn't hard at all! You don't even need a pasta machine if you have the patience to roll out the dough thinly with a rolling pin.
Pasta is typically made with semolina flour from the durum wheat plant. "Durum" means "hard" in Latin (think: durable), and durum is the hardest wheat grain. The color of the grain is also what gives pasta its yellow color.
Now, making pasta is pretty simple, but it does take more time than opening a box of the dried stuff. And though you can purchase fresh pasta at many stores, like most any other packaged ingredient, freshly made is better. Our homemade Florentine pasta was light and tender—not at all chewy.
At Patrizia's we made two kinds of pasta: lemon zest and cheese ravioli and tagliatelle (thin ribbons). We learned that the more complex the pasta (such as the ravioli), the simpler the sauce should be. Also, a thicker pasta (such as ziti) can better handle heavier sauces, such as Bolognese, than a light pasta, such as angel hair. Also, don't overstuff the ravioli!
Print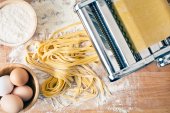 Fresh Semolina (Durum Wheat) Pasta
From durum wheat to semolina flour to your table—there's nothing like homemade pasta. Use this simple recipe to make delicious pasta in any shape you like. Mangia!
Author:
Prep Time:

30 minutes

Additional Time:

30 minutes

Cook Time:

5 minutes

Total Time:

1 hour 5 minutes

Yield:

Serves 8

Category:

Entrées
Ingredients
2 cups

all-purpose flour

2 cups

finely ground semolina flour

1

pinch salt

6

large eggs

2 tablespoons

olive oil
Instructions
Thoroughly sift together all-purpose flour, semolina flour, and pinch of salt. On a clean surface, make a mountain out of flour mixture then make a deep well in center. Break the eggs into the well and add olive oil.
Whisk eggs very gently with a fork, gradually incorporating flour from the sides of the well. When mixture becomes too thick to mix with a fork, begin kneading with your hands.
Knead dough for 8 to 12 minutes, until it is smooth and supple. Dust dough and work surface with semolina as needed to keep dough from becoming sticky. Wrap dough tightly in plastic and allow it to rest at room temperature for 30 minutes.
Roll out dough with a pasta machine or a rolling pin to desired thickness. Cut into your favorite style of noodle or stuff with your favorite filling to make ravioli.
Bring water to a boil in a large pot, then add 4 teaspoons salt. Cook pasta until tender but not mushy, 1 to 8 minutes depending on thickness. Drain immediately and toss with your favorite sauce.
Have you tried this recipe? It makes a wonderful meal for family or friends. Please tell us how it turned out for you.