Whenever Italian food is mentioned, it's almost always the case that pasta is the first thing that comes to mind—and I don't blame you! Indeed, there's a wide variety of Italian pasta that can satisfy your culinary cravings.
However, pasta isn't the only delectable Italian food around. If you want something both hearty and healthy, then this Eggplant Rollatini with Spinach is worth a try! It's got all the trappings of a sumptuous Italian dish that's easy to cook and even easier to enjoy!
For those who might not be aware, "rollatini" isn't exactly an Italian word, but "involtini di melanzane" (which is what this recipe is called in Italy) can be a mouthful for some, so people outside of Italy settled for "rollatini" instead. Whatever you wish to call it, this dish is packed with flavor rolled into delicious little bundles.
I think one of the most important steps in making a great Eggplant Rollatini with Spinach is using a mandolin to slice the eggplant. Not only is this a faster way to cut the vegetable, but you also get uniformed slices that will be equally tender once roasted.
Because this is an Italian dish, you should expect a variety of cheeses to be used—namely whole milk ricotta cheese, grated parmesan cheese, and shredded mozzarella cheese. With these three cheeses alone, you get a whole range of flavors from slightly sweet and soft to fruity, nutty, and delicately sour. They're perfect for tempering the slightly vegetal bitterness of both the eggplants and spinach.
Along with other seasonings and spices, the thick, rich, and tomato-fresh taste of marinara sauce is an amazing topping that makes all these little bundles of eggplant and spinach such a treat. Fresh basil ribbons for garnish are optional but always welcome!
Print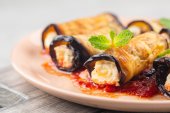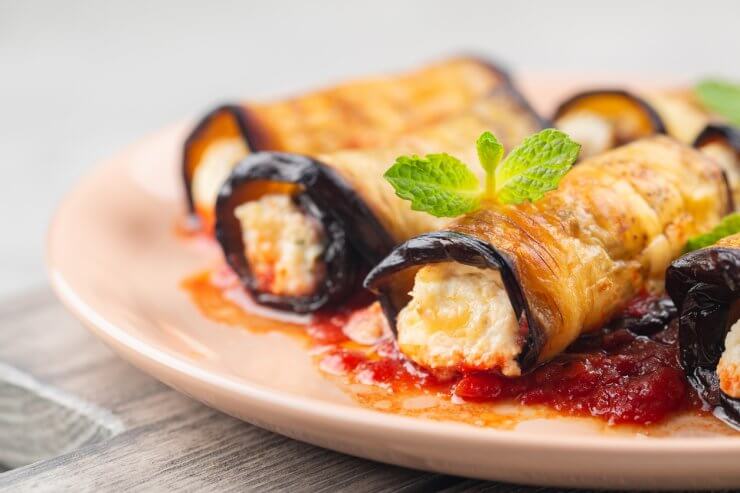 Eggplant Rollatini with Spinach
Hearty and healthy, this Eggplant Rollatini with Spinach brings out the best of what Italian cuisine has to offer!
Author:
Prep Time:

15 minutes

Cook Time:

30 minutes

Total Time:

45 minutes

Yield:

Serves 4

Category:

Entrées
Ingredients
1

large Italian eggplant (about

1 1/2

pounds)

2 tablespoons

extra virgin olive oil

15 ounces

ricotta cheese (whole milk)

3/4

pound chopped fresh spinach (washed), or 8 ounces chopped frozen spinach

1/3 cup

grated parmesan cheese

1

egg (large)
Zest of

1

lemon

1 teaspoon

Italian seasoning

1 cup

tomato sauce

1 cup

mozzarella cheese (shredded)
Salt and freshly ground black pepper
Garnish: fresh basil (optional)
Instructions
To prepare, use a mandolin to slice the eggplant. You'll want 12 long sheets sliced lengthwise, about 1/4 inch thick. Also, preheat oven to 400 degrees F and line a baking sheet with parchment paper.
Lay out the eggplant in a single layer on the parchment paper, and brush with olive oil, 1/2 teaspoon salt, and 1/4 teaspoon freshly ground black pepper.
Add eggplant to the oven and roast for about 15 minutes to remove some of the moisture. Pat the eggplant down with paper towels once done cooking.
While your eggplant is cooking, add ricotta cheese, spinach, parmesan cheese, egg, lemon zest, and Italian seasoning to a bowl and mix.
Pour half of your tomato sauce in the bottom of a 9×13-inch baking dish and spread evenly.
Add a dollop of filling to the middle of your eggplant sheets, roll up, and arrange in your baking dish with the flap on the bottom so they don't unroll.
Pour the remaining tomato sauce over the top, spreading evenly. Top with shredded mozzarella.
Bake for about 15 minutes (still at 400 degrees F), then broil for 3 more minutes to brown your mozzarella on top. Garnish with fresh basil!
Start growing eggplant at home
Eggplants add a beautiful aura to any garden with their bright purple flowers and jewel-toned fruits. They're also a culinary staple in many homes. This warm-weather crop is in the nightshade family and can be enjoyed fried, roasted, baked, and freshly seared in a skillet. Eggplant is easily grown in warmer climates but can be quite cold-hardy in northern climates as well. Want to grow your own eggplant? In our Eggplant Gardening Guide, we explain how to choose eggplant varietals, grow them in your garden, harvest them, and then enjoy them at the table. Check it out.
Have you tried these Eggplant Rollatinis with Spinach? What did you think? Please let us know if you made any changes or have any suggestions.