I love lasagna, and so does my family. I mean, who doesn't? It's delicious and filling! You can even say that lasagna is somewhat of a social butterfly; you can prepare it during formal parties or take it to any casual potluck and it would never be out of place.
Another amazing feature of lasagna is that it encourages variation and creativity. You don't need to stick to just one strict recipe. Rather, it's easy to change up a few of its ingredients while retaining its delectable flavor.
One good example of lasagna's versatility is this recipe for Butternut Squash, Sage, and Goat Cheese Lasagna. As you might have guessed, there's no meat! It's perfect for people who want to stay healthy without sacrificing their palate's enjoyment.
The recipe's name does say goat cheese, but for this dish, you can actually use multiple cheeses that greatly enhance its mouthwatering flavor. Aside from the tartness of goat cheese, this recipe calls for freshly grated parmesan, Pecorino Romano, and mozzarella. The combination of creamy and salty flavors bring together the sweet, nutty taste of butternut squash, the mild starchiness of lasagna noodles, and the smoothness of marinara sauce.
Let's not forget sage, which can never be absent as long as there's cheese around! Chopped sage melds well with the cheese layer, while the leaves top off this recipe with their potent fragrance and elegant appearance.
You don't need to wait for fall to arrive to enjoy a hearty serving of Butternut Squash, Sage, and Goat Cheese Lasagna. You can indulge in the taste of autumn any time of the year by trying out this recipe!
Print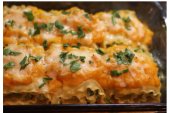 Butternut Squash, Sage, and Goat Cheese Lasagna
A vegetarian twist on an all-time favorite, this butternut squash, sage, and goat cheese lasagna is both healthy and mouthwatering!
Author:
Prep Time:

20 minutes

Cook Time:

1 hour 15 minutes

Total Time:

1 hour 35 minutes

Yield:

Serves 8

Category:

Entrées
Ingredients
Butternut squash puree

1

large onion, peeled and diced

4

garlic cloves, peeled and left whole

1

medium butternut squash, peeled, seeded, and cubed

1 tablespoon

olive oil
Pinch of crushed red pepper flakes
Salt and pepper to taste

Cheese layer:

8 ounces

crumbled goat cheese

1

15-ounce container part-skim ricotta cheese

1

10-ounce package frozen spinach, defrosted and squeezed dry

1/2 cup

Pecorino Romano cheese, preferably freshly grated

1/2 cup

Parmesan cheese, preferably freshly grated
Fresh sage, chopped (1 to 3 tablespoons, to taste)

 Assembly:

Marinara sauce (homemade or store-bought)
No-boil lasagna noodles

4 cups

low-moisture mozzarella cheese, grated

1 cup

Parmesan cheese, preferably freshly grated
Sage leaves
Nutmeg
Instructions
Preheat oven to 450 degrees. In a large bowl, toss together the onions, garlic cloves, and squash with the red pepper flakes, salt, and pepper.
Spread the mixture on a baking sheet and roast for 20 to 30 minutes, stirring halfway through, until squash is tender and onions are browned.
Allow the vegetables to cool slightly, then puree them, in batches, in a food processor until smooth. Reduce oven temperature to 375 degrees.
Meanwhile, mix together the cheese layer ingredients including a pinch of nutmeg and a sprinkling of salt and pepper.
Butter a 9×12 baking pan and spread a little marinara sauce on the bottom. Layer the ingredients in the following order: noodles, squash puree, ricotta mixture, a drizzle of marinara, grated cheeses, and noodles.
Repeat layers until the mixtures are used up, finishing with a layer of noodles covered with marinara and topped with remaining grated cheeses. Place whole sage leaves on top of the cheese.
Cover the pan with foil and place on a baking sheet in the oven, baking for 30 minutes. Uncover and bake an additional 15 minutes, or until the top is golden brown and bubbling.
Remove from oven and let rest for 10 minutes before cutting.
Sage is one of the most versatile and easy herbs for home gardeners to grow! With The Ultimate Sage Gardening Guide, you'll have everything you need to know about growing and enjoying this versatile herb.
Have you tried this recipe? It makes a great dish to share with family or a few friends. Please tell us how it turned out for you.