Print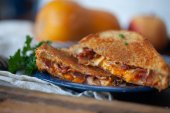 Pumpkin Grilled Cheese with Caramelized Onions and Bacon
Author:
Prep Time:

10 minutes

Cook Time:

30 minutes

Total Time:

40 minutes

Yield:

Serves 4

Category:

Entrées
Ingredients
8

slices of bread

4 tbsp

butter, room temp

7 oz

shredded gruyere cheese

8 oz

bacon, cut into thirds

1 cup

sliced squash like pumpkin, butternut, or honeynut — peeled, de-seeded and sliced very thin

1

small onion, peeled and chopped

1 tsp

honey

1/4

apple, thinly sliced
Instructions
Prepare by setting out four plates, and two slices of bread on each. Use a tablespoon of room temperature butter on one side of each slide, and place them butter side down (this is the side that will get grilled.). We'll call Slice A the top slice, and Slice B the bottom slice, where you will begin stacking your ingredients as they cook. 

Divide the cheese in half, and sprinkle it evenly across the unbuttered side of Slice B on each plate. 

Heat a medium-sized skillet over medium heat, and cook cut bacon in the skillet until crisp, about 10 minutes. Remove the bacon to a paper towel-lined plate, but keep the bacon grease in the skillet. Then, add bacon on top of cheese on Slice B of each plate.

Add your finely sliced squash to the skillet, and cook 1 minute on each side, or until soft. Then, remove to a paper towel-lined plate, pat dry, and distribute evenly across all of your Slice Bs. 

Drain all but 2 tbsp bacon fat from the pan and add chopped onions, then sprinkle with salt and pepper. Cook for about 10-15 minutes over medium heat, adding 2 tbsp water every couple minutes to keep them from burning, and giving them a little toss to scrape the pan each time. Onions will become very soft and deep brown (but not burned!) when done.

Add honey to onions and cook 1 more minute while stirring. Distribute the onions across the Slice Bs, and add apple slices on top.

Sprinkle the Slice Bs with remaining cheese, close the sandwiches so both buttered sides are facing out. Cook sandwiches on a new clean skillet over low heat, covered, for about 3 minutes. Flip, cover again, and cook for another 3 minutes. Since stoves vary, keep an eye that they don't burn. 

Slice diagonally, and enjoy!