Dessert is a sweet finish to what you hope was a delicious meal. It's that final, relaxed part of the meal where you can all sit back with a cup of coffee, maybe a cordial, and indulge in casual conversation.
What's the secret to a perfect dessert? Well, over the years, I've learned that dessert doesn't have to be anything fancy to be a hit. In fact, sometimes the simplest ingredients combine to create the ideal dessert.
Hats off to the English for developing the "fool" as a virtually foolproof dessert. It's essentially an elegant presentation fruit with whipped cream or custard. The traditional English fool is made with gooseberries. That's an even quicker route to a delicious dessert, since you don't have to cook anything to get dessert together.
But if you want to showcase your rhubarb harvest, the preparation time for rhubarb fool is absolutely worth it. The beauty of this dessert lies in its simplicity: fruit, sugar, and a little patience.
When you're ready to serve up your rhubarb fool, it's ideal if you have parfait glasses so you can highlight the beauty of the layering: the rich, red smoothness of the rhubarb puree offset by the creamy, airy lightness of the whipped cream.
If you want to make a bolder statement, get out a trifle bowl and layer the whipped cream and rhubarb to create a stunning centerpiece that will garner you plenty of compliments before anyone's even taken a bite!
Variations on the fool theme replace whipped cream with custard or pudding non-dairy whipped topping.
You may develop your own variations of this simple, classic dessert. Got gooseberries? Grapes? Quarter them and layer them in. Blueberries? Go for it. Let us know if you keep it super-simple, or if you dress it up with a little more color and flavor.
Print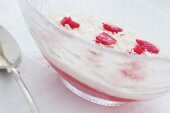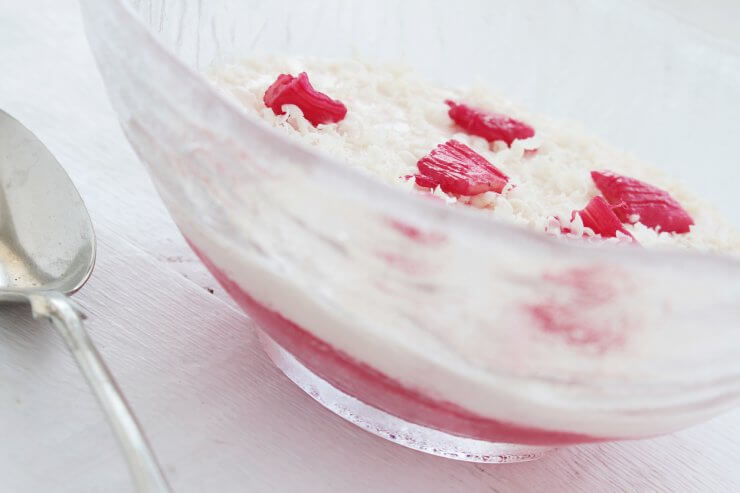 Rhubarb Fool
In the U.K., a "fool" is a layered dessert made with custard and fruit — kind of a U.S. version of a parfait. We're using fresh whipped cream for our fool, although you could use custard or pudding if you prefer.
Author:
Prep Time:

20 minutes

Additional Time:

2 hours

Cook Time:

10 minutes

Total Time:

2 hours 30 minutes

Yield:

Serves 8

Category:

Desserts
Ingredients
3 cups

rhubarb, sliced into 1-inch pieces (see note)

1/3 cup

sugar

1/4 cup

orange juice
Dash of salt

1 cup

heavy whipping cream
Instructions
Combine rhubarb, sugar, orange juice, and salt in a large saucepan.
Bring the mixture to a boil and immediately reduce heat to a simmer.
Simmer, covered, for 6 to 8 minutes. Stir gently only once or twice; rhubarb is prone to break at this point.
Allow the mixture to cool.
Process rhubarb mixture in a blender or food processor until it's smooth.
Transfer it to a glass bowl; cover and refrigerate for at least 2 hours.
When you're ready to serve, whip cream until soft peaks form.
In a dessert bowl (or parfait glass), alternate layers of rhubarb and whipped cream.
Notes
If your rhubarb needs a little pick-me-up before you start cooking, try soaking 6-inch lengths in cold water for about a half hour. Drain, dry, and continue with the recipe.
Have you made Rhubarb Fool? How do you put your own touch on the recipe? Let us know!