Do you want to know a secret? Chocolate-Covered Strawberries may be an iconic part of Valentines' Day, but there's nothing stopping you from whipping up these bite-sized treats for your own enjoyment, any time of the year! There's really nothing stopping you from dipping strawberries in chocolate whenever you want — this particular dessert just became intrinsically linked to the love-themed holiday. Why? Strawberries have a history dating all the way back to Ancient Rome, where they were seen as a symbol of the goddess of love. Legend even has it that two people who split a strawberry will fall in love!
I can just imagine why — the little heart-shaped fruits pack a ton of sweetness. Incidentally, that's also why they taste so good when you dip them in chocolate. The bright, tart flavor of the strawberry gets perfectly mellowed out by the creamy, rich chocolate.
Whenever I get big, juicy, picture-perfect strawberries from my garden, this is my favorite way to use them. Other than the strawberries, you just need several ounces of milk chocolate chips and a few teaspoons of shortening to help the coating solidify. These Chocolate-Covered Strawberries are an irresistible bite-sized delight you can prepare in as little as fifteen minutes. Using toothpicks to dip the strawberries will minimize mess and also allow for easy cooling — just stick the dipped strawberries upside-down in a block of styrofoam. If you don't have any styrofoam on hand, you can also just place them on a sheet of wax paper.
They make an excellent gift for any occasion, including birthdays, anniversaries, holidays, or whenever you have a new batch of strawberries. Try it out!
Print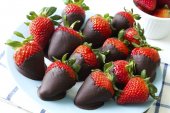 Chocolate-Covered Strawberries
Juicy strawberries and creamy milk chocolate — enjoy both of these delights through these Chocolate-Covered Strawberries.
Author:
Prep Time:

5 minutes

Cook Time:

10 minutes

Total Time:

15 minutes

Yield:

Serves 6

Category:

Desserts
Ingredients
16 ounces

milk chocolate chips

2 tablespoons

shortening

1

pound fresh strawberries with leaves
Instructions
In a double boiler, melt the chocolate and shortening, stirring occasionally until smooth.
Insert toothpicks into the tops of the strawberries.
Holding them by the toothpicks, dip the strawberries into the chocolate mixture.
Turn the strawberries upside down and insert the toothpick into styrofoam for the chocolate to cool.
Have you tried this classic recipe for a fancy dessert or party appetizer? They make a great gift, too—please tell us how they turned out for you.
Ah! The sweet world of strawberries! With our Strawberry Collection, you'll have everything you need to know about growing and enjoying this wonderful fruit. From the history and background of the sweet strawberry to specific advice about soil requirements and fertilizer … from watering techniques to details about avoiding diseases … from easy-to-make and delicious recipes that will allow you to enjoy the fruits of your gardening labor to the nutritional benefits of strawberries—get it all in our Strawberry Collection right now!