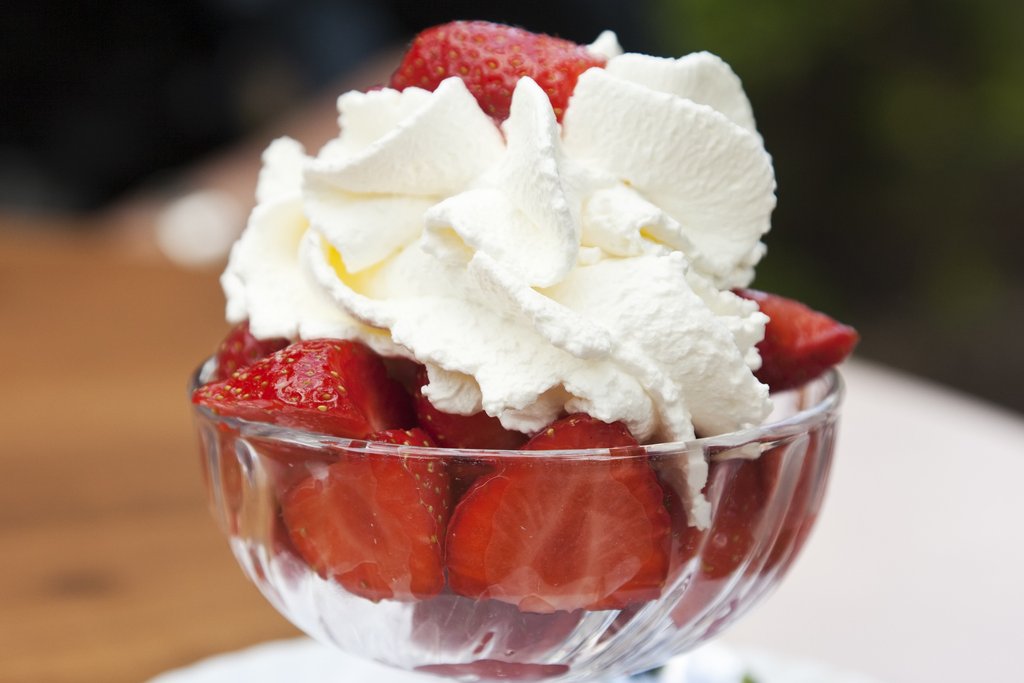 Peak-season strawberries are just something you don't want to miss out on. Not only are these fruits bright and juicy, but they're also quite versatile as an ingredient. You can use them for pies, add them into salads, bake them into cakes, or use them as a flavoring for frosting, turn them into homemade ice cream, and much more. There's practically a whole grocery list of things you can do with these pretty, plump berries!
This is why I'm always excited when my neighbor shares some of her home-grown strawberries with me. The store-bought variety, even during peak season, has nothing on home-grown strawberries! I'd grow my own, but the rabbits always get into them, I don't know how she keeps them out!
When I last got a basket of my neighbor's humble harvest, I wanted to try a little spin on a classic recipe: Strawberries With Chamomile-Infused Cream!
It's an easy enough recipe to make but you need a bit of patience with the chilling and waiting times. Still, that wait is going to be all worth it when you taste just how lovely this dessert is.
Strawberries at their peak ripeness are sweet and fruity with a hint of acidity. Eaten by themselves, you get a burst of sweetness with a slight tang. This can be a little bit overpowering if a milder taste is more to your liking. To balance out those strong flavors, making your own batch of soft, velvety, chamomile-infused whipped cream will do the trick.
With the addition of cream, you'll get a light and breezy dessert that is neither too strong nor too bland. Since your cream will be infused with chamomile, you'll get to enjoy your fresh strawberries with a hint of honey-like sweetness and delicate floral undertones. What could be better than that on a summer's day?
Print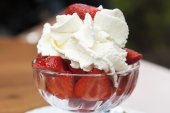 Strawberries with Chamomile-Infused Cream
Enjoy the taste of summer with a light and sweet serving of Strawberries with Chamomile-Infused Cream!
Author:
Prep Time:

15 minutes

Additional Time:

2 hours 30 minutes

Cook Time:

15 minutes

Total Time:

3 hours

Yield:

Serves 6

Category:

Desserts
Ingredients
1 cup

chilled heavy cream, divided

4 teaspoons

fresh chamomile flowers, or

2 teaspoons

dried chamomile flowers

2 pints

fresh strawberries, hulled and quartered

3 tablespoons

of sugar
Instructions
Heat 1/2 cup of the cream in a saucepan over medium heat, just until bubbles start to form around the edge of the pan. Remove the pan from the heat.
Add chamomile to the warm cream and let it steep for 20 minutes.
Put the cooling cream/chamomile mixture into a glass bowl. Cover and refrigerate for at least 2 hours.
While the cream and chamomile mixture is chilling, toss the strawberries with 2 tablespoons of the sugar until the strawberries are evenly coated. Cover and set aside.
When the cream and chamomile mixture is chilled, strain the cream through a fine-mesh sieve into a medium mixing bowl.
Add the remaining 1/2 cup of cream and the remaining sugar to the infused cream.
Use an electric mixer to beat the cream until it forms soft peaks.
Divide the berries among bowls.
Spoon the chamomile whipped cream over the berries and serve.
Have you tried this recipe? It's such a light and breezy dessert—please tell us how it turned out for you.