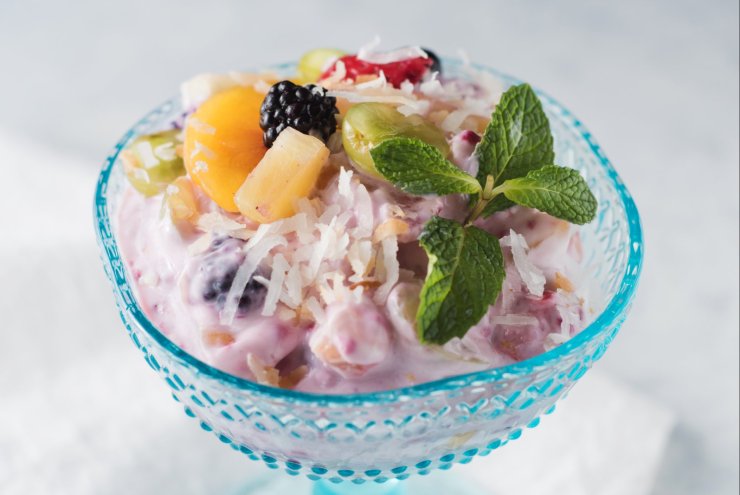 Don't you just sometimes wish that you could take a long holiday on a beautiful tropical island? Just imagine the sun, sand, and sea — and all the delicious tropical cuisine you can enjoy!
Since traveling to a tropical island doesn't always happen, why not bring the taste of the tropics on your table instead?
Enter the All-Day Tropical Fruit Salad! It's yummy, refreshing, and surprisingly easy to make! There's nothing quite like the marvelous blend of sweet and tangy tropical fruits mixed together in smooth and creamy Greek yogurt. The subtle tartness of Greek yogurt acts as a balancer that harmonizes the diverse flavors of the fruits, all at once making them distinct but united. A bit of orange zest mixed into the Greek yogurt enhances the salad's fruity aroma.
Since you have orange zest, you might as well add some peeled and bite-sized versions of this fruit to your tropical fruit salad. Oranges have that sweet-tart flavor, which matches with the equally sweet-tart pineapple chunks. Lending some contrast in terms of texture are some plump berries, with their taste falling on the sweeter side of the flavor spectrum. Halved grapes are delightfully firm and refreshing, which makes them a great addition to this ensemble.
Peaches, on the other hand, give off that delicate, floral taste and melt-in-your-mouth texture. Their softness gives your palate a creamy sensation that blends well with the Greek yogurt. Topping off your fruit selection are nicely toasted coconut flakes, which have a sweet and nutty flavor that completes this salad with a tropical flourish.
To really enjoy your tropical fruit salad, serve it right away or after chilling it for 24 hours. Don't forget to cap it off with a sprig of fresh mint!
Even if you aren't able to travel to a tropical island, it doesn't mean you can't enjoy the flavors! From grapes to pineapples to coconut, this sweet dish is infused with the tastes of the tropics.
Print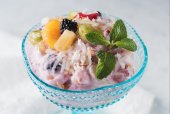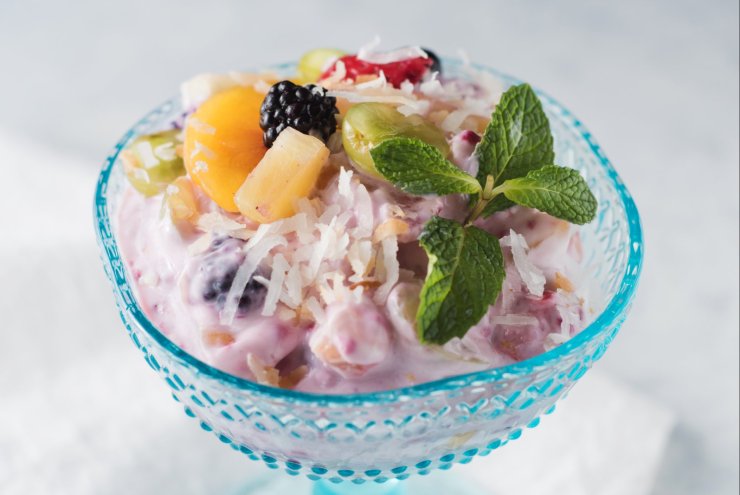 All-Day Tropical Fruit Salad
From grapes to pineapples to coconut, this All-Day Tropical Fruit Salad is infused with the tastes of the tropics. 
Author:
Prep Time:

15 minutes

Total Time:

15 minutes

Yield:

8

1

x
Category:

Desserts
Ingredients
2 cups

Greek yogurt, plain or vanilla

1

orange, zested, peeled, and cut into bite-size pieces

2 cups

pineapple chunks, fresh or canned

2 cups

fresh or frozen berries

1 cup

diced fresh or frozen peaches

1 cup

green or red grapes, cut in half

1/4 cup

coconut flakes, sweetened or unsweetened, toasted
Fresh mint sprigs, for garnish
Instructions
In a large bowl, combine the yogurt and orange zest.
Add the orange pieces, pineapple, berries, peaches, and grapes. Stir to combine.
The salad can be served right away or chilled for up to 24 hours. Sprinkle the top with the coconut and add a sprig of fresh mint before serving.
Notes
To toast the coconut, cook at 350 degrees F on a baking sheet for 5 to 10 minutes.
What are your favorite tropical fruits? Would you add them to this All-Day Tropical Fruit Salad?