When life gives you lemons … make lemon curd. Now, I don't have anything against freshly squeezed lemonade; it's delicious. And there's no rule that says you can only drink lemonade when it's hot outside. Personally, I love the zing of lemon, so I'm happy to drink it year-round.
But if you have your own lemon trees, sooner or later you're going to have a lot of lemons. What's a lemon lover to do? Well, one of my favorite things to make is a Lemon Curd Fruit Spread. If you've never heard of it before, or you've been avoiding it because of the name, head into the kitchen and make a batch. You won't regret it.
I first had lemon curd when I was a kid. My mom's friend's grandmother had made some according to her family's recipe. I was somewhat hesitant. Curd? Really? We were visiting; I had to be a polite guest, so I tried it. That was the beginning of my lifelong love of lemon curd. I wish I had asked for her recipe. Nothing I have found at the grocery store comes anywhere close to the amazing flavor of that homemade spread.
OK, so why is it called curd? Well, you have to travel back to England in the early 1800s. There was something called lemon curd then—but it was made with cream. The lemon juice curdled the cream, and then the cook separated the curds from the whey, added some sugar—and they had lemon curd. Yum?
Lemon curd has evolved since then, with the addition of butter and eggs to create a rich, creamy spread that's more like a fruit preserve or custard. In some regions, you'll hear it called lemon cheese; it may or may not be the same as a Lemon Curd Fruit Spread, since there's also a modern version of the old English lemon curd—which is called lemon cheese. It's really more like a farmer's cheese flavored with lemon. If only recipes could have clearer names!
To be clear, we're talking about the tangy, not-too-sweet, lemony spread that's perfect on scones, biscuits, cake, ice cream, and more. Make it once; it won't be the last time!
Print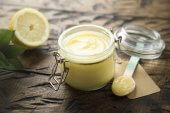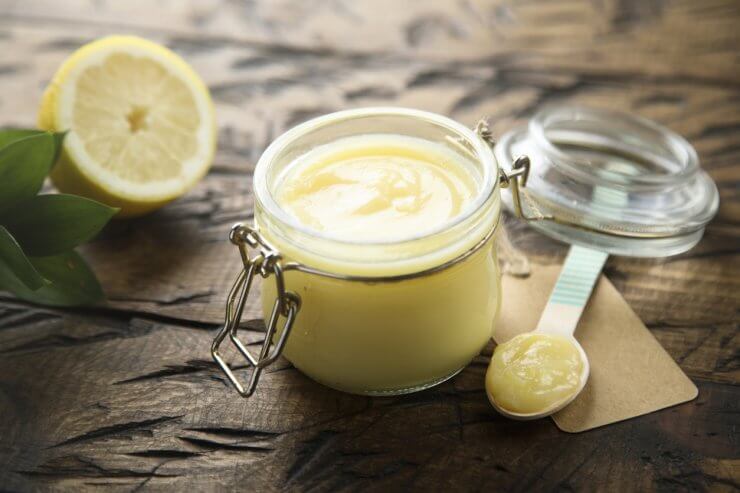 Lemon Curd Fruit Spread
Lemon Curd Fruit Spread is one of the most delicious things you can make with lemons—to use on bread or as an ice-cream topping. The combination of sweet, tangy, and creamy will have you craving more. Prepare to make a second batch soon!
Author:
Prep Time:

10 minutes

Cook Time:

10 minutes

Total Time:

20 minutes

Yield:

1

and 1/2 cup

1

x
Category:

Desserts
Ingredients
5

large eggs

1 1/2 cups

sugar

1 1/4 cups

freshly squeezed lemon juice(about

4

lemons)

1/2 cup

lemon zest (remember to wash lemons first)

10 tablespoons

butter, cut in thin slices
Pinch of salt
Instructions
Combine lemon zest and sugar in a food processor with a steel blade. Process until the zest is very fine, about 2 to 3 minutes.
In the bowl of a stand mixer, cream the butter, then add the sugar/zest mixture until everything is thoroughly combined.
Add the eggs, one at a time, on low speed.
Add lemon juice and salt. Mix until all ingredients are thoroughly combined.
Pour the mixture into a heavy saucepan and cook over low heat, stirring constantly with a whisk.
Continue to stir until the mixture has thickened, about 10 minutes.
Remove from heat and strain into a glass bowl or jar.
Allow to cool completely before serving.
Store lemon curd in an airtight glass container in the fridge for up to 2 weeks.
Notes
For even more control over the cooking process, use a double boiler; that will eliminate the risk of scorching. You'll see little pieces of egg as you're whisking. That's fine; you'll be straining this when it's done. But if you start to get pieces of cooked egg bigger than pea size, you'll want to start over because your curd will have a heavy taste of scrambled eggs.
Lemons may seem like an exotic tree to grow, but all they need is a little TLC to give you years of tangy harvests! You don't have to live in a subtropical zone to grow lemons—there are plenty of varieties happy to grow as productive houseplants! With this gardening guide, you get all the details that go into growing and harvesting bright, fragrant lemons. Get recipes for dishes sweet and savory that make it all the more rewarding to grow your own lemons. Get it all in our Tart & Tangy Lemon Gardening Guide right now!
Have you tried this recipe? It makes a perfect spread on toast, cake, or ice cream. Please tell us how it turned out for you.