Ice cream is one of those treats that never fails to bring a smile to my face. With the staggering variety of flavors available on the market, there's a little something for everyone. Whether it's your run-of-the-mill chocolate, strawberry, and vanilla, or one of the more interesting (and highly-debated) flavors like mint chocolate chip, you're sure to have your own No. 1 ice cream flavor.
For me personally, it's hard to beat vanilla ice cream. Sure, to some people it might be "plain" and "boring," but to me, that's part of the beauty! When you want a simple treat, plain vanilla bean ice cream gives you that delicate sweetness with a surprisingly creamy and earthy depth. However, when you're feeling fancy, it's incredibly easy to throw on a few toppings that totally change your dessert!
This Ice Cream Sundae With Nuts and Fennel is one of my recent discoveries. It's a recipe my cousin sent me when I asked her for ideas for my new fennel harvest, and I must admit that it's opened my eyes to something I've never considered before!
The walnuts in this recipe are first toasted, soaked in a sugar syrup, and baked until browned and crunchy. Meanwhile, the thinly-sliced fennel is candied in a sugar syrup with lemon zest and a whole vanilla bean until it's sweet and tender. When you've finished cooking, just bring out your ice cream and spoon the toppings and syrup over the top — and your Ice Cream Sundae With Nuts and Fennel is ready for the whole family to enjoy!
Print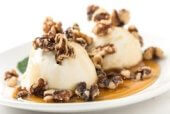 Ice Cream Sundae with Nuts and Fennel
Indulge in the contrast between sweet ice cream and a savory, crunchy topping with this Ice Cream Sundae with Nuts and Fennel!
Author:
Prep Time:

15 minutes

Cook Time:

40 minutes

Total Time:

55 minutes

Yield:

Serves 8

Category:

Desserts
Ingredients
1 cup

raw shelled walnuts

1 cup

sugar

1

fennel bulb, fronds (the leafy top) removed and reserved, and bulb thinly sliced
Zest of

1

lemon

1

whole vanilla bean, split lengthwise to expose the seeds/caviar

2/3 cup

powdered sugar

2 pints

vanilla gelato or ice cream
Instructions
Preheat oven to 350 degrees F, and toast walnuts on a baking sheet for 5 to 8 minutes until browned.
In a medium saucepan, heat sugar in 1 cup water, stirring until sugar dissolves. When cooled, pour over walnuts and seal in a jar to sit for up to one day.
Pour walnuts into a fine-mesh sieve over a clean medium saucepan, letting the syrup drain into the pan. Transfer walnuts to a medium-sized bowl, and reserve sieve.
Add sliced fennel and lemon zest to syrup and scrape the vanilla-bean seeds/caviar into the syrup. Add vanilla bean pod to syrup mixture, too.
Simmer over low heat, cooking and stirring occasionally until fennel is tender—about 25 minutes.
Remove from heat, discard vanilla-bean pod, and let fennel cool in the syrup mixture.
Coat walnuts in powdered sugar and bake on baking sheet for 5 minutes at 400 degrees F, until walnuts become browner and crunchier.
Scoop gelato or ice cream in bowls, and top with walnuts, candied fennel, and chopped fennel fronds.
Serve immediately.
Fennel deserves a lot more love and attention from food gardeners! The Fabulous Fennel Gardening Guide will give you everything you need to know about fennel, including planting tips, harvesting methods, and quick-and-easy recipes that will please even the most discriminating diner! Check it out and start growing fennel today.
Have you tried this recipe? You might want to try it out on yourself before serving to guests, since it's new and unique. How did this recipe turn out for you? Please comment below.