There's something to be said for keeping things simple. Our rhubarb pie has just four ingredients, plus the crust. It's not a difficult recipe by any means, and will be all the sweeter if you can use your own garden-grown rhubarb.
My first memory of rhubarb pie goes back to visits to my grandparents' house. My grandmother, Philomena, kept a lovely garden, full of delicious fruits and vegetables. I happily helped her harvest carrots and beets, scallions and squash, blueberries and bell peppers. We could pick everything we needed for a fresh salad to go with dinner.
The rhubarb in my grandmother's garden grew along a fence. It was enormous, with leaves broad enough to provide ample shade for adventurous children. We were warned, of course, never to eat the leaves, because they were "yucky." Of course, now I know that they were beyond "yucky;" they're poisonous.
But, oh, the smell of fresh rhubarb pie baking in the oven, and then cooling on the windowsill. It was all I could do not to stick my finger in that pie, still hot from the oven. It smelled so good!
By the time dinner was done, the pie was cooled and it was time for dessert. Whipped cream or ice cream were our usual toppings. But really, the pie was delicious enough on its own, it didn't need anything else. But I had the ice cream anyway.
When I make rhubarb pie now, the sweet scent of the pie baking takes me back to my childhood. For me, this pie tastes like home. This is a simple, delicious, time-tested recipe that can take you back to the first time you ever tasted a slice of rhubarb pie.
Try this classic recipe—it doesn't take long to make. And you don't have to make the crust from scratch if you don't want to. There's nothing wrong with saving yourself a little time in the kitchen so you can have more time to enjoy the fruits of your gardening labor.
Print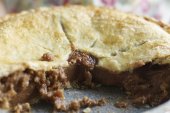 Classic Rhubarb Pie
Skip the commonly-included strawberries and stick to the classic all-rhubarb rhubarb pie. Simple ingredients make for a stunning dessert. From counter to oven to table in just over an hour.
Author:
Prep Time:

15 minutes

Cooling Time:

15 minutes

Cook Time:

1 hour

Total Time:

1 hour 30 minutes

Yield: Makes

1

pie ; Serves 6 to 8 (depending on how you slice it)

1

x
Category:

Bakery
Ingredients
4 cups

chopped rhubarb

1 1/3 cups

white sugar

6 tablespoons

all-purpose flour

1 tablespoon

butter

2

9-inch pie crusts
Instructions
Preheat oven to 450 degrees F.
Put one pie crust in the bottom of the pie pan.
Combine the sugar and flour.
Sprinkle 1/4 of the sugar/flour mixture over the bottom of the pie crust.
Pile rhubarb into the pie plate.
Cover rhubarb with the remaining sugar/flour mixture.
Dot the top with small pieces of butter.
Add top crust; seal and crimp.
Cut small vent slits in top crust
Put the pie on the lowest rack in the oven and bake for 15 minutes.
Reduce oven temperature to 350 degrees F and bake for another 40 to 45 minutes.
Serve warm or cold; with ice cream or without.
Have you made a classic rhubarb pie? Is this how you make it, or do you have another approach? Let us know what you thought about this recipe.