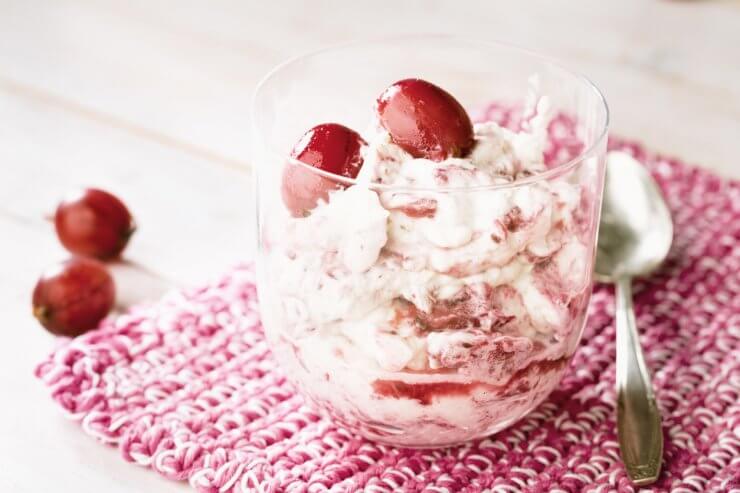 Why is this gooseberry dessert called fool? It has nothing to do with jesters or jokers; the term "fool" comes from the French term fouler —to press or crush; think: grapes. Once you've made the separate components of this creamy, delicious dessert, you fold the cream and crushed fruit together—hence the Anglicized term fool.
Planting gooseberries will be at the top of your to-do list so you can make your own home-grown Gooseberry Fool. Chefs around the world have known the magic of matching berries and cream for centuries! The Old English term foole first appeared in 1598.
If you aren't ready to start planting gooseberries, getting some canned or frozen berries is a great way to get a real taste of what could become your next gardening project.
I hope you get a chance to make this recipe; it's a good example of how easy it can be to make an elegant dessert with just a few simple ingredients—especially something that came from your own garden!
Print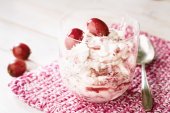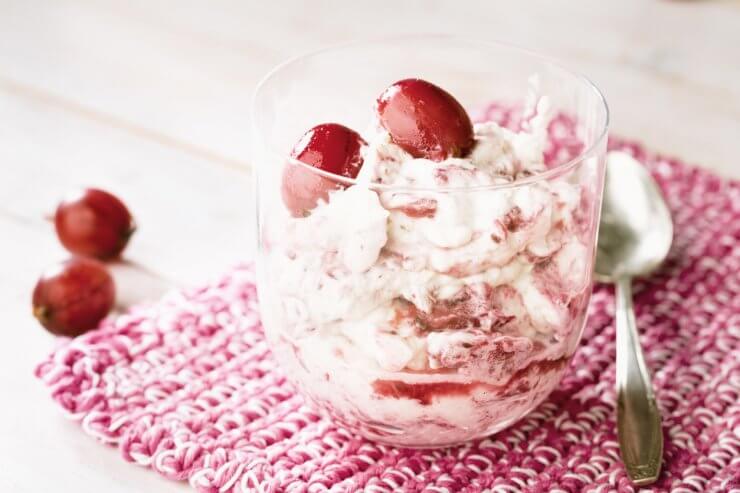 Gooseberry Fool
Cool, sweet, refreshing—and oh-so-easy to make! Whip up this delicious Gooseberry Fool dessert the next time you have company for dinner. Or just make it for yourself.
Author:
Prep Time:

30 minutes

Chilling Time:

1 hour

Cook Time:

30 minutes

Total Time:

2 hours

Yield:

Serves 6

Category:

Desserts
Ingredients
1

pound fresh gooseberries, quartered

2 1/2 Tablespoons

granulated sugar

1 cup

heavy whipping cream

1 tablespoon

confectioners' sugar
Instructions
Remove any stem or flower ends from the gooseberries (top and tail). Wash, drain, and quarter them.
Put the cut fruit into a large saucepan and sprinkle the sugar over it.
Add just enough water to cover the berries and slowly bring the mixture to a boil, stirring frequently to help the sugar dissolve.
Turn the heat down and let the mixture simmer for 10 to 25 minutes, until the fruit is soft.
Taste the fruit mixture for sweetness; add more sugar as desired.
Allow the cooked fruit to cool, then chill it in the fridge for at least 30 minutes. (You can make this part a day ahead if you like.)
When you're ready to serve dessert, whisk the cream and confectioners' sugar together in a large mixing bowl until soft peaks form.
Fold in the fruit.
Serve in fancy glasses or even teacups for an elegant presentation.
Notes
You can substitute low-fat yogurt for the cream if you like, or make a simple custard; you just need a creamy base to hold the fruit. Any way you choose to make it, this is a dessert you'll make more than once!
Planting and growing gooseberries is easy, and the harvest is delicious! There are terrific, disease-resistant varieties to choose from, and you only need one gooseberry bush to start! So, what are you waiting for? With this collection, you get all the details that go into growing and harvesting plump, juicy gooseberries. Get recipes that make the most of the flavor of your gooseberries so you can enjoy the fruits of your harvest all year long! Get it all in our Triumphant Gooseberries Collection right now!
Have you tried this recipe? It's a delicious dessert that looks harder to make than it really is—please tell us how it turned out for you.