I might be in the minority here, but ambrosia salad is one of my favorite dishes. Traditionally it's made with canned mixed fruit with fluorescent cherries, in a fluffy batter of marshmallow, whipped cream, and sour cream – what a delight! This Fresh Fruit Maple Ambrosia Salad isn't that!
As a kid, I lapped the stuff up at family BBQs, but now that I'm an adult I have to do the adulty thing and try to make things healthier. But for this one I wasn't willing to give up flavor! When I first made this Fresh Fruit Maple Ambrosia Salad, we had just wrapped up maple season, and my trees provided an abundance of syrup, which gave me the idea to add it. Everything is better with maple!
This Fresh Fruit Maple Ambrosia Salad uses vegan and gluten-free marshmallows (optional!) and Greek yogurt. My daughter loves the marshmallows, so I can't get away with making it without them and still calling it ambrosia, in her eyes. But you can absolutely make it without marshmallows for the most healthy version, and adjust the maple syrup to your likes and preferences too (you can certainly use much less.)
To create a lighter, healthier ambrosia than the traditional over-processed version, fresh fruit is used instead of the canned and sugar-soaked stuff; Vegan, gluten-free mini marshmallows are used, made with cane sugar, and about 1/4 what a traditional recipe calls for; Real maple syrup is used to sweeten, and you can add less than the 1/2 cup suggested, in fact, you can start with 1/4 cup and work your way up; I've added protein from Greek Yogurt (and fat if you choose the full-fat version); and added healthy fats from the crushed walnuts and shredded coconut
Why did I use real maple syrup and not honey? Well, I love the taste, but it's also higher in essential nutrients than honey, and it has a lower glycemic index. Maple syrup also has less fructose than honey, and is suitable for a low FODMAP diet (as is this recipe if you swap out Greek yogurt for plant-based yogurt and use the suggested marshmallows). Now with all that banter aside, make this Fresh Fruit Maple Ambrosia Salad and let me know what you think!
Print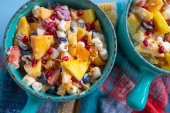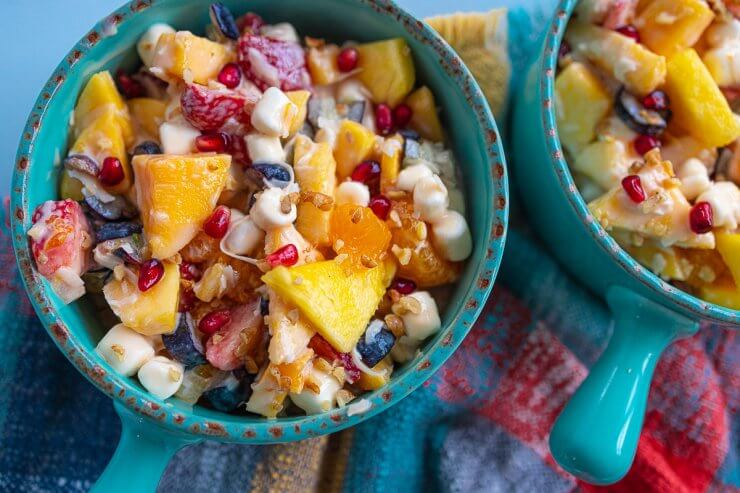 Fresh Fruit Maple Ambrosia Salad
This health-conscious Fresh Fruit Maple Ambrosia Salad combines sweet tropical fruits and berries with protein-packed Greek yogurt and walnuts, softened by real maple syrup.
Author:
Prep Time:

15 minutes

Cook Time:

None

Total Time:

15 minutes

Yield:

6 cups

1

x
Category:

Desserts
Ingredients
1 cup

Greek yogurt

1/2 cup

shredded coconut
Optional: 1 heaping cup of mini marshmallows (vegan, gluten-free work best)
Up to

1/2 cup

real maple syrup (flavor to your sweetness preference)

1

pineapple, 1-2 cups chopped

2 cups

seedless grapes, halved

1 cup

strawberries, chopped

1

mango, cubed

3

mandarin oranges or

1 cup

mandarin orange sections

1/8 cup

chopped walnuts
Optional: Pomegranate arils as garnish
Instructions
In a bowl, combine yogurt, shredded coconut, mini marshmallows, and maple syrup. Stir and set aside.
Prepare your fruits.

For pineapple: Slice off top and bottom of a whole pineapple, then slice in half from top to bottom, remove core, then cut remaining fruit into small bite-sized pieces (see video).
For mango: Slice mango from top to bottom on both sides of the pit. Then slice a grid into the flesh of the mango, and use your thumbs to push the peel out, to display chunks of mango (see video) and simply slice them off.
For mandarin oranges: If you want to try your hand at making soft pillowy mandarin orange sections like you get from the jar, get yourself some pectinase which you may find as Pectinex. This can come in a liquid or powder form. Pectinase will dissolve the white pith and connective material on your mandarin orange segments. Simply peel your oranges, divide them into their individual sections, add them to a bowl and cover with water. Follow bottle instructions, but in general, a couple of drops or sprinkles will do the trick. Adding more will just make it work faster so you don't need to be too exact. Let them sit at room temp for a few hours, or cover and leave them overnight in the fridge. In the morning, rinse your oranges, and voila!

Add fruits to your bowl, mix, and enjoy!
Notes
Best eaten within a few hours, but can last overnight in the fridge. It will be a little juicier as the fruits release their juices overnight. Adding more marshmallows and/or using less maple syrup can help with excess liquid.
If you really want to prepare a day ahead, for best results only prepare the fruits the night before. Cover, and refrigerate. In the morning or before serving, strain the excess juice before adding the remaining ingredients.
Keywords: ambrosia salad, healthy ambrosia salad, maple ambrosia, fresh fruit ambrosia
If you make this Fresh Fruit Maple Ambrosia Salad, I'd love to know what you think!