Everyone who has an ice cream maker, raise your hand. When's the last time you used it? Do you know which cabinet it's in? No worries; you don't need it to make this easy, refreshing dessert.
Once you learn how to tell if melons are ripe, you can just take a little walk through your garden to pick the best melon for the job—a cantaloupe or similarly "meaty" melon that can stand up to both the freezer and the blender.
In the summertime, I always look forward to seeing what delicious new flavors of ice cream and sorbet our local ice cream shop has to offer. They make everything right there on the premises, so you know it's fresh. And every year, they try to come up a new ice cream and a new sorbet. Some people are all about the ice cream. Me? On a blistering hot day, it's sorbet for me.
One summer they had this amazingly refreshing sorbet made from local melons. I was a little skeptical at first; I usually think of sorbet being made from something super sweet, like raspberries, or super tangy, like lemon. But melon? Oh, my. Sweet, refreshing, and lighter than I expected. I really liked the full-body flavor of melon in this light, icy form.
This sorbet is actually easier to make than ice cream, and, truth be told, a lot better for you, too. Do a trial run before you make a big batch for guests, so you can get your flavoring just right. Experiment a little, and maybe try adding a bit of mint or basil—or just save that for the garnish.
When the hot days have you looking for something delicious to help you cool down, whip up a refreshing batch of homemade melon sorbet!
Print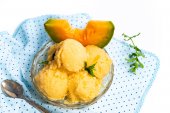 Mouthwatering Melon Sorbet
With a little planning ahead, you can have a delicious, homemade dessert ready for your guests to provide a cool finish to a hot day. You don't need an ice cream maker, either—just a freezer and a food processor. Note: Once it's time for dessert, make this and serve it right away.
Author:
Prep Time:

30 minutes

Freezing Time:

6 hours

Total Time:

6 hours 30 minutes

Yield:

Serves 4

Category:

Desserts
Ingredients
1

large fresh melon (cantaloupe works best, but go for a "meatier" melon)

1 tablespoon

lemon juice (freshly squeezed if you have it)

2 tablespoons

honey

2 tablespoons

water
Instructions
Cube the melon flesh. You should have about 4 1/2 cups of melon.
Line a baking sheet with parchment paper.
Lay the melon cubes on the parchment paper, taking care that they don't touch.
Put the tray in the freezer for at least 6 hours, so the melon freezes completely. If necessary, you can leave it in the freezer overnight.
When it's time for dessert, put the frozen melon into the food processor and pulse until the melon cubes reach a crumbly texture.
Add the lemon juice, honey, and water and pulse again. If necessary, add a little bit of water, but not too much—you don't want this to turn slushy.
Check the taste and adjust your seasoning as needed.
If it does get slushy, you can put it in the freezer for a half hour to let it firm up.
Serve immediately. Store leftovers in an airtight container in the freezer for up to 2 weeks.
Have you tried this recipe? It makes a perfect end to a hot day—please tell us how it turned out for you.