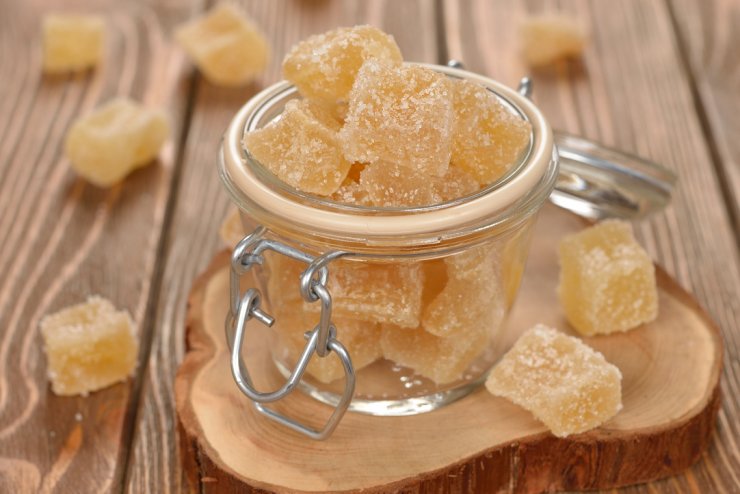 Ginger and sugar are a match made in heaven. It's why gingersnaps, gingerbread cookies, and a host of other ginger-infused desserts have been loved for ages! You just can't deny that the sharp, spicy flavors of ginger blend amazingly with the delicate sweetness of sugar. And what better way to pair up these two complementary delights than by making your very own batch of Candied Ginger!
Candied Ginger is exactly as its name suggests: small slices of ginger sweetened and coated with sugar. These ginger slices become tender as you simmer them in dissolved sugar for over half an hour. While ginger typically has a spicy, peppery bite, cooking it will mellow down the flavors. This is because gingerol, its active ingredient, is transformed into zingerone, which is what gives cooked ginger its slightly sweet taste.
When cooled, these ginger slices turn into little crystals of goodness that you can enjoy as candies. You can have a piece (or two!) to cap off your meals, or you can indulge in them while watching a movie. Whenever I get the chance, I make small jars of Candied Ginger for my daughters so they can have something to chew on whenever they need to burn the midnight oil.
The best part about making your own batch of Candied Ginger is that it can last for months when stored in a dry, cool, and airtight container. If your ginger comes from your bountiful home harvest, just imagine how much fresher and zestier your Candied Ginger could be!
So if you want to spoil your sweet tooth without worrying about processed sugars, skip the pack of commercial candies. Instead, pull some fresh ginger from your home garden and start making your little cluster of spicy-sweet Candied Ginger!
Print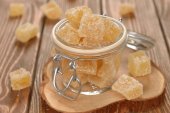 Candied Ginger
This candied ginger recipe is a great way to show off your harvest and serve a fabulous snack when entertaining for dinner.
Author:
Prep Time:

15 minutes

Additional Time:

30 minutes

Cook Time:

45 minutes

Total Time:

1 hour 30 minutes

Yield:

Serves 6

Category:

Desserts
Ingredients
1 cup

fresh ginger root

3 cups

filtered water

3 cups

granulated sugar, plus extra for coating
Instructions
Spray a cooling rack with nonstick spray and put it in a cookie pan lined with waxed paper.
Peel and thinly slice the ginger root.
Bring the sugar and water to boil in a medium-size saucepan. When the sugar is dissolved, add the ginger.
Simmer for 30 to 45 minutes, until the ginger is tender.
Drain the ginger over a bowl and reserve the liquid for another use.
Spread the ginger on the cooling rack and let it dry for at least 30 minutes.
Once the ginger is dry, toss it lightly with additional sugar to coat.
Store in an airtight container in a cool place.
Ginger is easier to grow than you may think! With our Zesty Ginger Gardening Guide, you'll have everything you need to know about growing and enjoying this versatile plant—including specific advice about soil requirements and fertilizer, watering techniques to details about avoiding bacterial wilt, and even easy-to-make and delicious recipes that will allow you to enjoy the fruits of your ginger gardening labor!
Have you tried this recipe? It's so easy and delicious. Please tell us how it turned out for you.