As one of the top go-to places for desserts, Paris, France, boasts a wide range of indulgent treats that will give your taste buds an unforgettable culinary experience. While many of us would love to travel across the world to experience the flavors of France first-hand, sometimes that's just not possible. Let's go with the next best thing: recreating French flavors at home. What better way to do it than to make a No-Bake Chocolate Éclair Cake?
When you think about French desserts, you're probably thinking that they're prestigious, challenging, and masterful. Perhaps, you would never think to attempt them at home if you have no prior culinary background. But that's not the case with the No-Bake Chocolate Éclair Cake.
I've tried my best to create a recipe that's simple to make, yet extremely scrumptious and heavenly. With only six ingredients and 15 minutes of prep time, you're sure to create a dessert that's to die for. The hardest part is that you need to wait overnight to eat it.
Because the ingredients are so simple, there's absolutely no room for messing up. But, if you want to elevate the dish to new heights, the key is to find only the highest-quality ingredients possible, from the bittersweet dark chocolate to the heavy cream and everything in between.
The combination of decadent chocolate, dense heavy cream, and moist cake layers make this a crowd favorite dessert for any occasion. But if you want to indulge in this heavenly treat all by yourself, nothing and no one is stopping you.
Let the different flavors and textures melt in your mouth, and they'll take you on a sensational journey to the dessert capital of the world!
Print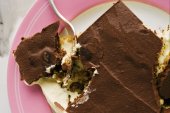 No-Bake Chocolate Éclair Cake
Let your senses travel to the dessert capital of the world when you recreate the decadence of the No-Bake Chocolate Éclair Cake at home.
Author:
Prep Time:

15 minutes

Chill Time:

10 hours

Total Time:

10 hours 15 minutes

Yield: Serves

1

2

1

x
Category:

Desserts
Ingredients
1 1/2 cups

heavy cream

12 ounces

bittersweet dark chocolate, chopped

1

(14.4-ounce) box honey graham crackers

3 cups

milk

2

(3.4-ounce) boxes french vanilla instant pudding mix

1

(12-ounce) container frozen whipped topping, thawed
Instructions
Heat the cream in the microwave or on the stovetop just until simmering. Place the chocolate in a heatproof bowl, pour the hot cream over the chocolate, and let stand for 2 to 3 minutes, then stir until smooth. Cover and let stand at room temperature for 2 hours, then whisk again.
Line the bottom of a 9 × 13-inch baking dish with one sleeve of the graham crackers.
In a large bowl, whisk the milk and pudding mix until thickened and smooth. Fold in the whipped topping.
Spread half of the pudding mixture over the graham crackers. Repeat the layers with another sleeve of graham crackers and the remaining pudding mixture. Top with the last sleeve of graham crackers, then spread with the chocolate ganache.
Refrigerate for 8 hours. Slice and serve.
Notes
You can use a 16-ounce container of chocolate frosting instead of the chocolate ganache.
Keywords: eclair cake, chocolate
Chocolate? Yes, please!!! Especially if I don't have to spend time baking! Have you tried this recipe? What did you think?