Want to add a little sparkle to your next dessert? There's something magical about seeing jewel-like slices of lemon on a cake or as a garnish for a cocktail. Candied Meyer Lemons have all the flavor of lemon with none of the tartness. They're sweet, flavorful, and wonderfully chewy!
It's easy to make these little citrus suncatchers—but much harder to eat just one! And you can use them for more than just a simple garnish. They'd make a great addition to a cheese plate (sweet, chewy palate cleanser, anyone?), a terrific partner to a chocolate spread, or even a sweet surprise in the bottom of a teacup!
Our friends have a Meyer lemon tree, and sometimes it produces too many lemons for even them to handle—and they're big on baking and canning. I'm always happy to take a few (or more) off their hands to make something fresh. Lemonade is always an easy option, but these candied lemon slices are just such a delightful treat.
Try to make them on a day when it's not too hot and humid; you'll be simmering sugar syrup for an hour or more. The simmering time is really a rough guide; what you want to watch for is when the lemon slices go from looking like regular old lemons and suddenly start to look like little stained glass windows in your saucepan. Then you know they're ready to drain and dry off.
Some people like to put them in a warm oven (200 degrees F) for an hour to dry them out. You can do that if you like. Or you can just leave them on a wire rack to dry out overnight.
Keep them in an airtight container in the fridge. They'll last for up to a month—if you can resist eating them!
This same process applies to making other candied citrus—just be sure to blanch the slices first to take the bitter edge off the rind.
Print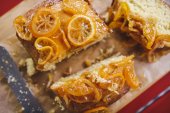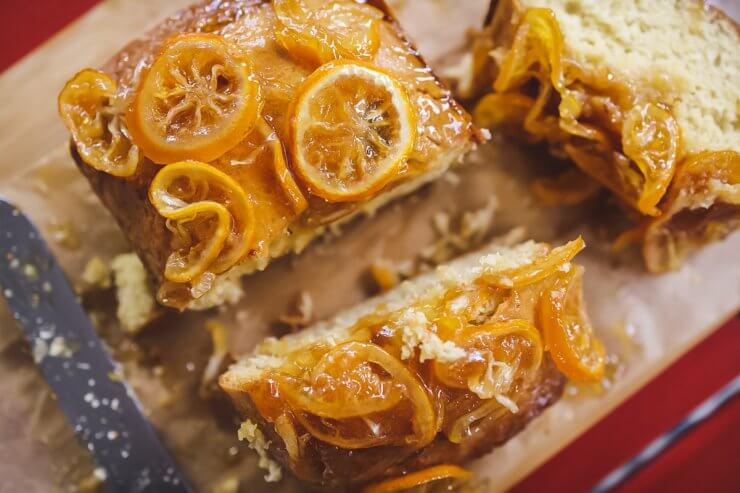 Candied Meyer Lemons
Use these candied Meyer lemon slices as a sweet garnish for home-baked cakes or cookies, or to dress up a bowl of ice cream. You can even add a slice or two to fresh-brewed tea.
Author:
Prep Time:

15 minutes

Cook Time:

1 hour 30 minutes

Total Time:

1 hour 45 minutes

Yield: approximately

24

slices

1

x
Category:

Desserts
Ingredients
4

Meyer lemons or

2

regular lemons

2 cups

granulated sugar

2 cups

water
Large bowl of ice water (optional)*
Instructions
Slice lemons thinly and remove any seeds. You should wind up with about 24 thin slices.
In a large skillet, bring the 2 cups of water and the sugar to a simmer, stirring until the sugar is completely dissolved.
Add the lemon slices to the saucepan, keeping them in a single layer.
Simmer for about an hour, until the slices appear translucent.
Cool lemon slices on a wire rack.
Store in an airtight container in the fridge for up to a month.
Notes
If you use lemons other than Meyer lemons (which have a very thin rind), you should blanch your lemon slices before simmering them in the sugar syrup. Add slices to boiling water for a minute, then quick chill them in a bowl of ice water. Then simmer them in the sugar syrup.
Lemons may seem like an exotic tree to grow, but all they need is a little TLC to give you years of tangy harvests! You don't have to live in a subtropical zone to grow lemons—there are plenty of varieties happy to grow as productive houseplants! With this gardening guide, you get all the details that go into growing and harvesting bright, fragrant lemons. Get recipes for dishes sweet and savory that make it all the more rewarding to grow your own lemons. Get it all in our Tart & Tangy Lemon Gardening Guide right now!
Have you tried this recipe? It's a perfect garnish for dessert. Please tell us how it turned out for you.