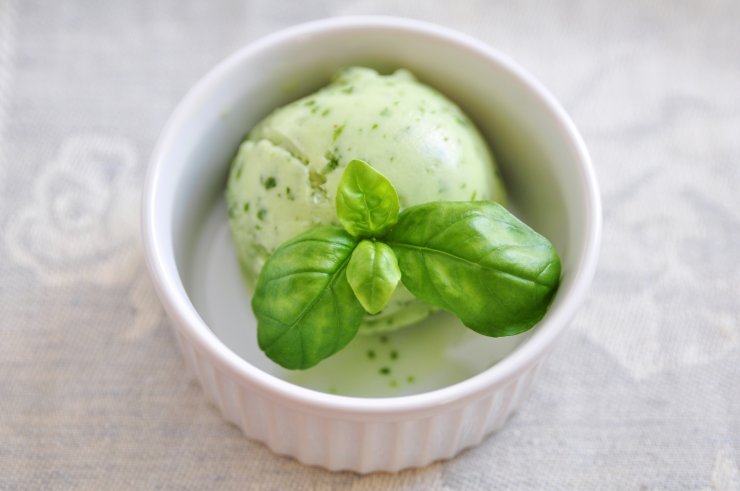 So maybe your first ice cream choice is Rocky Road or strawberry sorbet, but what if you have a huge crop of basil? Well, in that case, you can make basil ice cream! Let's take a look at a not-so-classic flavor combination: basil and vanilla. This flavor profile is perfect for cooling down on a hot day. Basil delivers a refreshing and herbaceous note that pairs perfectly with creamy vanilla ice cream.
Basil ice cream may sound like an unusual flavor, but it's actually quite delicious. It's sure to cool you down on a warm summer evening. Made with fresh basil, heavy cream, sugar, eggs, and milk, this ice cream is simple to make and even more delicious to eat.
Basil has a slight anise flavor, which you'll find drawn out in the ice cream. The comforting aftertaste of the sweet basil lingers on your tongue for a bit after you eat it. All in all, this flavor is very pleasant and interesting to try, even if you aren't normally into trying new things.
I recall first making this recipe about twenty years ago when I was vacationing in Italy with a friend. She had acquired her love of food, cooking, and gardening from her father, who had been an Italian chef. She was eager to tour the markets with me, and it was during one of those excursions that she bought some fresh basil plants, which she made into this ice cream. Since then, I started making my own, too — with tweaks, of course!
If you're looking for something different to add to your ice cream repertoire, be sure to try this recipe! It's definitely worth a taste.
Print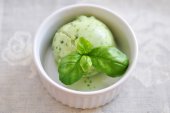 Basil Ice Cream
Tired of the same old vanilla and chocolate ice creams? Well, put your basil to yet another use with this unique basil ice cream dish! Yes, basil and ice cream go together. Give it a try, and you'll see for yourself.
Author:
Prep Time:

10 minutes

Cooling Time:

2 hours 30 minutes

Cook Time:

20 minutes

Total Time:

3 hours

Yield:

Serves 4

Category:

Desserts
Ingredients
2 cups

whole milk

3 tablespoons

chopped fresh basil

1/2 cup

sugar

4

large egg yolks

1/2 cup

very cold heavy whipping cream
Instructions
Bring milk, basil, 1/4 cup sugar, and a pinch of salt to boil in a large heavy saucepan, stirring frequently.
Remove from heat and let sit for 30 minutes.
When cool, mix in a blender for 1 minute, until basil is finely ground.
Beat egg yolks and remaining 1/4 cup sugar with an electric mixer in a medium bowl for 1 minute, until mixture is thick.
Add milk mixture in a stream to the egg mixture, beating until well-combined.
Pour entire mixture back into the saucepan and cook over moderate heat, stirring frequently with a wooden spoon, until mixture coats and sticks to the back of the spoon and registers 175 degrees F—do not boil!
Remove from heat and pour mixture through a fine-mesh sieve into a metal bowl.
Set metal bowl in a larger bowl of ice water and stir until cold, 10 to 15 minutes.
Stir in heavy whipping cream and freeze in an ice cream maker.
Put ice cream in an air-tight container and freeze for at least 2 hours, until hardened.
Basil is one of the most essential herbs and can be found in just about every kitchen. With The Basil Grower's Gardening Guide, you'll have everything you need to know about growing and enjoying this versatile herb. Check it out.
Have you tried this recipe for basil ice cream? It's a bit more complicated, but good things don't always come easy—please tell us how it turned out for you.