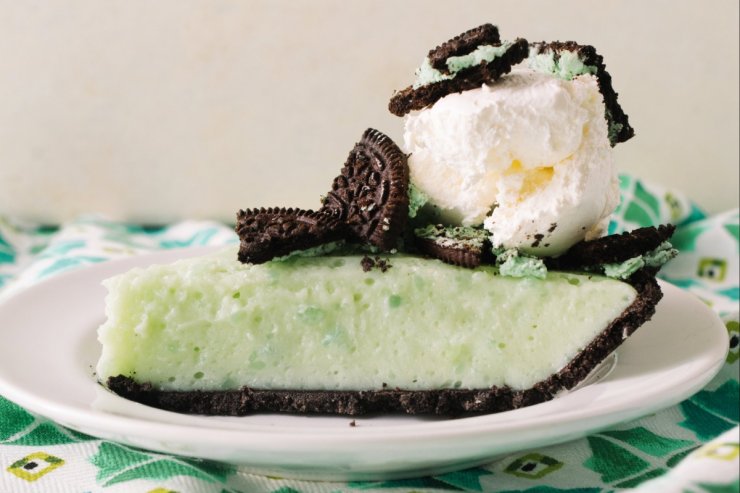 Spoiler alert: There are no real grasshoppers in the Grasshopper Pie. That said, this is the perfect retro pie, whether you want to reminisce about bygone times, throw a 1950s party, or just like fun pies. And even with that vintage shade of green, there's no food coloring involved, either.
I remember the first time I tried this silky, colorful pie. I was visiting some friends for a long summer weekend. We had been hiking along somewhat challenging trails with a few rock scrambles and steep inclines. After about two hours of hiking and climbing, we rounded a turn and saw the most beautiful vista imaginable.
Deep valleys of lush green foliage stretched out for miles. I could see the crisp edges of farm fields, and a gorgeous blue river wound lazily through the fields and out to the horizon. On our way down, we crossed paths with some other hikers who told us about a small restaurant just up the road that had the best post-hike desserts.
When we stepped through the screen door, we might as well have time traveled. I don't think the place had been updated in 30 years. The bar was made of old wood, complete with plenty of scratches. The bar stools were worn down, and the foam of the seats was visible through cracks in the vinyl. They didn't even have a real cash register – just a notepad and an old money box like you'd find at a high school concession stand.
What they did have, though, besides an amazing tuna sandwich, was a glass-fronted refrigerated case with a smooth green pie inside. "Grasshopper Pie," the cook told me when I must have looked confused. "Grasshopper Pie is the best pie you can ask for after a hot day of climbing around those mountains."
This chilled dessert was minty, chocolatey, and as smooth as silk. If you've had it, you know exactly what I mean when I say that cook was as right as rain. Grasshopper Pie is like a little taste of luxury as a reward for a hard day of climbing, or just because!
Print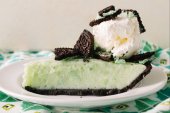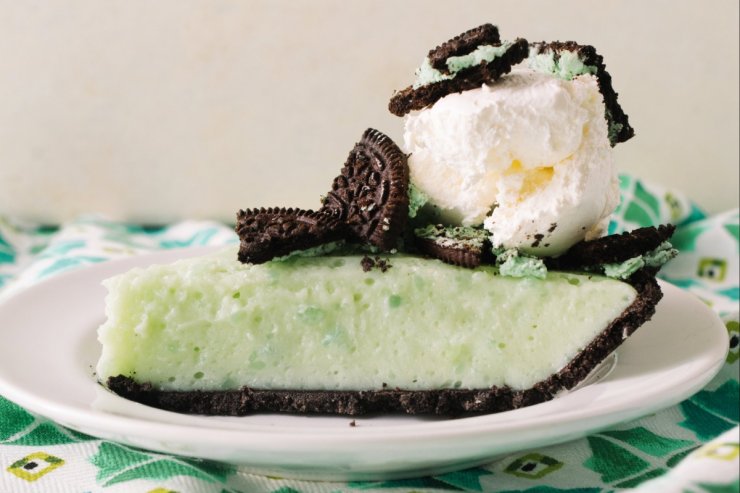 Grasshopper Pie
This mint-green chiffon-style Grasshopper Pie was a hit in the old-time diner scene. The name is actu­ally borrowed from the mint-flavored cocktail, popularized in the South in the 1950s and '60s, which also features crème de menthe and crème de cacao.
Author:
Prep Time:

20 minutes

Chilling Time:

6 hours

Total Time:

6 hours 20 minutes

Yield:

1

pie, serves 8-10

1

x
Category:

Desserts
Ingredients
1

(15.25-ounce) package mint creme chocolate sandwich cookies

6 tablespoons

(

3/4

stick) unsalted butter, melted

40

large marshmallows

2 1/3 cups

heavy cream

1/4 cup

crème de cacao, clear

1/4 cup

crème de menthe, green
Vanilla ice cream, for serving
Instructions
Reserve 1/4 cup chocolate sandwich cookies, and place the remaining cookies in a food processor and pulse until they are fine crumbs. Put the crumbs into a medium bowl and combine with the melted butter.
Pour the crumb mixture into a deep dish 9-inch pie plate and spread it in an even layer over the bottom.
Using a large spoon or dry measuring cup, work the crumbs up the sides of the pie plate, creating the crust. Set aside.
In a large pot, combine the marshmallows and 1 cup of the heavy cream over medium heat, stirring continuously.
Once the marshmallows are completely melted, remove from the heat and pour in the crème de cacao and crème de menthe. Mix thoroughly.
Set the marshmallow mixture aside to cool for 10 minutes.
While that cools, beat the remaining heavy cream in a large bowl until it holds stiff peaks.
Pour one-third of the marshmallow mixture into the whipped cream and fold in.
Repeat two more times, until all is incorporated.
Pour into the pie shell. Freeze, uncovered, for 1 hour.
After 1 hour, cover the pie and freeze until solid, about 5 hours or up to overnight.
Pull out the pie 10 minutes before serving. Cut into slices and serve with ice cream and the reserved cookies.
Keywords: grasshopper, pie
Have you tried this yet? How do you make your Grasshopper Pie?