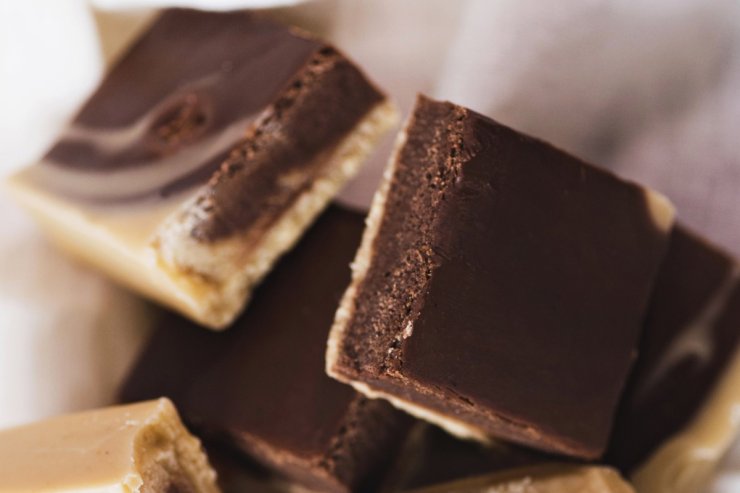 If you're anything like me — a self-proclaimed peanut butter lover (and Peanut Butter Fudge lover!) — then your pantry is always stocked with this creamy, nutty spread. Sometimes, I even buy two jars just to make sure I never run out.
What I love most about peanut butter is that it's so versatile. You can practically do anything with it and it'll always turn out great. And if you want to take your culinary skills up a notch and move from a traditional peanut butter and jelly sandwich to Peanut Butter Fudge.
If you've heard of this recipe before, you'll know just how simple it is. It takes no more than 15 minutes of prep time and no more than 5 ingredients. Although some of the recipes you'll find online use only peanut butter, I want to go even bigger by mixing peanut butter with chocolate. Hello, heaven!!!
After all, mixing two ingredients as good as chocolate and peanut butter will only give me a dessert that's off the charts. That's exactly what I've achieved with this treat.
Fair warning, this dessert is extremely addicting. If you plan on making a batch anytime soon, stock up on your ingredients because you're sure to want to make more and more.
If you're worried about eating too much of this delicious dessert, I can share with you a secret to transforming this guilty pleasure into something healthy. Simply replace the condensed milk with maple syrup to get your sweet fix. Then, swap the unsalted butter with coconut oil to achieve the dense fudgy texture. By following these steps, you can still create a mouth-watering Peanut Butter Fudge that has fewer calories and processed ingredients. Reserve your condensed milk and butter for when you want to indulge and get the full effect of this recipe.
Print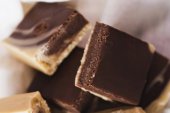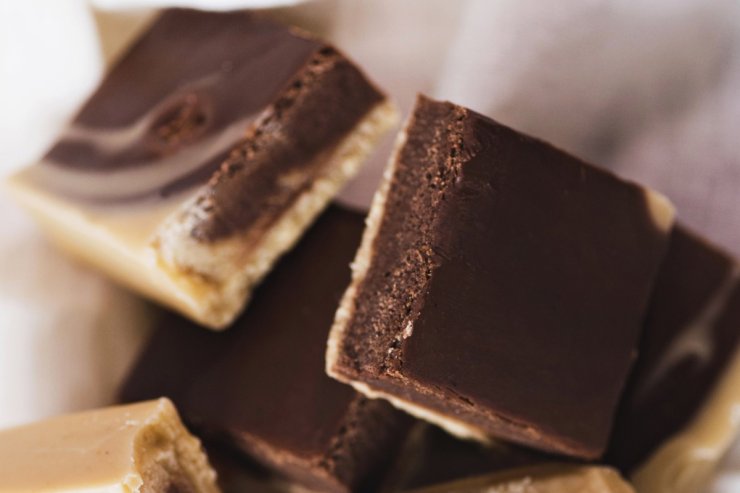 Peanut Butter Fudge
See what amazing things you can make with such simple ingredients. With just the classic chocolate and peanut butter combo, you can create the smooth and creamy Peanut Butter Fudge that will melt in your mouth. 
Author:
Prep Time:

15 minutes

Chill Time::

4 hours

Total Time:

4 hours 15 minutes

Yield:

16

pieces

1

x
Category:

Desserts
Ingredients
1

(12-ounce) bag peanut butter chips

1

(14-ounce) can condensed milk

2 tablespoons

unsalted butter

2 teaspoons

vanilla extract

1

(12-ounce) bag semisweet chocolate chips
Instructions
Line an 8 × 8-inch baking dish with parchment paper.
In a large microwave-safe bowl, melt the peanut butter chips, 1 cup of the condensed milk, 1 tablespoon of the butter, and 1 teaspoon of the vanilla on 50% power in 30-second increments, stirring in between each, until melted.
In a separate large microwave-safe bowl, melt the chocolate chips with the remaining condensed milk, 1 tablespoon butter, and 1 teaspoon vanilla on 50% power in 30-second increments, stirring in between each, until melted. Set aside.
Spread out the peanut butter fudge on the lined baking sheet, about 1/2 inch thick. Top with the chocolate fudge.
Using a fork or knife, swirl the two layers together to create a peanut­ butter-and-chocolate-swirled
Transfer to the refrigerator for 4 hours to cool and set up. Cut into squares to serve.
Keywords: peanut butter, fudge, peanut
Do you prefer just peanut butter in your Peanut Butter Fudge, or do you also like to add chocolate?