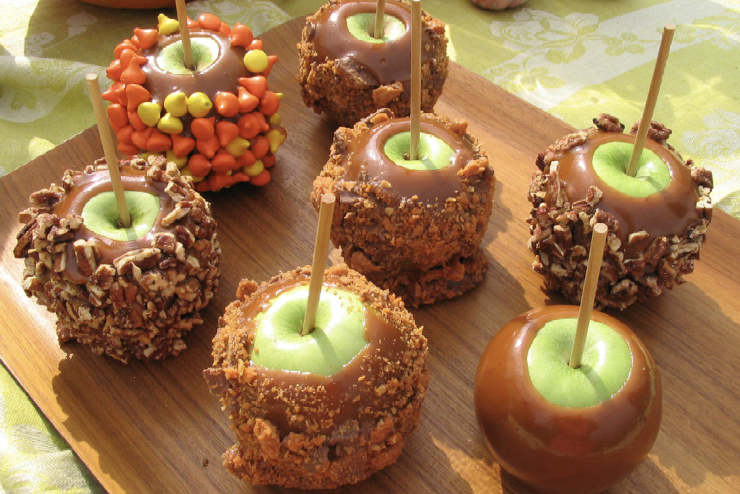 When I was a kid, my parents used to take us to the big country fairs in late summer and early fall. We loved to see all the arts and crafts exhibits, check out the livestock, and listen to the local musicians on the big stage.
One of the high points of those adventures was getting something sweet towards the end of the day—and I would choose a caramel apple. For me, caramel apples are one of the tastes of childhood. Sweet, gooey, juicy, with just the right bit of tartness from the apple. We were always happy, sticky, and just a bit more energetic after we'd finished our caramel apples. But they were a treat to eat just once in a while. They wouldn't travel well in the car for the ride home; who wants a melted mess as a snack?
So, every year, I'd look forward to this one fair where they had the best caramel apples. Looking back, they weren't really fancy—no sprinkles, no chocolate—just thick, rich caramel wrapped around a freshly picked local apple. That's still the way I prefer them.
When you make your caramel apples, you can dress them up or down as much as you like. They can make a real statement at the end of a special dinner if you roll them in something slightly decadent, like macadamia nuts and a drizzle of dark chocolate.
Sound too messy for a fancy dinner? Well, remember that you have a whole apple on a stick. You can always cut the apple into slices around the stick (avoiding the core), and you will still have a delicious, elegant, and secretly fun dessert to delight your family and friends.
Invite your inner child to dinner and enjoy a caramel apple for dessert!
Print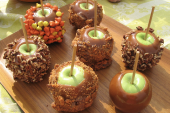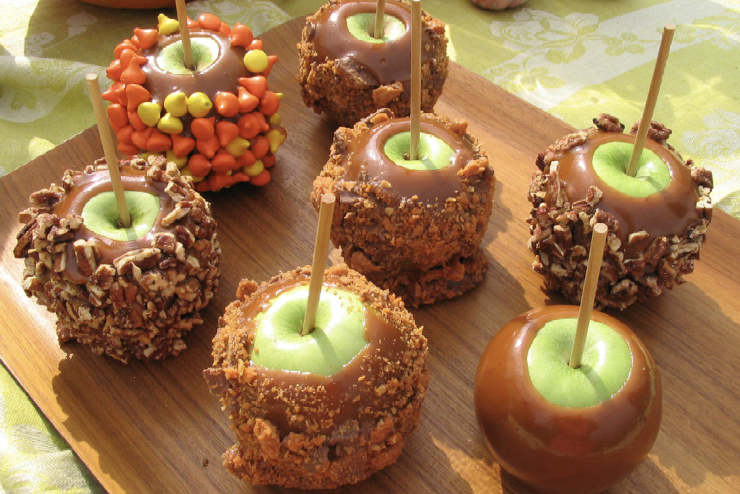 Caramel Apples
Bring the feel of a country fair to your next picnic or outdoor party! Kids and grownups alike will appreciate that delicious balance of sweet and tart in a dessert that doesn't even need a plate. Dress your caramel apples up by rolling them in your choice of toppings before you put them aside to chill and set, or leave them plain. There's no wrong way to serve up a taste of childhood!
Author:
Prep Time:

20 minutes

Cook Time:

20 minutes

Total Time:

40 minutes

Yield: Serves

10

to

1

2

1

x
Category:

Desserts
Ingredients
10

to

12

Granny Smith apples (or another tart culinary apple to balance the sweetness of the caramel)
Wide craft sticks (like tongue depressors) or heavy candy sticks

1 cup

salted butter

2 cups

light brown sugar

1 cup

corn syrup

1

14-ounce can sweetened condensed milk

1 teaspoon

vanilla extract
Optional: toppings for dipping (chopped nuts, mini marshmallows, or crushed candy bars)
Instructions
Wash your apples thoroughly and dry them. If you're using store-bought apples, they've probably been waxed. In that case, soak them in very hot water for about 10 minutes, then rinse thoroughly and dry.
Line a baking sheet with parchment paper.
Skewer each apple with a craft stick or candy stick. Line apples up on the parchment-lined baking sheet and put in the freezer while you're making your caramel. If you don't have enough room in the freezer, the fridge will do.
Melt your butter in a medium saucepan over medium-high heat.
Stir in brown sugar, corn syrup, and sweetened condensed milk.
Continue to stir over medium-high heat until the caramel reaches a temperature of 235 to 240 degrees F on a candy thermometer; stir constantly to keep the caramel from burning on the bottom of the pan.
When the caramel has reached the right temperature, remove it from the pan immediately and add the vanilla. Stir gently until the vanilla is fully mixed in.
Take your chilled apples out of the freezer (or fridge).
One at a time, dip an apple into the caramel, turning as you go. Let the excess caramel drip off.
If you want to add toppings to your apple, now's the time. Roll them in whatever topping you like—chocolate, crushed nuts, or marshmallow pieces.
Hold the apple upside down for a minute to let the remaining caramel slide down a bit toward the stick and to give it a chance to set up.
Place coated apple right-side up on the parchment paper.
Repeat the dipping/twisting/flipping process until you run out of apples and caramel.
Put apples in the fridge for 15 minutes to let the caramel set up completely.
If you're serving these to a group and not wrapping them as gifts, cover the pan with plastic wrap until it's time to serve them. Eat within a week.
Have you tried this recipe? It's a terrific party treat—please tell us how it turned out for you.