The Traditional Blueberry Slump can give you a break from pies and cobblers. Working with the dumplings is so fun, and it only takes about 45 minutes to make. You can serve it at breakfast, lunch, or dinner — really, anytime your sweet tooth is craving something fruity!
The dumplings in the slump are made with flour, sugar, baking powder, and salt. This gives them a fluffy, airy texture that almost seems to melt in your mouth!
When the star of the show — the blueberries — is mixed with the cinnamon, it makes for a delicious and fragrant filling. When you add in the lemon juice and zest, it brightens up the flavor. It's no surprise that this Traditional Blueberry Slump is a classic New England dessert!
Just imagine the dumplings soaking up the blueberry juices. They become so tender and full of flavor. Personally, my favorite part is letting the ice cream melt as it touches the blueberry "lava." It makes me feel like a kid again; what's not to love about a dessert that's equal parts nostalgic and delicious? It's like a party in my mouth!
The recipe makes at least four servings, but I bet you won't be able to resist going back for seconds. It's a good thing this recipe is so easy to make!
This is a must-try recipe for blueberry lovers. It is a delicious and comforting dessert; you can serve it with a scoop of ice cream or a dollop of whipped cream. It's also great with a glass of cold milk!
Print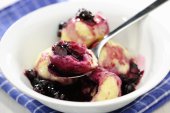 Traditional Blueberry Slump
Do you have a garden that gives you unlimited blueberries? Make a Traditional Blueberry Slump! This classic recipe is the perfect way to use up an abundance of berries.
Author:
Prep Time:

10 minutes

Cook Time:

35 minutes

Total Time:

45 minutes

Yield: Serves

4

to 6

1

x
Category:

Desserts
Ingredients
Dumplings:

1cup

all-purpose flour

1 1/2 teaspoons

baking powder

1/2 teaspoon

salt

2 tablespoons

sugar

2 tablespoons

butter

1/3 cup

milk

Blueberries:

4 cups

fresh or frozen blueberries

1/2 cup

sugar

1 teaspoon

ground cinnamon

1 1/2 teaspoons

lemon juice

1 teaspoon

lemon zest

1/3 cup

water
Vanilla ice cream or whipping cream for serving
Instructions
In a medium-size bowl, whisk together the flour, baking powder, sugar, and salt.
Cut the butter into small cubes. Use your hands or a pastry cutter to work the butter into the flour mixture until it looks like a coarse meal.
Make a well in the center of your flour mixture and add the milk.
Mix together until the dough just comes together.
Form it into a rough ball. Don't knead it or the dumplings will be tough.
Put the blueberries, sugar, cinnamon, nutmeg, lemon juice, lemon zest, and water into a 2-quart saucepan. A cast-iron skillet with high sides will also work well.
Stir to completely cover the blueberries.
Heat on medium-high to high heat until the berries start to boil.
While the blueberry mixture is boiling, divide the dough into 6 equal pieces. Put each piece on top of the blueberries, leaving space between the dumplings.
Cover the pan. Make sure there's space under the lid for the dumplings to rise.
Reduce heat to maintain a low simmer.
Cook for 25 minutes.
DO NOT PEEK while the dumplings are cooking. They need steady steam and pressure to cook properly and come out light and fluffy.
Scoop out a dumpling and place it in a bowl. Cover with a spoonful of hot, gooey blueberries.
Garnish with ice cream or whipped cream, if desired.
Want to start growing blueberries at home? Blueberries are a favorite of everyone, everywhere! With our Blueberry Bonanza Gardening Guide, you'll have everything you need to know about growing and enjoying this delicious and healthful fruit.
Have you tried this recipe? It's a crowd-pleaser and oh-so-delicious! Please tell us how it turned out for you.