Hot weather calls for a cool dessert. Actually, any time can be sorbet time; but its lightness and refreshing fruit flavor makes it ideal for hot weather.
I find that sorbets have wide appeal to my guests. While ice cream may feel like a guilty pleasure, sorbets are light, fat-free, and full of fruit. Yes, there is the sugar to consider; but on balance, sorbets make an excellent dessert. Dress them up with a dollop of whipped cream and sprig of fresh mint—or in this case, a sprig of fresh lavender, and you have an elegant end to a meal.
Sorbet can go beyond dessert, too. You can use it to make a delightful frozen drink, or add a scoop to your homemade lemonade for an extra burst of flavor. When cocktail time rolls around, you can even use the sorbet as a mixer—strawberry lavender daquiri, anyone?
You may find that you want to expand the palette of flavors with this Strawberry Lavender Sorbet. Try adding pureed blueberries or mandarin oranges to the mix. Any combination of juicy fruit you like is fair game to try out in a sorbet—bananas, not so much. You'll find that the fragrance and flavor of lavender really complements the flavor of berries and citrus, giving your sorbet an extra layer of complexity.
When you find the combination you like best, you might consider freezing it in ice cube trays to have handy when you want to mix up a cool slushy drink—no scooping required!
As you make your simple syrup, you may decide you want to let the lavender infuse the syrup for longer than just a half hour. The strength and flavor of that simple syrup depends on the quality of your dried lavender and your infusion time.
If you're not using your own homegrown lavender in this Strawberry Lavender Sorbet, be sure that the lavender you use is labeled as culinary lavender, not something intended for sachets or potpourri. You want to ensure that the lavender you use in the kitchen is free of pesticides.
Print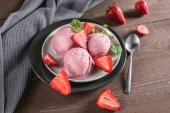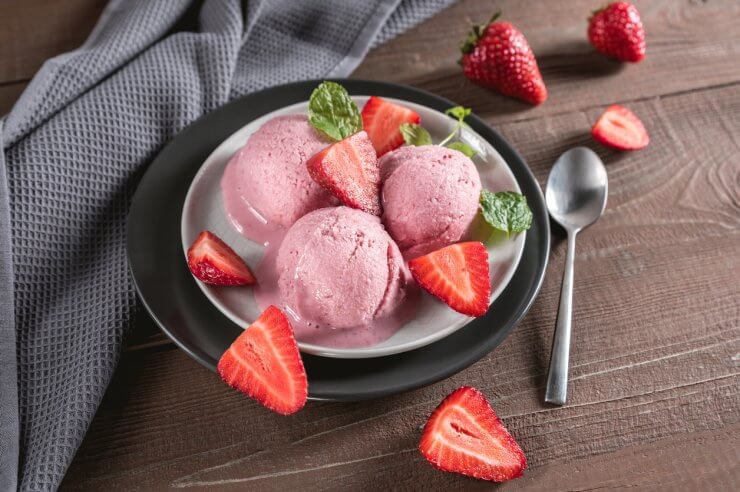 Strawberry Lavender Sorbet
When hot weather hits, there's nothing like a light sorbet to cool things down. Our Strawberry Lavender Sorbet takes the simplest of ingredients to create a delicate dessert that's delicious any time. Use dried lavender buds, but be careful not to overdo it—a little lavender goes a long way.
Author:
Prep Time:

15 minutes

Additional Time:

1 day

Cook Time:

15 minutes

Total Time:

1 day 30 minutes

Yield: Makes

3 pints

1

x
Category:

Desserts
Ingredients
Lavender Simple Syrup Ingredients

2 cups

white sugar

1 1/2 cups

water

2 tablespoons

dried lavender buds
Sorbet Ingredients

5 cups

strawberry puree, strained, with seeds removed (approximately

4 pints

fresh strawberries)

3/4

to

1

cup lavender simple syrup, according to desired level of sweetness

1/2 cup

lemon juice
Instructions
Lavender Simple Syrup Instructions
Combine sugar and water in a saucepan.
Bring mixture to a simmer, stirring occasionally, until the sugar is completely dissolved.
Add the dried lavender and bring the mixture back up to a simmer.
Turn off the heat, cover, and allow the lavender to infuse the simple syrup for at least 30 minutes.
When cool, strain into a glass jar. Store leftover syrup in the fridge for up to a month.
Puree the strawberries, then strain them through a sieve to remove the seeds.
In a large mixing bowl, combine strained strawberries, 3/4 cup of cooled lavender syrup, and lemon juice. Add additional syrup as needed.
Pour into a freezer-safe container and freeze overnight.
Notes
Serving suggestion: Put a squiggle of strawberry preserves in the bottom of a shallow bowl and serve a scoop of the sorbet on top with a lavender sprig garnish.
And if you're interested in growing your own lavender, check out Lovely Lavender: The Complete Guide to Growing, Harvesting, and Enjoying Lavender. Take a deep breath near a lavender field and you'll walk away both energized and relaxed by the heady, heavenly scent of this beautiful, versatile plant. A cold-hardy, drought-tolerant evergreen, lavender is more than just a pretty plant. The culinary variety of lavender is delicious in cookies and cakes, teas and lemonades, as a garnish, and as a secret ingredient in herbal blends. Start growing lavender today with our guide.
Have you tried this recipe for Strawberry Lavender Sorbet? How do you serve it? Please tell us how it turned out for you.