If there was ever a reason to start growing kumquats, this recipe is it. I don't grow them personally, and for most of my life I had never even tried them. I just thought, "well, that's a funny name for a fruit!" But when I finally got to taste this delicious treat, I was totally blown away! I never imagined that such a small, bright fruit the size of an olive would have such a profoundly tropical flavor.
I think what surprised me the most was that the skin was the sweetest part, while the insides are lip-puckeringly sour! Of course, that only means kumquats are best-enjoyed whole (mind the seeds, though!) so you can really savor that dazzling combination of sweetness and tartness all at once.
Feeling a little crafty, I immediately thought of what I could do to put a spin on some fresh kumquats. While they're delicious by themselves, I just couldn't resist the temptation to add in something to enhance their explosive flavors. Since I've been trying to come up with some easy desserts, I thought, well, what better way to satisfy that occasional sweet tooth than with Kumquats Preserved in Honey?
Not only is this incredibly easy to do, but they can stay fresh in the fridge for up to two months! That's more than enough time to enjoy this sumptuous treat.
Besides just storing them in a jar as a snack, Kumquats Preserved in Honey can be the perfect addition to other desserts. Need a unique topping for regular ice cream? Want a tropical twist on the usual pancakes and biscuits? Kumquats Preserved in Honey will do the trick! Apart from the honey, tossing in some sugar and vanilla extract will mellow out the fruit's tartness if it becomes too much for you. The best part is that everyone, including the kids will enjoy it!
Print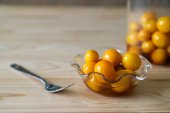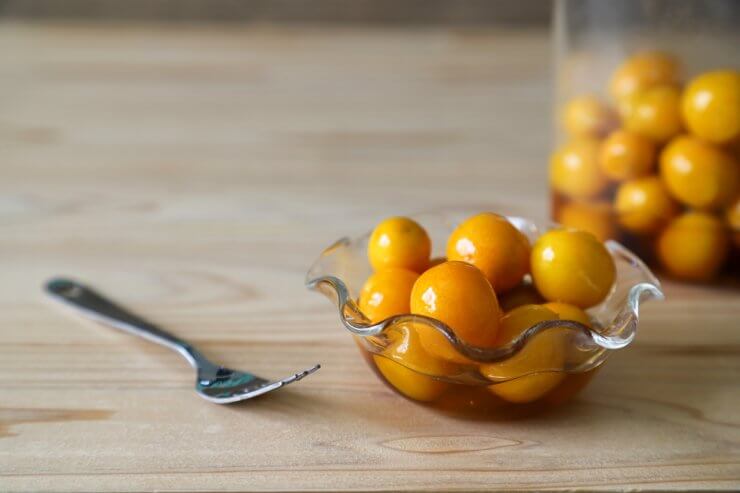 Kumquats Preserved in Honey
Kumquats preserved in honey is a delicious treat you can store in the fridge as a topping for ice cream, an addition to pancake batter or biscuits, or even just as a super sweet snack.
Author:
Prep Time:

10 minutes

Cook Time:

30 minutes

Total Time:

40 minutes

Yield:

Serves 4

Category:

Desserts
Ingredients
1

pound fresh kumquats

1 cup

honey

1/3 cup

sugar

1 1/4 cups

water

1 teaspoon

vanilla extract
Instructions
Trim the stems off the kumquats. Cut each fruit in half and discard the seeds.
Put the honey, sugar, water, and vanilla extract into a heavy saucepan.
Heat, stirring, until the honey and sugar are dissolved.
Add the kumquats and bring the pot to a boil.
Turn the heat down to low and simmer for 25 minutes.
Remove pan from the heat and let the mixture cool.
Store in a sterile jar in the fridge for up to 2 months.
Notes
This will stay fresh in the fridge for up to 2 months.
Have you tried this recipe? It's so easy and delicious—please tell us how it turned out for you. For more information on growing kumquats, check out our Crazy For Kumquats gardening guide.