Print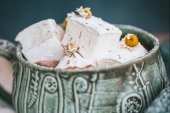 How to Make Homemade Marshmallows with Chamomile
Once you learn how to make marshmallows with a few simple ingredients, you'll never go back to the bagged stuff!
Author:
Prep Time:

30 minutes

Total Time:

30 minutes

Yield:

2

servings

1

x
Category:

Desserts
Ingredients
2 tbsp

dried chamomile

1/3 cup

boiling water

2 tbsp

gelatin

1 cup

real honey

1

pinch salt

Confectioners sugar for dusting

Coconut oil for greasing
Instructions
Boil water, and pour ⅓ cup into a small glass. Put dried chamomile in a tea bag or cheesecloth. Let steep in hot water for 10 minutes, then let cool completely. 

Remove tea bag (squeeze out the extra water in it), and pour cooled tea into the bottom of a stand mixer. Sprinkle gelatin over the top and let "bloom" for 5 minutes.

In the meantime, bring honey to a simmer over low heat in a small non-stick pan and add salt. It will begin to bubble up, and at that point, it's likely reached the ideal 240 degrees, but you can also use a candy thermometer to be sure. This should only take a couple minutes of heating. 

Turn your stand mixer on its lowest speed with whisk attachment on, then start slowly pouring the honey in. Once it's all in, turn to high and watch the magic happen.

In the meantime, prepare one or two spatulas and grease them with coconut oil (preferred) or olive oil. Prep an 8×8" square baking dish with parchment paper and a dusting of confectioner's sugar.

Within about 5 minutes, your fluff should be about ready. It will be bright white and thick, easily forming stiff peaks if you try to remove the whisk attachment. The thicker your honey, the faster it will happen. 

Turn off the mixer, open it up, remove the whisk and tap it on the edge of the bowl to get the excess marshmallow out, then quickly use one of your greased spatulas to scoop the marshmallow out into your baking dish, trying to smooth it in evenly. You may need your second spatula once the first gets sticky, to make the top extra smooth and even. Do this all fairly quickly, as the marshmallow will begin to set as soon as it stops being whisked.

Once smoothed into a baking dish, let sit out overnight, then in the morning, bring out another piece of parchment dusted with confectioner's sugar, and flip your marshmallows onto it. Cut the marshmallows up into squares and toss them in the extra sugar so the sides aren't sticky and they can store more easily. 

Enjoy in hot chocolate, alone, or wrap up as gifts!