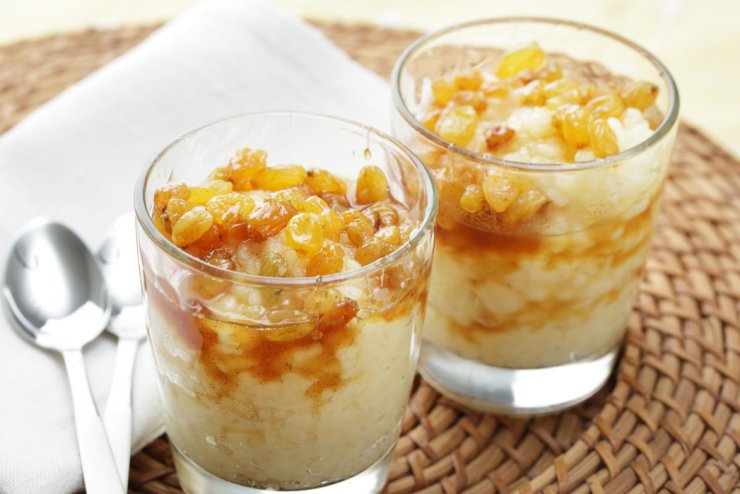 Whenever I'm looking for a different kind of dessert, I tend to go back to traditional recipes just to see what kind of unique twist I can make. Most traditional recipes, like rice pudding, have the simplest ingredients, which means that a few substitutions have an even greater impact on their flavor.
Since rice pudding is a classic comfort food, I wanted to mix it with something equally relaxing: chamomile! Of course, we all know that chamomile tea can calm your nerves and even soothe digestion, making it the perfect drink before going to bed.
On the other hand, what's great about rice pudding is that it has a creamy texture that's reminiscent of vanilla ice cream. Rice can also easily absorb flavors and it's usually paired with sugar, vanilla, and maybe even cinnamon. However, vanilla can have a strong, pungent sweetness that might feel too overbearing for those who want more mellow flavors. The same is true for cinnamon, and the subtle but spicy kick it has might not work well for some people.
In this case, you can use chamomile as an alternative for your rice pudding instead of vanilla or cinnamon. After all, chamomile has a delicate, floral sweetness that isn't too heady.
For added texture, tea-infused golden raisins will give you something honey-sweet and sticky to chew on without overshadowing the other ingredients. With this recipe for Chamomile Rice Pudding With Tea-Infused Golden Raisins, you can have a soothing dessert that can relax your body, mind, and palate after a long day.
While it's great to serve Chamomile Rice Pudding With Tea-Infused Golden Raisins after dinner, it can actually taste wonderful for any meal. Try it out and see for yourself!
Print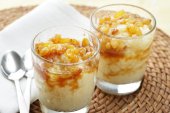 Chamomile Rice Pudding with Tea-Infused Golden Raisins
While best served after dinner, the mellow sweetness of this Chamomile Rice Pudding With Tea-Infused Golden Raisins can be enjoyed any time!
Author:
Prep Time:

10 minutes

Cook Time:

30 minutes

Total Time:

40 minutes

Yield:

Serves 4

Category:

Desserts
Ingredients
4 tablespoons

dried chamomile flowers or

8 tablespoons

fresh blossoms

4 cups

milk

1 tablespoon

butter

1 cup

arborio rice

1/4 cup

golden raisins

1/4 cup

sugar

1

pinch salt

1/4 cup

cream (optional)
Honey
Instructions
In two separate pots, heat the water and the milk.
Put the 3 tablespoons of dried chamomile flowers (or 6 tablespoons of fresh) in the water and steep for at least 10 minutes.
Strain the flowers out and put the chamomile water back on the heat to stay warm.
Melt the butter over medium low heat in a wide pan with high sides.
Add the rice and stir to coat. Cook just until the rice turns translucent.
Using a ladle, add the water a little at a time to the rice (like you would if you were making risotto).
Stir continuously until the water is absorbed. Then add the next ladle of water.
Once you've added all the water, switch to milk. Continue to stir.
While the rice is cooking, brew a cup of chamomile tea using the remaining 1 tablespoon of dried chamomile (or 2 tablespoons of fresh). Put the golden raisins in the tea to soak up some of the liquid.
Once you've used most of the milk and the rice has reached a porridge-like texture, add the sugar. Stir it in to melt over the heat.
Add the pinch of salt.
When the rice and sugar are thoroughly mixed, take the pan off the heat.
If you like, you can add a splash of cream.
Put in small serving bowls, topping with golden raisins.
Serve with honey on the side.
Have you tried this Chamomile Rice Pudding recipe? You could serve this almost any time of day—please tell us how it turned out for you.