Baking bread is perhaps one of the best weekend activities ever. Growing up, back in the days before this Summer Squash Bread, I had a very close relationship with my cousins thanks to our grandma inviting us over every week. Grammy was a passionate baker and she made sure to pass as much of it down to us as she could. A morning spent baking bread was always on the itinerary whenever we went over to visit. Sitting in her kitchen with the sunlight streaming in and chatting with my cousins while we waited for the loaf we made to finish baking in the oven—those were truly magical memories. Experimenting with additions to the dough was also a real treat. Orange rind, dates, onion soup mix, potato flakes, nuts, and one memorable occasion that involved bacon and green bell peppers—anything under the sun was fair game.
Now my cousins and I live a bit too far from each other to make weekly gatherings the norm, but we still make it a point to swap recipes when we can. This Summer Squash Bread was something I came up with recently and it's received rave reviews from everyone that's tried it!
The mildly sweet and nutty flavor of summer squash permeates the entire loaf and the tenderness of the shredded squash creates a fluffy, moist texture. Adding vanilla extract, cinnamon, and nutmeg serves to further heighten the flavors and aromas of this Summer Squash Bread—the smell that seeps out of the oven while it's baking is intensely comforting. It's perfect to snack on even without any spreads or fillings, and it also pairs well with any salad or soup of your choice. Happy baking!
Print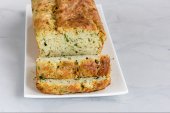 Summer Squash Bread
Summer squash, cinnamon, and nutmeg make this Summer Squash Bread extremely fluffy, moist, and nutritious.
Author:
Prep Time:

15 minutes

Cook Time:

45 minutes

Total Time:

1 hour

Yield: Serves

1

6

1

x
Category:

Bakery
Ingredients
3

large eggs, beaten

2 cups

white sugar

1 cup

vegetable oil

2 teaspoons

vanilla extract

3 cups

all-purpose flour

3 teaspoons

baking powder

2 teaspoons

ground cinnamon

2 teaspoons

ground nutmeg

2 cups

shredded summer squash
Instructions
Preheat oven to 325 degrees F (165 degrees C). Grease a 9×13-inch baking dish.
In a large bowl, use an electric mixer to beat the eggs until fluffy. Beat in the sugar, oil, and vanilla. Gradually mix in the flour, baking powder, cinnamon, and nutmeg. Fold in the squash. Transfer to the prepared baking dish.
Bake 45 minutes in the preheated oven, until a knife inserted in the center comes out clean.
Whether you've grown summer squash before, or you've only thought about trying it, you're bound to learn something from our Summer Squash Gardening Guide. Summer squash is fairly easy to grow, requiring little more than the usual water maintenance and pest and disease vigilance, but we can help you navigate everything from starting seeds, planting, transplanting, and dealing with pesky issues like powdery mildew, should it come up. Check out our Summer Squash Gardening Guide.
Have you tried this recipe? Please tell us if you serve it at dinner or even breakfast, and how your family likes it.