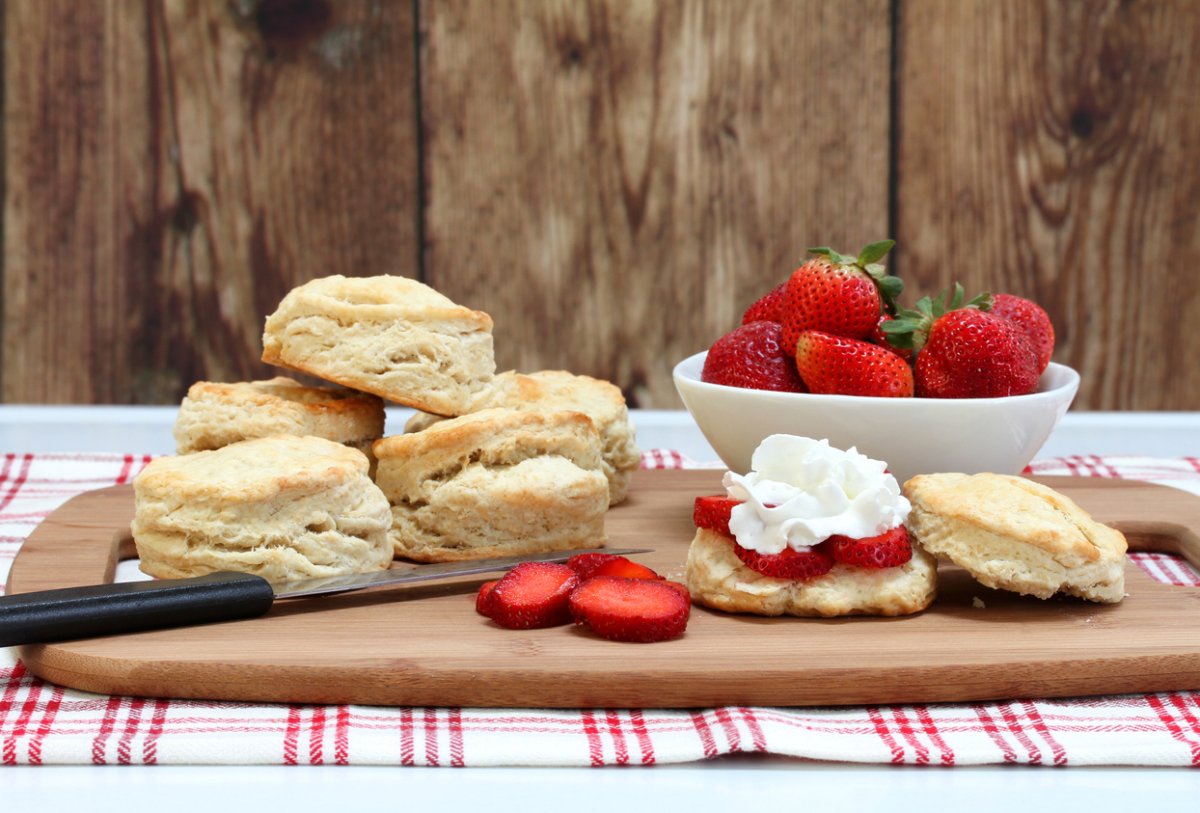 Cake is truly one of the best things we've invented as a society. There are a million variations out there with every flavor of cake base and frosting that you can dream of. Not to mention there's such a wide range of options for the shape, layers, toppings, decorations, and more! Finding new cake recipes is always a treat, and I love making cakes even when there isn't a special occasion. Isn't cake a special occasion in and of itself?
Anyway, this Buttermilk Strawberry Shortcake is a new addition to my repertoire and I've absolutely fallen in love with it. I'm already a fan of strawberry shortcake, so I didn't need much convincing to try it out when my friend sent me the recipe. Now, I've tried using sponge cake for strawberry shortcakes before and it does have its soft and fluffy charms, but this Buttermilk Strawberry Shortcake just convinced me that nothing can beat using good old buttermilk. The biscuits' flaky, slightly crispy outer layer with the light, slightly moist inside, suffused with a beautiful buttery flavor, paired with fresh strawberries at the height of their sweetness and a dollop of whipped cream — absolutely heavenly.
While they do require a bit of time to make, clocking out at just over an hour for the whole process, I promise you they're well worth the effort. Have a family picnic coming up soon? This classic berry dessert is a surefire crowd-pleaser, and it's easy to transport too! Just keep the biscuits and the strawberries in separate containers and bring along a can of whipped cream — you're about to be the star of the show with this sweet treat.
With a light biscuit topped by delicious strawberries, this classic berry dessert will be a crowd-pleaser at any dinner or party. Your family will love it!
Print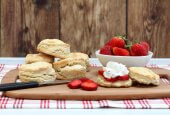 Buttermilk Strawberry Shortcake
This Buttermilk Strawberry Shortcake is the perfect marriage between light, buttery biscuits and irresistibly sweet strawberries.
Author:
Prep Time:

20 minutes

Additional Time:

30 minutes

Cook Time:

15 minutes

Total Time:

1 hour 5 minutes

Yield: Serves

1

2

1

x
Category:

Bakery
Ingredients
3 cups

all-purpose flour

4 teaspoons

baking powder

1 teaspoon

baking soda

1/3 cup

white sugar

1

 1/2 teaspoons salt

3/4 cup

chilled unsalted butter, cut into small pieces

1 cup

buttermilk

2 tablespoons

heavy cream

1/4 cup

turbinado sugar

8 cups

sliced fresh strawberries

1/4 cup

white sugar

1 tablespoon

lemon juice
Instructions
Preheat the oven to 425 degrees F.
Line a baking sheet with parchment paper.
Whisk together flour, baking powder, baking soda, 1/3 cup white sugar, and salt in a mixing bowl.
Cut in cold butter with a knife or pastry blender until the mixture resembles coarse crumbs. (If desired, place flour mixture into the work bowl of a food processor with the butter; pulse several times to cut butter into the flour mixture. Transfer mixture to a mixing bowl and proceed.)
Stir in buttermilk until the flour mixture is moistened.
Drop 1/3-cup scoops of the dough 2 inches apart onto the prepared baking sheet. Brush biscuits with heavy cream and sprinkle generously with turbinado sugar.
Bake in the preheated oven until golden brown, 15 to 20 minutes.
Mix together the sliced strawberries, 1/4 cup white sugar, and lemon juice in a large bowl. Allow berries to rest until juices develop, about 30 minutes.
Serve the strawberries with juice over the biscuits and top with whipped cream.
Ah! The sweet world of strawberries! With our Strawberry Collection, you'll have everything you need to know about growing and enjoying this wonderful fruit. From the history and background of the sweet strawberry to specific advice about soil requirements and fertilizer … from watering techniques to details about avoiding diseases … from easy-to-make and delicious recipes that will allow you to enjoy the fruits of your gardening labor to the nutritional benefits of strawberries—get it all in our Strawberry Collection right now!
Have you tried this recipe? It's definitely worth the time taken to make the biscuits—please tell us how it turned out for you.