Pumpkin pie is one of those desserts that's either good or OH. MY. WORD! Honestly, I don't know that I've ever had a truly bad pumpkin pie. Even so, there's no question that a homemade pie is always better than anything from a store. That's definitely true with this Crowd Pleaser Pumpkin Pie.
Here's the thing I notice with pies a lot. People seem to be intimidated by the idea of making pies. Even good cooks I know are wary when it comes to pies. The thing is, they aren't actually that difficult to make. And if you're new to making pies, you can even start with a pre-made crust.
The real trick, though, to making a good pumpkin pie is to take the extra step of making your own pumpkin purée. You just can't beat the taste of sweet sugar pumpkins fresh from the farm or garden. It's super easy. All you have to do is cut the pumpkin in half, scrape out the seeds, roast it, then put it in a food processor. You even get the bonus of enjoying the heady aroma of pumpkin roasting in your oven!
But I digress. This Crowd Pleaser Pumpkin Pie is not only easy to make; it's hard to go wrong. There are so many lovely spices, like ground ginger, nutmeg, cinnamon, cloves, and cardamom that the pie develops wonderfully rich, deep flavors. And the heavy cream lends the pie a smooth, silky consistency that makes it easy to enjoy.
Add a dollop of whipped cream or vanilla ice cream and I promise you'll be happy, happy, happy. The only problem is that this pie tends to go fast. Although if you do happen to have any left over, cover it with plastic wrap and refrigerate it and the pie will stay good for a few days.
Print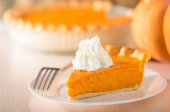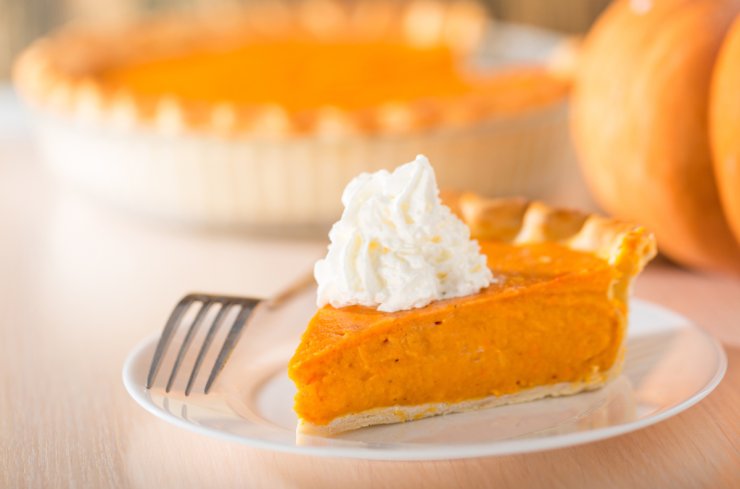 Crowd Pleaser Pumpkin Pie
Give the traditional pumpkin pie a flavor boost with fresh pumpkin purée you can make yourself. You'll wind up with our silky, flavorful Crowd Pleaser Pumpkin Pie that will have your guests coming back for seconds! If there's any left over, it freezes well.
Author:
Prep Time:

30 minutes

Cooling Time:

2 hours

Cook Time:

1 hour

Total Time:

3 hours 30 minutes

Yield:

Serves 8

Category:

Bakery
Ingredients
2

large eggs plus the yolk of a third egg (freeze or save the white for other recipes)

1/2 cup

dark brown sugar, packed

1/3 cup

white sugar

1/2 teaspoon

salt

2 teaspoons

cinnamon

1 teaspoon

ground ginger

1/4 teaspoon

ground nutmeg

1/4teaspoon

ground cloves

1/8 teaspoon

ground cardamom

1/2 teaspoon

lemon zest

2 cups

sugar pumpkin purée

1 1/2 cups

heavy cream or

one

12-ounce can evaporated milk

1

9-inch uncooked pie crust, chilled or frozen
Instructions
Preheat the oven to 425 degrees F.
Beat the eggs in a large bowl. Add in both sugars, plus the salt, spices, and lemon zest.
Mix in the pumpkin purée.
Stir in the cream and beat the ingredients together until well mixed.
Pour the mixture into an uncooked chilled or frozen pie shell.
Bake at 425 degrees F for 15 minutes
Then lower the temperature to 350 degrees F and bake for 45 to 55 minutes longer.
The pie is done when a knife tip inserted in the center comes out wet, but mostly clean. The center of the pie should be just a little jiggly.
Crust tip: Put foil around the edges of the crust (or use a pie protector) about halfway through baking to keep the crust from over-browning.
Cool pie on a wire rack for 2 hours. Serve with whipped cream.
From spooky jack-o'-lanterns to festive fall displays to scrumptious pies to scale-tipping giants, there's a pumpkin to satisfy almost any gardener's desire. Whether your goal is to decorate, cook, can and bake, or cultivate a blue-ribbon giant, we've got you covered with the Pumpkinpalooza: How to Start Your Own Pumpkin Patch Gardening Guide.
Have you tried this Crowd Pleaser Pumpkin Pie recipe? It's such a crowd-pleaser that you'll have everyone begging you to make it again. Please tell us how it turned out for you.