Carrot cake runs a close second behind apple pie for the All-American dessert. Rich, moist, and not too sweet, this Classic Carrot Cake is delicious with traditional cream cheese frosting—or even plain!
One of our family's running jokes is that carrot cake counts as a vegetable. Well, doesn't it? It certainly gives the illusion of being healthier than your average cake—until you add the cream cheese frosting. Oh, well. It's still delicious!
My friend decided to bake this Classic Carrot Cake for her son's first birthday. She put such love and care into baking it, and she did a fantastic job frosting the cake. When it came time to celebrate her son's birthday, I think he wound up wearing as much (or more) of it as he ate!
Carrot cake is a guilty pleasure. It feels luxurious and decadent with freshly grated carrots. And the frosting! Well, it's kind of like salt and pepper, isn't it? Carrot cake and cream cheese frosting. Delicious!
While I could easily be persuaded to bake—and eat—carrot cake on a regular basis, I usually save it to be more of a treat. But I really do love the moist texture of this cake and when I have a bumper crop of carrots in the garden … I make carrot cake.
Or carrot cake bars, skip the frosting. If you want a tasty bite for breakfast or a little something sweet during the day, you can make this recipe in a baking pan and cut it into bars. I enjoy them with my early morning coffee. It's definitely a tasty way to start my day.
You may find you'd rather have muffins than cake; try that, too. You can do a lot with this carrot cake recipe. The next time someone asks you to bring dessert, this could be it. Or maybe you can just make it at home—you know, to test it out first.
Happy baking!
Print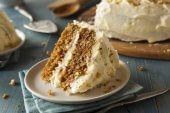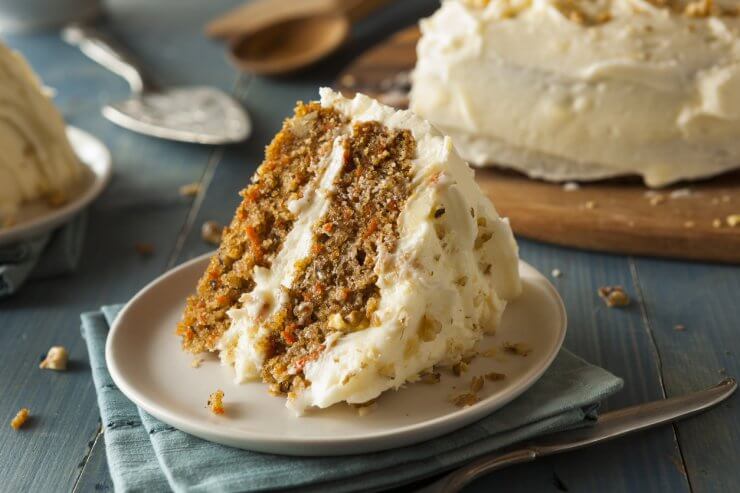 Classic Carrot Cake
Whether you make a complete cake, or bake this recipe into bars, there's something both comforting and special about Classic Carrot Cake. Rich and flavorful, but not too sweet, this cake makes a wonderful dessert or even a nice addition to a bag lunch.
Author:
Prep Time:

40 minutes

Time for Cooling:

1 hour

Cook Time:

40 minutes

Total Time:

2 hours 20 minutes

Yield: Serves

8

to

1

2

1

x
Category:

Bakery
Ingredients
Cake (Ingredients should be at room temperature)

1 1/2 cups

all-purpose flour

1 cups

sugar

1 1/2 teaspoons

baking soda

1 teaspoon

baking powder

1 teaspoon

ground cinnamon

1/2 teaspoon

ground allspice

1/2 teaspoon

ground nutmeg

1/2 teaspoon

ground cloves

1/2 teaspoon

salt

2/3 cup

vegetable oil

3

large eggs

1 1/2 cups

finely grated carrots (peeled)

1 cup

finely chopped walnuts
Optional: golden raisins (1 cup); crushed pineapple (1/2 cup)

Cream Cheese Frosting (optional)

8 ounces

cream cheese

2 ounces

unsalted butter at room temperature

1 teaspoon

vanilla extract

2 cups

powdered sugar, sifted
Instructions
Preheat oven to 350 degrees F.
Grease and flour two round or square cake pans, or one 13×9-inch pan.
Line the bottom of the pan(s) with parchment paper to make the cake easier to release.
In a large mixing bowl (stand mixer if available), combine the dry ingredients (flour, sugar, baking soda and baking powder, and spices) and whisk until combined.
Add the vegetable oil and eggs and beat on low speed.
Stir in the carrots and walnuts and optional raisins and/or pineapple.
Spread batter evenly into your pan(s).
Bake until a toothpick inserted in the center of the cake comes out clean: about 25 to 30 minutes for square or round cake pans; about 30 to 35 minutes for a 13×9-inch pan.
Let the cake cool in the pan(s) on a cooling rack for at least 10 minutes.
Use a thin knife around the edge of the pan(s) to release the cake; finish cooling upright, with the parchment paper removed.
If making a layer cake, fill and frost with cream cheese frosting.
If making cake bars, frosting is optional.
Using a stand mixer, combine the cream cheese and butter and mix on medium speed until the two are just blended.
Add vanilla and mix until blended.
On low speed, add the powdered sugar a half cup at a time, blending completely before adding the next batch of sugar.
Put the frosting in the fridge for at least 10 minutes to allow it to firm up.
Decorate away!
Notes
You can also make cupcakes with this recipe; reduce your baking time to about 20 minutes.
1 2-layer cake or about 12 cake bars
Carrots take some time, but they're easy to grow in both spring and fall. If you want to start growing carrots in your garden or on your deck in grow bags, we'll walk you through the whole process in our Crunchy Carrots Gardening Guide!
Make this Classic Carrot Cake as a special dessert or bake it in a pan for amazing carrot cake bars as a snack or a little something extra to go with lunch. With frosting or without, carrot cake is a delicious alternative to your basic cake.
Have you tried this recipe? Do you prefer to make a classic carrot cake or carrot cake bars? Do you use cream cheese frosting? Please tell us how this turned out for you in the comments below.