A perfectly blended pumpkin purée is the foundation of all delicious pumpkin recipes—you can use it for the classic pumpkin pie, pumpkin pancakes, pumpkin muffins, pumpkin soup, and even pumpkin crème brûlée.
Of course, canned pumpkin is still an option, but for those who like to keep things fresh and organic, a homemade pumpkin purée is the way to go. Canned pumpkin, the stuff that says 100% pumpkin right on the label, is actually a mix of winter squash, not "pure pumpkin" at all, so your only real chance at true pumpkin purée is to make it yourself!
What's awesome about this simple yet essential recipe is that pumpkin purées are like a blank canvas with which you can begin to create a culinary masterpiece. It might not seem as tasty or flavorful at the onset, but that's the beauty of it—you get to sprinkle a lot of other ingredients that can go well with the pumpkin purée by itself or add ingredients that can form the cornerstone of a recipe.
What's more, just a touch of water can transform your pumpkin purée into something thick, creamy, or soupy in a matter of seconds. Making pumpkin purée with the perfect consistency is almost like science with the accompanying magic of cooking.
Aside from being an indispensable ingredient in many pumpkin recipes, pumpkin purées can also be a great starter food for babies six to eight months old. As a nutritious fruit, pumpkins contain a lot of vitamin A, beta carotene, potassium, iron, and protein—all of which a baby needs for growth and development. Because pumpkin purées are versatile, they can be mixed with homemade cereals, yogurt, or even breastmilk or baby formula. Because pumpkins go well with spices like cinnamon, a smooth pumpkin purée can be one way to introduce your baby to more diverse flavors.
For best results, grab a trusty sugar pumpkin when you're making a pumpkin purée, they have the best flavor if you ask me.
Print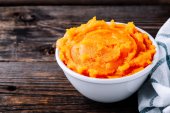 Delicious Pumpkin Purée
Some recipes, like our pumpkin pie recipe, call for canned pumpkin or pumpkin purée. Don't let that extra step scare you off—pumpkin purée is delicious in all sorts of recipes, including soup and pie. You can purée it to the consistency you need.
Author:
Prep Time:

10 minutes

Cooling Time:

20 minutes

Cook Time:

1 hour 30 minutes

Total Time:

2 hours

Yield:

Serves 4 to 8 depending on how you use it

Category:

Bakery
Ingredients
One sugar pumpkin (the size depends on what you want to use it for)
Food Processor (equipment)
Instructions
Preheat oven to 350 degrees F
Cut your sugar pumpkin in half.
Scrape out the insides.
Save the pumpkin seeds for roasting.
Line a baking sheet with foil or parchment paper.
Place the pumpkin halves cut side down on the baking sheet.
Bake for 60 to 90 minutes, until the pumpkin is fork-tender.
Remove pumpkin from the oven and flip it over to let it cool.
Scoop out the pulp to use in recipes for soup, bread, muffins, and more.
Purée in a food processor to the consistency you need for a given recipe.
Refrigerate or freeze unused pulp in an airtight container.
From spooky jack-o'-lanterns to festive fall displays to scrumptious pies to scale-tipping giants, there's a pumpkin to satisfy almost any gardener's desire. Whether your goal is to decorate, cook, can and bake, or cultivate a blue-ribbon giant, we've got you covered with the Pumpkinpalooza: How to Start Your Own Pumpkin Patch Gardening Guide.
Have you tried this recipe? It's easier than you might think and lets you avoid canned pumpkin, since you've grown your own. Please tell us how it turned out for you.