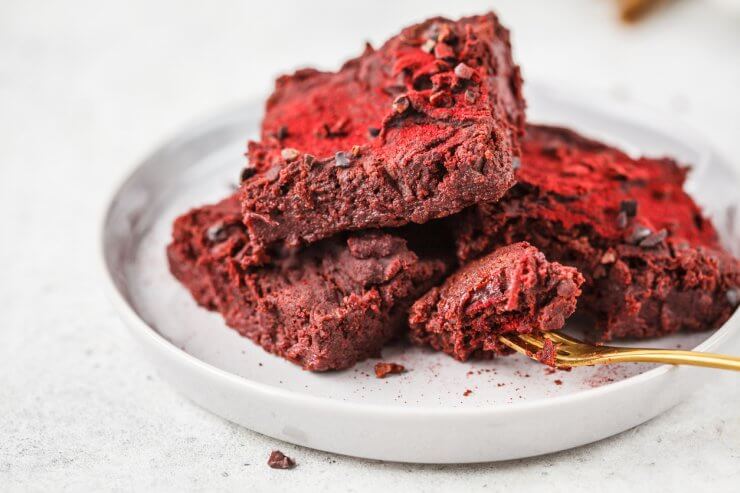 We know what you're thinking: Beets? In brownies? Why? Because they make brownies better, that's why. Now, if you're one of those people who hates beets, then this recipe probably isn't for you. But we're guessing that if you're here, you do like beets, therefore you should really give these Beet Brownies a try. If nothing else, the addition of beet puree will help you rationalize eating a second helping of brownies with no guilt.
First of all, beet puree enhances the color of the brownies, making them look even more chocolatey. And, adding beet puree makes the texture of these brownies velvety-smooth. They just melt in your mouth. The beet puree also adds a nutritional element with antioxidants and blood pressure-lowering nitrates. Of course, browned butter and extra chunks of chocolate don't hurt in making this brownie super delicious, either.
You don't need much beet puree to make this recipe, so it's a good way to use up leftover roasted beets. If you're going to start from scratch with newly-roasted beets, roast several, and use the rest in soups, salads, and as a side dish. Roasting beets is easy, just wrap whole beets with the stems removed in aluminum foil and cook them in the oven for about an hour. You can also use an Instant Pot to pressure cook the beets, which takes about 15 minutes. Once the beets are cool enough to handle, you can peel away the skin, then puree the beets in a blender or food processer with a bit of buttermilk to achieve a smooth consistency.
So give this recipe a try—we bet it will become a favorite.
Print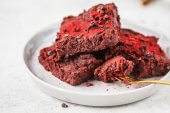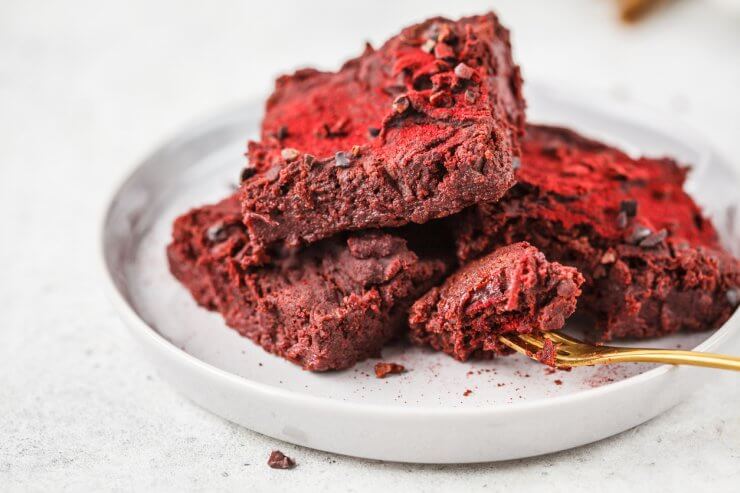 Beet Brownies
If you like beets and chocolate, you'll love beet brownies! Adding beet puree makes these brownies so moist and smooth. Chocolate chunks boost the chocolate factor, making this combination un-beet-able.
Author:
Prep Time:

20 minutes

Additional Time:

1 hour 30 minutes

Cook Time:

30 minutes

Total Time:

2 hours 20 minutes

Yield: Serves

1

6

1

x
Category:

Bakery
Ingredients
1

large red beet (or

2

small beets)

1/4 cup

buttermilk (amount may vary)

1/2 cup

unsalted butter (

8 tablespoons

)

1 1/4 cups

granulated sugar

3/4 cup

natural unsweetened cocoa powder

1/2 teaspoon

kosher salt

2

large eggs

2 teaspoons

vanilla extract

1 cup

beet puree

3/4 cup

unbleached flour

1/2 teaspoon

baking powder

1/2 cup

dark chocolate chunks
Instructions
Wrap whole beets (stems removed) in aluminum foil and roast in 400 degree F oven for at least an hour until soft to the touch.
Allow beets to cool enough to handle and peel away skin.
Puree beets in blender or food processor with just enough buttermilk to allow puree to achieve a very smooth consistency. If you end up with extra puree, you can use it in hummus, pancake batter, soups, etc.
Preheat oven to 325 degrees F. Grease or line an 8x8x2-inch metal pan with parchment paper.
Using a medium to large saucepan over medium heat, melt butter. Stir frequently as it continues to bubble. When there are small brown specs, and it smells like nutty caramel, remove pan from heat.
Add sugar, cocoa powder, and salt to combine.
In separate bowl, beat eggs. After butter mixture has cooled in the pot for 4 to 5 minutes, slowly pour in the eggs, stirring constantly until well combined.
Add vanilla and beet puree, stir to combine.
Add flour and baking powder, stir to combine.
Stir in chocolate chunks.
Bake 25 to 35 minutes in preheated oven or until top no longer looks wet.
Have you tried this recipe? It's a delicious way to add a little nutrition and a lovely texture to your brownies. Let us know how it turned out for you!