You've heard that saying: "Good things come to those who wait"? Well, let me tell you, our Fresh Cherry Cobbler is well worth the wait. Commercially canned cherries can be too overpowering in their sweetness, and full of extra sugar we just don't need. While you can sometimes find them packed in water, they're usually floating in a heavy syrup. OK in a pinch, but if you can get your hands on some fresh-picked cherries, that's definitely the way to go.
Cobbler is a delicious traditional warm dessert. It is an improvisational dish developed by the resourceful Colonial settlers. They couldn't make the traditional suet puddings they'd enjoyed in England because they didn't have the right ingredients or the right cooking equipment. So they made do with what they had and added unbaked biscuits or a light batter to the top of a fruit filling and baked it—kind of like a pie but without the precision. It was called cobbler because of its uneven surface resembling cobblestones.
The term "cobbler" is fairly common, but you'll also hear this dish called grunt, pandowdy, or slump. Whatever you call it, it's easy to make and a delicious end to a meal. There's just something so cozy and comforting about eating Fresh Cherry Cobbler. If you have fresh cherries on hand, there's no better way to make a cherry cobbler.
Now, the tradeoff you make by using fresh cherries for your cherry cobbler is the brighter, fresher flavor. It also takes a bit more work. You'll need to pit all the cherries you plan to use in the cobbler, and that can take a bit of time. If you have a lot of cherries to pit, you might want to invest in a cherry pitter. This tool hasn't changed much since it was first developed, but it's an efficient way to pit cherries. If pitting cherries is just an occasional activity for you, you can use some tools you probably already have on hand at home: a chopstick, a paper clip, or a metal straw will all work to help punch out the pit. However you pit your cherries, enjoy the fresh taste—it's well worth the effort!
Print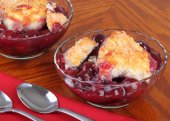 Fresh Cherry Cobbler
Our Fresh Cherry Cobbler is made with fresh cherries from your garden instead of canned cherries from the store. It may take a little longer to make because you need to pit the cherries, but it is well worth the extra effort when you taste the finished product.
Author:
Prep Time:

1 hour

Cook Time:

1 hour

Total Time:

2 hours

Yield: Serves

1

2

1

x
Category:

Bakery
Ingredients
1/4 cup

butter

1 cup

all-purpose flour

1 cup

white sugar

1 teaspoon

baking powder

1 cup

milk

2 cups

pitted sour cherries

3/4 cup

white sugar

1 tablespoon

all-purpose flour
Instructions
Preheat the oven to 350 degrees F. Place the butter in a 9×9-inch baking dish, and place in the oven to melt while the oven is preheating. Remove as soon as butter has melted, about 5 minutes.
In a medium bowl, stir together 1 cup of flour, 1 cup of sugar, and baking powder. Mix in the milk until well blended, then pour the batter into the pan over the butter. Do not stir.
Rinse out the bowl from the batter, and dry. Place cherries into the bowl and toss with the remaining 3/4 cup of sugar and 1 tablespoon of flour. Distribute the cherry mixture evenly over the batter. Do not stir.
Bake for 50 to 60 minutes in the preheated oven, until golden brown. A toothpick inserted into the cobber should come out clean.
Have you tried this recipe? It's another classic way to use the harvest from your cherry tree. Please tell us how it turned out for you.