When's the last time you whipped up a lemon meringue pie? If you're an experienced baker, you probably wouldn't hesitate to make it. Me? I used to stick to baking banana bread; it felt less risky, right?
I have since gotten past my fear of lemon meringue pie, but I prefer to make this recipe with bars: there's more tastiness to go around, and it's so much easier to cut just a small piece of a bar than try to cut a skinny slice of pie. Color me practical!
I think part of what kept me away from lemon meringue pie was the plethora of potential pitfalls in the pie-making process: a soggy, tough, or brittle crust; a leaky, watery lemon filling; and a fallen, failed meringue. Why worry, right?
My aunt seems to have been born baking. I've watched her make perfect pie crust without measuring—without hardly watching (or so it seems). Then she'd roll out the crust, neat as you please, and drape it into the pie pan. It came out perfect every time. I have not (yet) mastered that skill.
This Lemon Meringue Bars recipe takes the stress out of making a successful pie crust, at least. This crust is more like a shortbread, and it adds a delicious layer of flavor. Of course, there's still the filling and the meringue to make, and that's enough of a baking challenge for me. Actually, the filling is a breeze to make, so that just leaves mastering the meringue.
This recipe really is as easy as 1-2-3: Start the crust, bake a little; add the filling, bake a little; top with meringue, bake a little more.
When your baking pan comes out of the oven for the last time, you'll have an impressive dessert that will have guests asking for seconds.
Print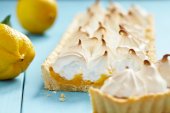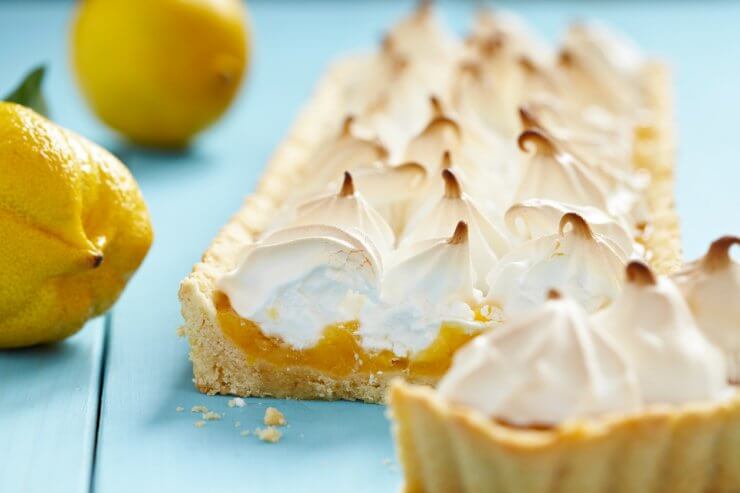 Lemon Meringue Bars
All the joy of lemon meringue pie without the added fuss of rolling a crust. You'll love this buttery shortbread base, the tangy filling, and the fluffy meringue in these Lemon Meringue Bars!
Author:
Prep Time:

20 minutes

Cook Time:

40 minutes

Total Time:

1 hour

Yield:

16

bars

1

x
Category:

Bakery
Ingredients
For the Crust:

3/4 cup

all-purpose flour

1/4 cup

cornstarch

1/2 cup

confectioner's sugar

1

stick of cold butter, cut into

1/2

-inch pieces

For the Filling:

1 1/2 cups

granulated sugar
Zest of

one

lemon (remember to thoroughly wash lemon before zesting)

1/2 cup

freshly squeezed lemon juice

4

large eggs
Pinch of salt

For the Meringue:

3

egg whites at room temperature

1/8 teaspoon

cream of tartar

1/2 cup

granulated sugar
Instructions
Preheat oven to 350 degrees F.
Spray a 9×9-inch baking pan with nonstick baking spray.
In a food processor, pulse the crust ingredients together until you have a mixture the consistency of a coarse meal.
Press the crust mixture into the bottom of the baking pan.
Bake the crust for 15 to 17 minutes.
Meanwhile, combine all the filling ingredients and beat them together (in a bowl or food processor) until they reach a consistent smoothness.
Take the crust out of the oven and pour the filling over the crust.
Return the pan to the oven and bake for 10 to 12 minutes.
While the filling is baking, make the meringue.
Beat the egg whites and cream of tartar until the egg whites form soft peaks. Don't over-beat.
Add in the sugar gradually, beating on medium-low to medium speed, until the meringue is fluffy and shiny.
Take the pan out of the oven and spoon the meringue on top.
Bake for another 10 minutes or so, until the meringue is just browned at the tips.
Cool completely before cutting and serving.
Notes
Don't make this recipe on a humid day; the meringue won't form properly. Also, make sure you use only egg whites; there shouldn't be any yolk at all. And make sure the bowl you beat the meringue in is super clean; any water or oil residue will doom your meringue.
Lemons may seem like an exotic tree to grow, but all they need is a little TLC to give you years of tangy harvests! You don't have to live in a subtropical zone to grow lemons—there are plenty of varieties happy to grow as productive houseplants! With this gardening guide, you get all the details that go into growing and harvesting bright, fragrant lemons. Get recipes for dishes sweet and savory that make it all the more rewarding to grow your own lemons. Get it all in our Tart & Tangy Lemon Gardening Guide right now!
Have you tried this Lemon Meringue Bars recipe? It's an easy but elegant dessert. Please tell us how it turned out for you.