Roasted garlic is a versatile ingredient that can be used in a variety of dishes. It has a mellow, nutty flavor that is much milder than raw garlic. Roasting garlic is also very easy to do. Simply preheat your oven to 400 degrees F, cut the top off of a head of garlic so that the cloves are exposed, drizzle with olive oil, wrap in foil, and bake for 30 to 40 minutes.
Once your garlic is roasted, you can use it in any dish where you would normally use raw garlic. Try adding it to mashed potatoes, using it as a spread for bread or crackers, or mixing it into pasta sauce. You can also add roasted garlic to soup or salad for extra flavor.
Roasting garlic completely changes its flavor, making it mellow and bringing out the natural sugars. My personal favorite way to use it is to spread roasted garlic on buttered, toasted bread to make garlic bread, or on top of cream cheese on a bagel with everything seasoning. I also sometimes mix it into mashed potatoes, use it on pasta, mix it with sour cream and a little mayo to make a dip, or just eat it with a spoon!
Roasted garlic is a healthy alternative to raw garlic. It has all of the same health benefits as raw garlic, but it is easier on digestion because the roasting process breaks down some of the compounds that can cause stomach discomfort.
If you're looking for a way to add more flavor to your cooking, roasted garlic is a great option. It's easy to make and can be used in a variety of dishes. Plus, it's healthy! So next time you're at the store, pick up a head of garlic and give this roasted garlic a try.
Print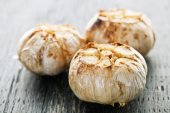 Roasted Garlic
Roasted garlic turns spicy fresh garlic into a mellow, sweet, and scrumptious condiment you can use for pasta, garlic bread, and more.
Author:
Prep Time:

10 minutes

Cooling Time:

15 minutes

Cook Time:

40 minutes

Total Time:

1 hour 5 minutes

Yield:

Serves 4

Category:

Sides & Sauces
Ingredients
4

(or more!) whole garlic bulbs
Olive oil
Salt
Instructions
Use a serrated knife to cut the top off each garlic bulb, exposing the cloves.
Rub the bulbs with olive oil and season lightly with salt
Wrap the garlic bulbs in tin foil, together or individually.
Roast the garlic at 400 degrees F for 30 to 40 minutes.
Cool for 15 minutes and then squeeze the bulbs to remove the softened cloves from their wrappers.
Roasted garlic keeps for a week in an air-tight container in the refrigerator.
Garlic is an essential ingredient in just about every kitchen. With the Glorious Garlic Gardening Guide, you'll have everything you need to know about growing and enjoying this staple—from the history and health benefits of this ancient herb, to detailed and specific garlic gardening advice, and easy-to-make and delicious recipes that will allow you to spice up any dish!
Have you tried this recipe? It's so easy, flavorful, and can be used many different ways. Please tell us how it turned out for you.